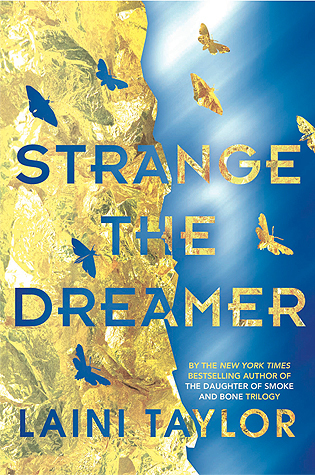 Strange the Dreamer
Author: Laini Taylor
Series: Book 1
Release Date: March 28, 2017
Publisher: Little, Brown Books for Young Readers
Get it Here: Amazon | Barnes & Noble | Book Depository
Synopsis:
The dream chooses the dreamer, not the other way around—and Lazlo Strange, war orphan and junior librarian, has always feared that his dream chose poorly. Since he was five years old he's been obsessed with the mythic lost city of Weep, but it would take someone bolder than he to cross half the world in search of it. Then a stunning opportunity presents itself, in the person of a hero called the Godslayer and a band of legendary warriors, and he has to seize his chance or lose his dream forever.
What happened in Weep two hundred years ago to cut it off from the rest of the world? What exactly did the Godslayer slay that went by the name of god? And what is the mysterious problem he now seeks help in solving?
The answers await in Weep, but so do more mysteries—including the blue-skinned goddess who appears in Lazlo's dreams. How did he dream her before he knew she existed? And if all the gods are dead, why does she seem so real?
Welcome to Weep.
I'm glad I could finally get to this book. Between my dislike of the author's previous trilogy and all the hype, I'm happy to report that I really enjoyed Strange the Dreamer! I was wary of Taylor's lyrical writing at first, but found myself getting used to it and its vivid descriptions as the book went on. While the first half was immensely slow, my patience was worth it for the revelations in the latter half of the book. Strange the Dreamer follows Lazlo Strange, one of the guys on the sidelines. He's the quiet bookworm that people casually dismiss. But Lazlo Strange, resident dreamer and imaginer, may have hidden facets to his character that readers slowly come to discover.
I started the book loving Lazlo. He's orphaned and grows up first in an abby, and then in a library as a quiet and meek librarian. He's humble, sweet, and thoughtful. Basically Lazlo is a soft boy after my heart and totally the star of this book. I loved this aspect of his character, and the way Taylor doesn't shy away from highlighting his flaws, whether physically or personality-wise. While we read from his third person limited POV, we also switch to Sarai and briefly, other characters of the story. The first part of the book is quite slow as Taylor introduced us to the backstory, the world, and Lazlo's progression from childhood to young adult-hood. Now he's around 20 years old, working as a librarian, and still has his head stuck in the clouds, where dreams are born.
"Lazlo couldn't have belonged at the library more truly if he were a book himself."
The thing that keeps the story going is Lazlo's keen fascination with the city of Weep, a city whose name was suddenly forgotten in his head when he was young. Ever since, he's followed all tracks of Weep and its history, especially since no one has ever been there and came back. Lazlo is the behind-the-scenes guy, the helper. While there is an ostentatious character, Thyon, who has the love, attention, and limelight, Lazlo is exactly how he appears to be: strange, and a dreamer. But this dreamer has plans of his own.
"Lazlo wanted to go and find out. That was his dream, daring and magnificent: to go there, half across the world, and solve the mysteries for himself.
It was impossible, of course.
But when did that ever stop any dreamer from dreaming?"
Suddenly a chance to go to Weep comes to Lazlo, and he desperately seizes it. With that, the book immediately starts picking up as we get introduced to Sarai, who is a child of a Mesarthim, or seraphim, and a human. She lives in a floating citadel above the town of Weep that casts a shadow on it every day, keeping the city enshrouded in darkness. Her moniker, Muse of Shadows, reflects her magical ability to escape to people's dreams and dictate them, if she willed it to be. Usually people can't see her if she enters their dreams, but one day someone notices her and remembers her: Lazlo.
The thing that made me hesitant to pick up this book is how much of the story that the blurb didn't explain. I like knowing what I'm heading to when picking up a book, and the ambiguous nature of the blurb kind of left me unsatisfied and uncaring. But the thing is that every minute detail that Taylor releases in the story is all important – all part of the bigger picture. And there's a vast history that embellishes this story as well. I actually really enjoyed these small discoveries. I think the rather slow pace work well when drawing out mysteries because it gives readers that brief, "Omigosh, I think I know what's up but I can't believe it but I kind of do" before it's actually revealed in the story. And what better storytelling method is there, to get readers to feel that way?
There's a romance that happens as well, which I thought was nicely paced and extremely sweet. The thing about Sarai's character is that not only is she explored really well, but she can see both sides of the conflict in the book. One is of the humans in Weep who have suffered for years under the Mesarthim, and one is of the Mesarthim children who lived in secret after a great slaughter. While Lazlo's extremely open mind does not have the prejudice that the people of Weep have encased, Sarai's personal experience mingled with the dreams of the people of Weep make her especially empathetic to both sides. The city of Weep explores the boundaries between right and wrong, good and bad, prejudice and acceptance. Taylor weaves this nicely into the story as you can't help but empathize with the opposite sides of the conflict and the actions that each justified. I think this part of the city of Weep made it all the more gorgeous, as world-building is concerned.
"That's what a kiss is like, he thought, no matter how brief: It's a tiny, magical story, and a miraculous interruption of the mundane."
Speaking of world-building, reading Taylor's writing was like a dream. In my opinion it never really turned into purple prose, as the lush descriptions never got too carried away. There was just so much density that it felt like it bogged down the plot. But looking back now, I actually appreciate these vivid descriptions because they just add to the overall world. That's a lot to say, considering I'm a reader who usually goes for action and plot more than description and lyrical writing. But in Strange the Dreamer, Taylor integrates both of these aspects to create a powerful, spell-binding story that'll satisfy readers, whether they have a preferred style of writing or not.
Some things I wasn't a fan of include the other Mesarthim that Sarai lives with. Although they all had great characterizations, I didn't really like reading their little backstories and mini-plots. The only one I was interested in was the antagonist who was really intense and although a bit one-dimensional, just scary enough with effective threats that made me like her (and be worried at the same time). There was a romantic sub-plot that made me low-key uncomfortable because seriously, I'm not here for that. I'm guessing these characters will be more important in the sequel of this duology so I put up with their passages. But to be quite honest, I'm here for Lazlo and his adventure, through and through.
Taylor's writing, the incredible world and backstory, and Lazlo Strange's soft characterization swept me off my feet in Strange the Dreamer. I really adored the way Taylor chose to write this story, as slow as it is. I'm glad I picked it up despite my reservations, and I'm eagerly anticipating the sequel – especially with that cliffhanger of an ending. I think most fantasy readers would really appreciate this story, if they can get past the slow beginning. (Patience is key!) Fans of Taylor's first trilogy will also love this book, and generally any reader looking for a fantastical world to escape in.
Thank you The Novl for the review copy!