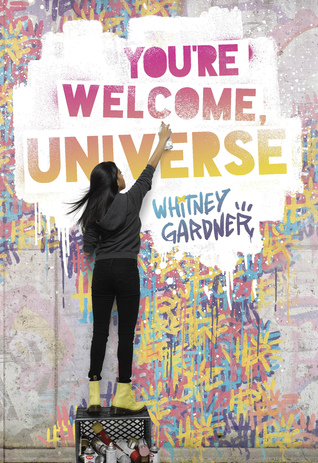 You're Welcome, Universe
Author: Whitney Gardner
Release Date: March 7, 2017
Publisher: Knopf
Get it Here: Amazon | Barnes & Noble | Book Depository
Synopsis:
When Julia finds a slur about her best friend scrawled across the back of the Kingston School for the Deaf, she covers it up with a beautiful (albeit illegal) graffiti mural.
Her supposed best friend snitches, the principal expels her, and her two mothers set Julia up with a one-way ticket to a "mainstream" school in the suburbs, where she's treated like an outcast as the only deaf student. The last thing she has left is her art, and not even Banksy himself could convince her to give that up.
Out in the 'burbs, Julia paints anywhere she can, eager to claim some turf of her own. But Julia soon learns that she might not be the only vandal in town. Someone is adding to her tags, making them better, showing off—and showing Julia up in the process. She expected her art might get painted over by cops. But she never imagined getting dragged into a full-blown graffiti war.
I've had a copy of You're Welcome, Universe for the longest time but haven't had the chance to pick it up until now. I'm so glad I did, because this book left me with all the feels. You're Welcome, Universe follows the first person POV of Julia, a protagonist who is as flawed as she is artistic. I adored her growth throughout the story and how her role as an angry teen evolved towards someone who understands and appreciates the love surrounding her (or, less of an angry teen). As an artist myself, I really identified with Julia's need to release her art and emotions into the world. However, I'd also like to add that Julia does participate in illegal activity in the book (street graffiti in public places) and shouldn't be condoned. Other than that, You're Welcome, Universe was a beautiful exploration of art, friendships, growth, and the love that we experience in our lives.
Julia's voice is exceptionally snarky and hilarious as we follow her life after getting expelled from the Kingston School for the Deaf. She's definitely a good candidate to represent Angry Teens, as she has a lot of inner conflict broiling inside her. After the expulsion incident, Julia loses her best friend and starts at a new school where she's not exactly comfortable, nor welcomed. Her release? Painting on public places, a way to vent her emotions and make the world see that she is "here."
"It isn't about seeing my art on a wall. It's about putting a feeling out into the world. It's communication, a release."
At Julia's new school, she meets YP, or Yoga Pants (we never find out her actual name), whose friendship is unwanted at first. But Julia and YP find understanding and their friendship grows, even though both girls are so different. Julia is the social outcast, while YP is the ex-cheerleader who used to go out with a horrible popular boy. Even so, YP appreciates and gets excited about Julia's art as she continually learns American Sign Language to talk to Julia. I really enjoyed this friendship dynamic (and possibly something more?), as well as the other character interactions in the book. I found that each of them had their own dimension – they were more than caricatures of characters. The ex-best friend had a personality: she was more than just cunning and mean. The popular boy who dumped YP also had his reasons, while the co-worker Julia had a crush on at McDonald's certainly had hidden facets. Gardner really brings these characters to life as readers can't help but rage at them or empathize with them.
I also loved the little artistic snippets found in the book. There are diverse aspects in the book that only just added to it. While Julia is Indian, her two moms are also Deaf and one (Mee) is Indian as well. YP is fat and is hinted to having an eating disorder. I especially really liked seeing the interactions between Julia and her loving moms. It's a pretty good rendition of frustrated teen battling moms who just want the best for her. While it may cause some discord and tension, you can always feel the underlying love and support in their exchanges. I also loved the message the author had about how "big is beautiful." Something I would have liked to have seen is YP's hinted eating disorder being expounded on. We never really get to see how it pans out and I think since it's something added to the book, could have at least had an exploration of.
"My old art teacher told me I draw like a man. I've never forgiven him. I don't draw like anything, I draw like everything. I draw like me."
Julia goes through so much awesome growth in the book, and I love how her character was explored. Gardner writes with sensitivity as she adds details such as how lip-reading is hard, and how Julia doesn't like hearing implants. Julia doesn't mind being Deaf – in fact, she embraces it. I think this factor of her character is important, as she loves herself the way she is and wouldn't change a thing. Although her character may get frustrating at times, stick with Julia and her development. There are wonderful relationships in this story that range from negative interactions to beautiful friendship to familial love and compassion. You're Welcome, Universe's gorgeous cover also extends to the inside of the book – it's a story that screams, "I am here," just as Julia will be "here" in my heart.