Hello everyone! Welcome to my stop for the Beasts Made of Night tour. I'm absolutely ECSTATIC to have y'all here, because there's a lot going on in this post. I will be raving about this book; I will be sharing stunning graphics about this book; I will be hosting a GIVEAWAY for THREE winners of this book. What's not to love? Let's get started!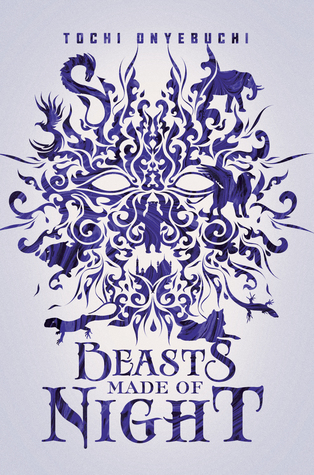 Beasts Made of Night
Author: Tochi Onyebuchi
Release Date: October 31, 2017
Publisher: Razorbill
Get it Here: Amazon | Barnes & Noble | Book Depository
Debut author Tochi Onyebuchi delivers an unforgettable fantasy adventure that powerfully explores the true meaning of justice and guilt. Packed with dark magic and thrilling action, Beasts Made of Night is a gritty Nigerian-influenced fantasy perfect for fans of Paolo Bacigalupi and Nnedi Okorafor. In the walled city of Kos, corrupt mages can magically call forth sin from a sinner in the form of sin-beasts—lethal creatures spawned from feelings of guilt.
Taj is the most talented of the aki, young sin-eaters indentured by the mages to slay the sin-beasts. But Taj's livelihood comes at a terrible cost. When he kills a sin-beast, a tattoo of the beast appears on his skin while the guilt of committing the sin appears on his mind. Most aki are driven mad by the process, but 17-year-old Taj is cocky and desperate to provide for his family.
When Taj is called to eat a sin of a member of the royal family, he's suddenly thrust into the center of a dark conspiracy to destroy Kos. Now Taj must fight to save the princess that he loves—and his own life.
This Nigerian-inspired fantasy was exceptional from beginning to end. I was entranced by the world that Onyebuchi creates: one where monsters of sin are summoned from people and devoured by the aki, or sin-eaters. One where delicious, steaming descriptions of food are as prevalent as the congested and noisy stalls of the Forum, layered with corruption and poverty. One where the main character, Taj, is beginning to discover has hidden secrets that could change the kingdom.
Right from the beginning, I knew I would like Taj. He's loyal, more than a bit arrogant, and brash. Nonetheless, he knows his own limitations of his status as an aki and doesn't do anything too bold that could jeopardize his family. We begin the first chapter of the book with him defeating a sin-beast, an inisisa cloaked in darkness and shadows, taking on the form of a lion. Taj begins a progressive explanation of the walled city of Kos, and the way things are run. While the royal and rich are pure and free of sins, the aki are regarded as the lowest of the low due to their job of eating the sins of the rich. When an aki eats a sin, they breathe in its substance and it leaves a mark of the aki's skin, making the sin theirs instead of the original owner's. So not only are the aki left with prominent marks on their skin (and eventually fade), but also the guilt and helplessness of the sin that they ate.
"'We're just bodies. Collecting all the horrible things the royal family thinks or does so that their pure spirits can rejoin Infinity. The lie and cheat, and we pay for it. Meanwhile, we're left to gather the city's sins.'"
I fell absolutely in love with the world-building. Onyebuchi's descriptions just jump out from the pages as readers can easily see Taj navigate the streets of the bustling Forum and the various dahias that make up Kos. I really adored reading about the food too (talk about making a reader hungry!), with luscious fruits, fufu and warm pepper stew, spicy chicken wings dipped in sauces. Although the aki are the ones who eat the inisisa, Mages are the people who actually call it forth from the person. Because of this, there's a large discrepancy between the social standings of Mage and aki. When Taj manages to defeat the huge sin of the king of Kos, he is suddenly transported to a lavish yet lackadaisical role as a part of the royal household.
At this point of the book, I thought the action would really get rolling but the plot stays at a steady pace. The overall pace of the book is a little disjointed, as I feel like some of the scenes weren't really explored and readers are soon thrown into a new situation. But what I really liked were the small bits of information that Taj – and the reader – would slowly discover throughout the story. Each one brings a small twist, a bit of a mystery uncovered, until the ending will leave you breathless. Reading the book felt like a bunch of flowering questions blooming throughout the middle, but with the ending comes a final twist that answered many of my questions (while creating even more). Of course, there is definitely a cliffhanger, making room for readers to discover more about the world of Beasts Made of Night as Taj uncovers hidden truths.
I really liked reading from Taj's first person POV and his at-first foolish confidence. He's very sure of his abilities as an aki, with a bunch of marks that don't fade to prove it and the nicknames "Lightbringer" and "Sky-Fist" to boost his self-esteem. But Onyebuchi doesn't make it easy for him, as he's constantly stuck in circumstances that really make it so he works hard to prove his worth. It was enjoyable to read his conflicting thoughts as he experiences both the weary streets of the Forum and the lavish styles of the castle, giving a character complexity that really made him shine. I wasn't a big fan of the developing romance in this one; it came a bit out of nowhere and didn't really have a steady progression. I thought it was rather hasty of Taj to have those feelings and the love interest is never really developed. But it's actually a very intriguing addition to the plot and plays a role in how the story will unfold. And the way it plays out? Plus points from me.
What made my heart swell the most, however, were the interactions between Taj and his fellow aki. I loved their constant banter and love and support system. Whether it's the reticent big-brother Bo and his steady leadership or the small but devotedly loyal Omar, each of the aki were just radiant. The small acts of camaraderie and affection, sacrifice and understanding, between them was awesome to see on the pages. There are also more intricate relationships and characters, from the curious yet ignorant Mage, Aliya, to the compassionate and warm Aunties Nawal and Sania, to the powerful and mysterious aki, Zainab. I for one can't wait to see more of these characters and the way their actions will lead the future of the city of Kos.
"'Sin-beasts are shadows, beasts made of night. And an aki is like a ray of sunlight that comes down from the sky and shatters the sin, kills the shadow.'"
From the dark, magical setting to the complex characters and plot full of twists, Beasts Made of Night is a fantasy not to be missed. If you're a bit miffed by the pace, stay tuned, because that ending will make it worth the read. Fantasy readers will definitely want to grab this one, as it presents dynamic characters, fun dialogue, and a unique premise that I don't think any fantasy has done before in YA. I know I will definitely be looking out for news of a sequel.
Tochi Onyebuchi is a Nigerian American writer and a practicing attorney based in New York City. He holds a MFA in screenwriting from Tisch, a Masters degree in global economic law from L'institut d'études politiques, and a JD from Columbia Law School. His writing has appeared in Asimov's and Ideomancer, among other places. Beasts Made of Night is his debut series. You can follow him @tochitruestory.
Enter for a chance to be one (1) of three (3) winners to receive a hardcover copy of Beasts Made of Night by Tochi Onyebuchi. (ARV: $17.99 each).
NO PURCHASE NECESSARY. Enter between 12:00 AM Eastern Time on October 23, 2017 and 12:00 AM on November 13, 2017. Open to residents of the fifty United States and the District of Columbia who are 13 and older. Winners will be selected at random on or about November 15, 2017. Odds of winning depend on number of eligible entries received. Void where prohibited or restricted by law.
Follow the Tour!