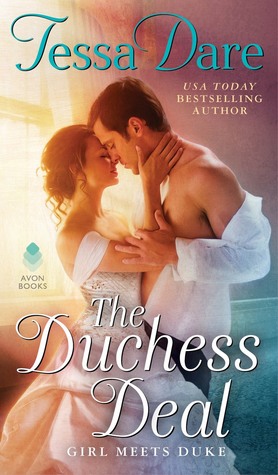 The Duchess Deal
Author: Tessa Dare
Series: Girl Meets Duke #1
Release Date: August 22, 2017
Publisher: Avon
Get it Here: Amazon | Barnes & Noble | Book Depository
Synopsis:
When girl meets Duke, their marriage breaks all the rules…Since his return from war, the Duke of Ashbury's to-do list has been short and anything but sweet: brooding, glowering, menacing London ne'er-do-wells by night. Now there's a new item on the list. He needs an heir—which means he needs a wife. When Emma Gladstone, a vicar's daughter turned seamstress, appears in his library wearing a wedding gown, he decides on the spot that she'll do.
His terms are simple:
– They will be husband and wife by night only.
– No lights, no kissing.
– No questions about his battle scars.
– Last, and most importantly… Once she's pregnant with his heir, they need never share a bed again.
But Emma is no pushover. She has a few rules of her own:
– They will have dinner together every evening.
– With conversation.
– And unlimited teasing.
– Last, and most importantly… Once she's seen the man beneath the scars, he can't stop her from falling in love…
Thank you Edelweiss and Avon for the review copy!
Tessa Dare always provides comical historical romances with the sweetest characters, and The Duchess Deal was no different! I have to admit, after reading pretty much most of her works, there were some familiar tropes she used that were also seen in other books as well. However, that didn't detract from the lovely story and romance at all. All I can say is that after finishing the book (at 2 am in the morning, no less), my heart was just full of love. This was definitely another successful work for Dare! (And look at that cover – absolutely gorgeous.)
The Duchess Deal starts with the same comical tone that Dare sets in her other books. Ash, the Duke of Ashbury, is a disfigured war veteran who recently came back to a fiancé that broke off their engagement, making him quite bitter and wary of the world. This is also exacerbated by the over-the-top reactions that people have because of his war scars. As soon as he pens down to his solicitors that he needs a wife – to fulfill familial duties of course, by providing an heir – Emma arrives on his doorsteps in a wedding gown… the wedding gown she painstakingly sewed for his former fiancé. From there on ensues a hilarious and super sweet progression of romance as each character finds trust, companionship, and strength with the other.
"Emma stared at him in disbelief. That was, perhaps, the most unfeeling proposal she could imagine. The man was cynical, insensitive, condescending, rude. And she was definitely going to marry him."
Ash and Emma both have so much voice and spunk. Although Ash shows himself to be an embittered man of the world, he's actually very caring and compassionate under his gruff exterior. He's very self-conscious about the way he looks, calling himself a "Monster" and even going undercover in the streets of London and fighting ruffians and the like, creating the name the "Monster of Mayfair." This kind of behavior only makes his self-doubt worse, making him think himself incapable of love and companionship. My heart totally ached for Ash, who just needed someone to see him beyond his scars. His relationship with his butler Khan, was pretty awesome and I wish we got to see more of that. Ash has a tough exterior, but it only takes a well-meaning and passionate young woman to get through that exterior.
Emma is a self-made woman, having been cast out by her vicar father because of past transgressions and forced to make her own living as a seamstress. She's great at what she does, but it's not every day a random duke proposes to her (and that she's wildly attracted to him), so of course she sets up a deal as his duchess! But even as Ash sets cold rules to ensure that feelings and emotions won't get involved, she reciprocates with sweet actions that include having dinner together and making up pet names for him. Their back-and-forth banter was hilarious and delicious, making for some steamy times as well. Both characters go through development as Ash starts to think of himself as more than a "monster" that frightens children and Emma finds strength in her inner self after being put down by her father all those years ago. To say I loved these two – both separately and together – is an understatement.
"'In my heart. Somehow you crashed your way into it when I wasn't looking. The same way you barged into my library, I suppose. But you're here now, inside. Emma, you're the very life of me.'"
What I did find interesting (although did not detract from the story) were some familiar tropes that the author likes to use in her books. It's funny, after reading so many of her stories, I can pinpoint specific aspects that Dare likes to reuse. But at the same time, The Duchess Deal lovingly stands out on its own as well. It may have a scarred, initially isolated hero like Dare in Romancing the Duke and the opposite-social-ladder trope in Any Duchess Will Do (wow, Dare does love her dukes, aha), but Emma and Ash do make an impression on a reader as they worm their way into their hearts. Emma's forthcoming, passionate, and hard-working nature is a great contrast to Ash's insolent, brooding, yet snarky personality and I found their romance as sweet as their banter was witty. Definitely a recommend for historical romance lovers!