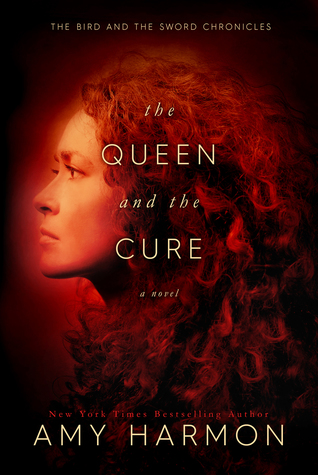 The Queen and the Cure
Author: Amy Harmon
Series: The Bird and the Sword Chronicles #2
Release Date: May 9, 2017
Publisher: Self-Published
Get it Here: Only $4.99 on Amazon Kindle!
Synopsis:
"There will be a battle, and you will need to protect your heart."
Kjell of Jeru had always known who he was. He'd never envied his brother or wanted to be king. He was the bastard son of the late King Zoltev and a servant girl, and the ignominy of his birth had never bothered him.
But there is more to a man than his parentage. More to a man than his blade, his size, or his skills, and all that Kjell once knew has shifted and changed. He is no longer simply Kjell of Jeru, a warrior defending the crown. Now he is a healer, one of the Gifted, and a man completely at odds with his power.
Called upon to rid the country of the last vestiges of the Volgar, Kjell stumbles upon a woman who has troubling glimpses of the future and no memory of the past. Armed with his unwanted gift and haunted by regret, Kjell becomes a reluctant savior, beset by old enemies and new expectations. With the woman by his side, Kjell embarks upon a journey where the greatest test may be finding the man she believes him to be.
Note: This is the sequel companion to The Bird and the Sword, which I reviewed over here. It contains tiny, slight spoilers about the first book.
The moment I saw this cover and Amy Harmon's name, I knew it had to be a companion of sorts to the book The Bird and the Sword, a delicious, romantic fantasy that I had the pleasure to read and love last year. The main character, Lark, was a quietly powerful heroine whose lack of voice made her actions all the more meaningful. While Lark and Tiras have cameos in this story, it centers upon Kjell, the half-brother of Tiras and bastard son of the king who discovered in the previous book that he was Gifted and had the power of healing. The Queen and the Cure was another more quiet, yet still emotional read that had tremendous characterization as both Kjell and Sasha tried to find where they belonged in a fantasy world that is progressing and changing.
Told at first from the third person perspective of Sasha, and then Kjell, we see Sasha as a slave in a small village where her Seer abilities are feared. When Kjell first meets her, it's actually to save her life and heal her after the villagers all drove her out. From then on, she joins him on his journey to get rid of Volgars, mutant bird-men creatures that only exist to destroy and destruct. Later on, readers discover secrets of Sasha's own mysterious identity, the other half of Kjell's birthright, and many more twists that keep the story riveting.
I guess the biggest thing reading this book was trying not to compare it with the previous story, which I so dearly loved. Kjell is obviously very different from his brother, as he's never coveted the throne despite being the older half-brother and is glad to do his duties as a soldier, the head of the King's Guard. He was very easy to like, mostly because of his vulnerabilities and the emotional growth that his character went on. Kjell started from being the lonely soldier who never quite belonged in his kingdom the way his half-brother Tiras did, to someone accepted by the woman he loved, and someone who could use his powers to save people. Kjell's own powers develop as he finds the love and compassion in his heart to heal people.
"He was a warrior. He was not a man who loved or nurtured. He'd been given a gift that was so at odds with who he was that he wanted to howl in frustration and sink his sword into something lethal."
For me, Sasha was harder to connect to at first. I really liked her in the beginning when we saw her quiet, helpful, and regal ways. Her power as a Seer is that she can see small glimpses of what the future may hold in store. These come unwarranted and she can't control them. However, they're incredibly useful throughout the story as she saves many lives because of these powers. Sasha has lost her memories before becoming a slave, so her identity is a bit of a mystery until the plot twist. After that twist, it was harder for me to connect to her. I wasn't a fan of that certain part of the storyline, be it because it was just a cliche that rubbed me the wrong way (obviously I love certain cliches), or the turn of the story was just not to my taste. Either way, I wasn't as enamored of this story as I was for the previous book.
The romance was really very sweet as it was emotional, though. Harmon has a way around words that just cuts straight through a reader's heart, whether it's just rhetoric or the emotion behind it. Either way, I was totally onboard with this ship. Kjell is more of the gruff, "I-don't-let-anyone-near-my-heart" kind of soldier while Sasha is a loving storyteller who had plenty of her own emotions to break down the barriers of Kjell's heart. They're both super sweet and supportive together as they navigate secrets that threaten their relationship. I like the fact that they are also separately strong. Even without the other, they will grieve and be heartbroken but will still continue to function with clarity and strength and intelligence. That makes it all the more heartwarming when they come and work together.
"He was not good. He was not generous. He was not courageous or compassionate. He simply loved her. And love made him a better man. That was all."
I think the biggest problem for me with this one was a combination of high expectations, and just my own personal distrust of the plot twist(s) that happened. For me, it happened too conveniently, too well-placed, and too easily-resolved. Of course, there are times when I love it when this happens, as it doesn't carry the unnecessary angst that many books will draw out. But I wasn't a fan of that part of the plot to begin with, unfortunately. Still, though, I loved the writing and the characters. This is a world where oppression for the Gifted – magic users – has recently been lifted after the first book, so the setting is still dealing with change and preconceived misconceptions. While the first book was driven by an actual antagonist, The Queen and the Cure focused a lot more on character development. Harmon writes the world with detail for these aspects, as well as continue with gorgeous prose that allows readers to immerse themselves in the story.
The Queen and the Cure was ultimately a beautiful companion sequel to a magical world that just comes alive. I really urge fantasy readers to pick up the previous book, The Bird and the Sword – even more so if they love exceptionally sweet and emotional romances. Harmon writes in new characters that readers also grow to love as well in this incredibly character-driven story. I'm super happy I found this indie series, and am looking forward to the next stories the author has been mind in this world!