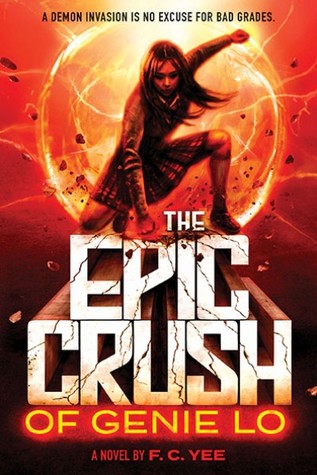 The Epic Crush of Genie Lo
Author: F.C. Yee
Series: Has confirmed sequel (Y E S!)
Release Date: August 8, 2017
Publisher: Amulet Books
Get it Here: Amazon | Barnes & Noble | Book Depository
Synopsis:
The struggle to get into a top-tier college consumes sixteen-year-old Genie Lo's every waking thought. But when her sleepy Bay Area town comes under siege from hell-spawn straight out of Chinese folklore, her priorities are suddenly and forcefully rearranged.
Her only guide to the demonic chaos breaking out around her is Quentin Sun, a beguiling, maddening new transfer student from overseas. Quentin assures Genie she is strong enough to fight these monsters, for she unknowingly harbors an inner power that can level the very gates of Heaven.
Genie will have to dig deep within herself to summon the otherworldly strength that Quentin keeps talking about. But as she does, she finds the secret of her true nature is entwined with his, in a way she could never have imagined…
It's been a couple of days since I've finished this book and I'm STILL NOT OVER IT. Seriously, I have all the love for this book to the moon and beyond. But I told myself I'd finish this review so I can schedule it and spread the love when closer to release date. The Epic Crush of Genie Lo immediately grasped my attention with its fierce cover and tag. I knew about a Chinese-American girl trying to juggle fighting demons and a supernatural power she never knew she had. That's all I knew, and I was already excited. When I got a bit more into the book, I fell absolutely in love with its hilarious narrative, Chinese folklore, and refreshing characters. This is the book my Chinese teen heart has been pining for since a young child, and it's one that really resonated with me.
Genie's your average, Asian-American student at a competitive prep school, looking to be at the top and go to a prestigious college. Her worries basically revolve around preparing for AP tests, her best friend Yoonie, and making conversation with her mother. But with the arrival of a mysterious classmate, her life pretty much turns upside-down. He comes from a super popular Chinese folklore story that I've never seen incorporated in a YA novel – one that I've always wished for while growing up. With his arrival also comes demons and goddesses that throw Genie's Californian town into chaos.
"'You are the most powerful thing on Earth short of a god. You can do absolutely anything.'"
The story that Quentin comes out of is called Journey to the West, and much of the storyline is summarized in down-to-earth colloquial terms by Genie in the book. While this ancient text originated in China, there are also lots of interpretations from across the East Asia region (fun fact: Goku from Dragonball Z was modeled after the main character). I've watched multiple movie versions of it and TV shows – both cartoon and live-action. It's the kind of story that each Chinese household knows, or at least has heard of. Yee incorporates elements and characters of this story in present-day California, giving it a Riordan-esque feel as mythology melds with reality. I love the fact that it explores such a well-known story in Chinese culture, instead of the heavily popularized Greek and Roman myths that YA books like to use. The exposure of this story not only brings a refreshing take on YA, but also spreads a bit of Chinese culture and traditions. Always a plus!
So after the big reveal and Genie finally gets onboard with the mission she's given (trust me, she enters with much reservation), her and Quentin embark on an adventure to bring the demons on earth back to hell. Fun stuff… except for the fact that she has to worry about college applications, keeping up her grades, staying on top of her social life, and all the other extracurriculars she has. I loved Genie's representation as a competitive student, as well as her family life as a Chinese teen. She's super worried about getting into college and Yee often adds comedic humor on the whole application process in the US. The focus on her academics throughout the book was awesome to see and super relatable. There's also great integration of Chinese culture in the book as well. Genie's mother loves to keep on appearances and is so, so funny. Pretty much every Chinese Mom ™ with her antics. There's a great discussion on the pressure Genie puts on herself academically, and a breakdown of common stereotypes for Chinese characters (including the fact that they're not all quiet/meek, and not all are prodigies in musical instruments).
There's a romance that goes on in the book and the ship is so. So. Cute. Like, adorkably cute and super subtle. It's not a large part of the story at all – very light, in fact – but it's solid and there to stay. Genie's first response when Quentin first talks to her (in a very awkward and very forward way) is to punch him. She's a girl after my own heart. She's extremelyyy suspicious of him at first, but eventually warms up to his hilarious and sometimes strange antics. Genie is also a big believer in science so seeing all the supernatural stuff going around her makes her even more wary. Quentin is just adorkable. Let me just say: HEIGHT DIFFERENCE. Genie is much taller than Quentin and if that's not cute I'm not sure what you're looking for. All the other characters – from Genie's school peers to the gods she gets introduced to – are all just a breath of fresh air with their hilarious antics and dialogue.
"Kissing Quentin was as rough and as confrontational as any of our other interactions, and I loved it."
There are honestly not enough words to describe how much I love this book. You'll definitely find more gushing on my Twitter and the Be On The Lookout post. Either way, my love for this book goes to the heavens and beyond. It's the book of my childhood heart, the book that has a place in my soul. From Genie and her refreshing friends and adventure, the addition of Chinese folklore, and the heightened focus on academics as well as demonic peril all make The Epic Crush of Genie Lo an unforgettable book. Anyone who says otherwise can fight me.
Thank you Netgalley and Abram Books for the review copy!