Full of quirky heroines, heart-stopping heroes, and their romantic journey as they fall in love with each other, these historical romances are bound to give readers a satisfying HEA while exploring concepts like female power. I adored these spunky heroines as they found their happily ever after despite all odds. 
---
Lady Claire Is All That
Author: Maya Rodale
Series: Keeping Up With The Cavendishes #3
Release Date: December 27, 2017
+Add to Goodreads
Synopsis:
Her Brains
Claire Cavendish is in search of a duke, but not for the usual reasons. The man she seeks is a mathematician; the man she unwittingly finds is Lord Fox: dynamic, athletic, and as bored by the equations Claire adores as she is by the social whirl upon which he thrives. As attractive as Fox is, he's of no use to Claire . . . or is he?
Plus His BrawnFox's male pride has been bruised ever since his fiancée jilted him. One way to recover: win a bet that he can transform Lady Claire, Society's roughest diamond, into its most prized jewel. But Claire has other ideas—shockingly steamy ones. . .
Equals A Study In Seduction
By Claire's calculations, Fox is the perfect man to satisfy her sensual curiosity. In Fox's estimation, Claire is the perfect woman to prove his mastery of the ton. But the one thing neither of them counted on is love . . .
My favorite part of this book was the fact that the author takes the "athletic jock and smart nerd" trope and places it in a historical setting. It is sooo sweet, and seeing Lady Claire and Lord Fox overcome their respective prejudices over the other was absolutely delightful to read about. Reminiscent of the classic romcom "She's All That," Lady Claire Is All That follows the growing feelings of Lord Fox and Lady Claire as he tries to change her from smart bluestocking to the most desirable and popular woman in London
"She was… her. Cerebral, intelligent.
He was… him. More brawn than brain – and content with that."
There is an absolute overload of cute moments. She takes him to mathematical lectures, while he takes her to boxing matches. At first, they seem like complete opposites, but could it be that those opposing forces actually only bolster their attraction? Rodale writes their encounters and dialogue with vivacity and exuberance, delivering on the fun and vibrant characters – from family to friends. Both Lady Claire and Lord Fox have to take a step back and figure out what's really important to them: the possibility of love, or the prejudice of society on what a "perfect match" entails? Keep in mind that Lady Claire also has no clue on the transformation Fox wants to conduct, so expect some angst as well! (Though it's my total guilty pleasure angst.) This is probably my favorite of the Keeping Up With the Cavendishes series, with its old-school yet still sweet tropes and hilarious characters. Definitely a recommendation for fans of historical romances.
"Lady Claire + him + intimate moment in study = little cracks in his heart and soul being filled up."
---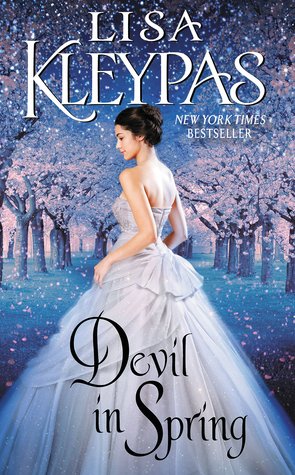 Devil in Spring
Author: Lisa Kleypas
Series: The Ravenels #3
Release Date: February 21, 2017
+Add to Goodreads
Synopsis:
An eccentric wallflower…
Most debutantes dream of finding a husband. Lady Pandora Ravenel has different plans. The ambitious young beauty would much rather stay at home and plot out her new board game business than take part in the London Season. But one night at a glittering society ball, she's ensnared in a scandal with a wickedly handsome stranger.
A cynical rake…
After years of evading marital traps with ease, Gabriel, Lord St. Vincent, has finally been caught-by a rebellious girl who couldn't be less suitable. In fact, she wants nothing to do with him. But Gabriel finds the high-spirited Pandora irresistible. He'll do whatever it takes to possess her, even if their marriage of convenience turns out to be the devil's own bargain.
A perilous plot…
After succumbing to Gabriel's skilled and sensuous persuasion, Pandora agrees to become his bride. But soon she discovers that her entrepreneurial endeavors have accidentally involved her in a dangerous conspiracy-and only her husband can keep her safe. As Gabriel protects her from their unknown adversaries, they realize their devil's bargain may just turn out to be a match made in heaven…
Lisa Kleypas was probably one of the first historical romance authors I discovered as a reader going into high school, and still remains one of my favorites up to today. Devil in Spring was no different, featuring quirky characters and an extremely sweet love story. Pandora is one of my favorite historical romance heroines to date, while Gabriel was such a supportive and BIG SWEETHEART. There was also an added little bit of intrigue towards the end that I thought had the oddest pacing; usually in historical romances with some mystery in the background there's a sedate progression throughout the story while the romance is interweaved, but the author kind of dumps it on the characters towards the end in this one. Odd, but didn't detract from my enjoyment of the story too much.
Pandora has ADHD, which is easily seen through her exuberant and nonstop actions, but never explicitly stated in the story. This aspect of her character was woven so easily, adding to her already strong characterization, which includes a stubbornness to create and sell her own board game, as well as keeping the autonomy that only a single woman can have (although not much during the time period). This way of thinking causes conflict with her marriage with Gabriel when they are ruined after a hilarious chain of events. Gabriel, on the other hand, is looking for one of those perfect wives that would make a good duchess counterpart to him. Pandora's quick wit, spunky attitude, and charming dialogue does not exactly fit what he expected as a wife.
Yet despite it all, they have a burgeoning romance that was as sweet as it was smoldering. Each character has flaws that make their idiosyncrasies that much more relatable, balancing the other out and coming to common ground, as many couples in relationships have to do. Kleypas writes with such heart, and it really shows in the relationships that the characters build with not only one another, but their friends and family as well. Absolutely adored this one, and definitely not one to miss for romance lovers.
"Good God, she really did walk in circles. A pang of tenderness centered in Gabriel's chest like an ache. He wanted all her circles to lead back to him."
---
How The Duke Was Won
Author: Lenora Bell
Series: The Disgraceful Dukes #1
Release Date: April 26, 2016
+Add to Goodreads
Synopsis:
The pleasure of your company is requested at Warbury Park. Four lovely ladies will arrive… but only one can become a duchess.James, the scandalously uncivilized Duke of Harland, requires a bride with a spotless reputation for a strictly business arrangement. Lust is prohibited and love is out of the question.
Four ladies. Three days. What could go wrong?
She is not like the others…
Charlene Beckett, the unacknowledged daughter of an earl and a courtesan, has just been offered a life-altering fortune to pose as her half-sister, Lady Dorothea, and win the duke's proposal. All she must do is:
* Be the perfect English rose [Ha!]
* Breathe, smile, and curtsy in impossibly tight gowns [blast Lady Dorothea's sylph-like figure]
* Charm and seduce a wild duke [without appearing to try]
* Keep said duke far, far from her heart [no matter how tempting]
When secrets are revealed and passion overwhelms, James must decide if the last lady he should want is really everything he needs. And Charlene must decide if the promise of a new life is worth risking everything . . . including her heart.
3.5 stars
This book was incredibly fun and sweet, although I fell in love with the heroine way more than the hero. By fun, I literally laughed out loud during some moments. The heroine, Charlene, was totally my type of girl. She was loyal, dedicated, and stuck true to her words, even at the expense of love. I'm hesitant on rounding up because there were some really, REALLY odd believability factors (I mean, I know it's a historical romance but there is this one scene that left me like quite surprised and more than a little startled) and I'm more wary of the "not like the others" trope (among some others) + creating petty caricatures of characters.
However, despite those factors, How the Duke Was Won was actually one of the memorable historical romances I've read this past year. I think what sold me was the quick dialogue and interesting circumstances that the characters found themselves in. James was a cool hero but I didn't love him as much as I loved the Charlene and her interactions with his illegitimate daughter. He had a really big push-and-pull factor that I didn't really appreciate throughout the majority of the book which became tiring after a while. Either way though, Bell's writing is full of sweet rapport and hilarious situations. I'll definitely be looking out for the rest of the books in this series!