I love reading these romances that don't make me think too much, so I've started reviewing more and more of them on the blog. I'll probably keep them to mini-reviews though so I can still focus on YA! These ranged across the board in terms of rating, but the general consensus is that they're LOADED with excellent chemistry from both leads.
Keepsake
Author: Sarina Bowen
Series: True North #3
Release Date: October 25, 2016
Publisher: Rennie Road Books (Indie)
Get it Here: Amazon Kindle – only $3.99!
Stand-Out Points: Realistic exploration of PTSD in a cute, farm setting.
Synopsis:
 There's a first time for everything.
Lark Wainwright used to be fearless. Her life was a series of adventures, each one more exhilarating than the last. But her recent overseas adventure was one too many. Now she's home and in one piece. Mostly. But her nights are filled with terror.
When her best friend offers her a stay at the orchard in exchange for help at the farmers' markets, Lark jumps at the chance to spend fall in Vermont. But her nightmares don't stop. Desperate to keep her fragile state a secret, she relies on the most soft-spoken resident of the Shipley Farm to soothe her when her dreams prove too much.
Zachariah is a survivor, too. It's been four years since he was tossed aside by the polygamist cult where he grew up. He's found a peaceful existence on the Shipley's farm, picking apples and fixing machinery. But getting thrown away by your own people at nineteen leaves a mark on a guy. He doesn't always know what to make of a world where movie quotes are the primary means of communication. Before hitchhiking to Vermont, he'd never watched TV or spoken on the phone.
Actually, there are a lot of things he's never done.
Zach and Lark slowly grow to trust one another. One night they become even closer than they'd planned. But Lark may still be too broken to trust anyone. When she pushes Zach away, he will have to prove to himself that he's good for much more than farm labor.
3.5 stars -> 4 stars
Another great addition to the True North series! I've been adoring Sarina Bowen's books lately when I'm in the mood for a quick romantic read, and she never fails to disappoint. In this book, we're honing in on Zachariah, a boy who had been living in a cult community all his life, and Lark, a girl who had gone through traumatic events while at Guatemala. They were both mending souls that needed help, and I'm glad to say that the romance didn't "save" them – especially Lark, who was still going through PTSD. While the pace dragged a little towards the middle while the characters were busy being conflicted, I really got into the latter half.
Zach is a quiet, hardworking man on the Shipley's farm who is pretty private. He has an instant attraction to Lark, who arrives at the farm to help out and take a break from the world after experiencing horrible things outside the country, while she was working for a non-profit organization. At first glance they seem to be opposites, as Lark is lively and sociable while Zach is more reserved. However, they both have scars from their past and find solace with each other. The relationship progression was set at a pretty good rate until they finally got together and Lark started facing the decision whether to stay at the farm – and her friends – or not. This character conflict brought a lull in the story, as well as the romance while Lark had to find out what she needed to do to get better. However, once she stepped back and thought about it, she wasn't hesitant in getting what she wanted, despite pushing away her friends and Zach. I thought that the aspect of PTSD was well-written in the book, as Lark seeks out the necessary treatment she needs to get better while getting space from other people. The romance was put on the backseat during this time, which was actually good to see since it reflects reality and how no, you don't need a romance to suddenly cure yourself. As always for Bowen, the chemistry was sparking between the characters throughout the book.
I've been following this fun series and this book is definitely not one to miss! It's cute, flirty, and deals with realistic issues in a way that was well-done and resolved. The ending is all sorts of fluffiness, and seeing familiar characters and couples was very nice. If you're an NA fan and haven't picked up Bowen's books, consider starting with the True North series!
---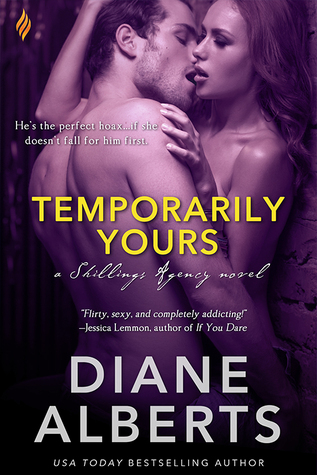 Temporarily Yours
Author: Diane Alberts
Series: Shillings Agency #1
Release Date: February 3, 2014
Publisher: Entangled Publishing
Get it Here: Amazon Kindle – only $2.99!
Stand-Out Points: Predictable and quick read that felt underdeveloped at times.
Synopsis:
A sexy category romance from Entangled's Brazen imprint…
This marine's the perfect hoax…if she doesn't fall for him first.
Stats whiz Kayla Moriarity knows her way around numbers and algorithms. Men, on the other hand, are unsolvable equations. Now Kayla's en route to her sister's wedding—alone and without the fictional boyfriend she invented for her family. Fortunately, her plane comes complete with complimentary cocktails and a ridiculously hot ex-marine in the seat beside her. And that's all it takes for Kayla's inhibitions to go sailing out the airlock…
Cooper Shillings has soft spot for people in trouble, but he certainly wasn't expecting to land in it himself—and definitely not while getting naughty mid-air with a sexy southern belle. When he hears Kayla's predicament, however, he offers his services as a stand-in boyfriend. After all, he's heading overseas soon…and how could he refuse a little no-strings wickedness?
It's the perfect plan. And all Kayla has to do is ensure her family falls for the ultimate bluff, without falling for it—and Cooper—in the process…
2.5 stars -> 3 stars
I got this book free from Amazon during a sale! If you check out the link, though, it's only $2.99 as well! I thought this was a very cute, filler romance for me, but unfortunately it never amounted to anything more. The predictability of the story was off the charts, and the whole unrealistic situation the characters were embroiled in was laughable at times. Nevertheless, the romantic in me was wholly satisfied by the characters' relationship progression, as well as development within themselves.
The book starts off with ex-Marine Cooper seeing a beautiful brunette at the airport. This brunette is Kayla, who is an actuary and is going to her sister's wedding. She likes to ramble on, which is a really cute and endearing trait, and Cooper is immediately captivated by her. This guy totally has a hero complex, so when he hears that she made up a boyfriend to her family to relieve their pressure for her to get in a relationship, he wants to help out. It also helps that they have a very instantaneous physical attraction, as well. The romantic scenes were clearly high in chemistry but I couldn't get into it much because of the lack of personal development between the characters. It was clear that they rushed into feelings for each other in their "fake relationship" and in the end I kind of sped through it all. There are some family dynamics that get explored towards the end, which I appreciated but didn't really get into all the way – probably because everything happened so quickly. The HEA was very sweet, and fit the rest of the cute atmosphere of the story.
All in all, it's a book that I enjoyed while reading but was also bored throughout it all. It seems like a great start to a new series, if not a bit short (being at 200 pages). I still think that romance readers still should consider checking this one out for a fun read.
Daring Fate
Author: Megan Erickson
Series: Silver Tip Pack #1
Release Date: November 14, 2016
Publisher: Self-Published
Get it Here: Amazon Kindle – only $3.99!
Stand-Out Points: M/m mates with a post-apocalyptic background and much action!
Synopsis:
We all have tragic backstories in today's world.
I wake up chained to the wall of a dark cell aware of two things: I failed my sister, and I smell my enemy.
When I'm taken to meet Dare, the alpha of the Silver Tip pack, I'm sure I'm about to lose my throat. The last thing I expect is for the Alpha to recognize me as his fated mate. No way is he going to let me go now, and I still have to find a way to rescue my sister.
As I plot my escape to save her, I find that if I leave, Dare could be killed by power-hungry members of his pack. And now he's more to me than my fated mate—my heart is involved. With time ticking by on my sister's life, I have to make a choice I never thought I'd face—my sister's life or my mate's? That's if I can survive the undead shifters intent on killing me first…
I was actually surprised to see that this was a m/m romance – I had no idea before I started the book! Honestly I really enjoy this author's stories so after skimming the synopsis I was ready to start it without knowing too much. I really liked Reese's character, although Dare was harder to get to know. What is not a joke are the steamy scenes in this book. OMG, lots of internal blushing and fanning while reading. Overall, I thought this was a solid start to an upcoming, interesting paranormal/dystopian romance series.
The book starts with the capture of Reese and his brother Jude, to the Silver Tip pack of Weres. The groups are distinguished into Weres, who have three forms of part-animal and part-human, and Werewolves, who are only either animal or human. There are also Noweres, who were Weres that had a virus spread to them, basically making them a zombie. It's a very post-apocalyptic kind of feeling as Reese has never eaten foods such as vegetables and bacon because the pack he escaped from couldn't supply those foods. I thought the world was extremely creative, as it brings a new spin to paranormal aspects. Reese and his family are actually Werewolves, making for a new experience when the pack of Weres bring them in. From the first chapter we find out that Reese's True Mate is the Alpha of the Silver Tip pack, Dare. I was really onboard with the whole True Mate thing. Like omg – way to make things hotter than they already were. There are also some stipulations for being True Mates like having pain when away from your mate, which was interesting. Either way, this aspect made for some extremely passionate scenes. (The fangirl in me is blushing.) Reese also has an inner conflict as he decides whether to stay with the pack – and his newfound mate – or go back to his old pack and save his sister, putting his new pack in danger. The character explorations were all very well done and although Dare was more of a stereotypical Alpha character, he was still easy to like. CAN'T STOP THINKING ABOUT THE STEAMY SCENES THOUGH. One small complaint was the insta-lust that happens? Like from the very first chapter it's a WHABAM feeling of pheromones and lust. It was almost hard to find the feelings of the characters under all those hormones.
"I relaxed, breathing in the delicious scent of my mate, content that he was now safe."
I thought that this book was super hot (omg the smut scenes) and also explored family and lover dynamics really nicely. The secondary characters were a blast to read about, and the main conflict was explored quite thoroughly despite it being a very steam-centered read. I think I would have liked it if it had more exploration on the romance side of things rather than the lust that takes over from almost the first page. Anyone who enjoys romance and paranormal books with strong and passionate Alphas should pick this one up!