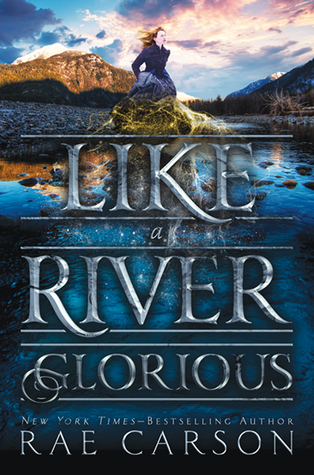 Like A River Glorious
Author: Rae Carson
Series: The Gold Seer Trilogy #2
Release Date: September 27, 2016
Publisher: Greenwillow
Get it Here: Amazon | Barnes & Noble | Book Depository
Synopsis:
After a harrowing journey across the country, Leah Westfall and her friends have finally arrived in California and are ready to make their fortunes in the Gold Rush. Lee has a special advantage over the other new arrivals in California—she has the ability to sense gold, a secret known only by her handsome best friend Jefferson and her murdering uncle Hiram.
Lee and her friends have the chance to be the most prosperous settlers in California, but Hiram hasn't given up trying to control Lee and her power. Sabotage and kidnapping are the least of what he'll do to make sure Lee is his own. His mine is the deepest and darkest in the territory, and there Lee learns the full extent of her magical gift, the worst of her uncle, and the true strength of her friendships. To save everyone, she vows to destroy her uncle and the empire he is building—even at the cost of her own freedom.
The second epic historical fantasy in the Gold Seer trilogy by Rae Carson, the acclaimed author of The Girl of Fire and Thorns.
Continuing on from the previous book, Like A River Glorious still has a sedate pace with characters coming and going and throughout it all, a spunky main character with a mysterious gift. This was definitely a solid sequel of Walk On Earth A Stranger with a developing romance and exploration of Lee's powers. Although I highly enjoyed it while reading, it didn't really get my adrenaline pumping or surprised me too much. The antagonist is the same from the previous book and clearly an evil guy, if a bit one-dimensional. Nevertheless, I'm still looking forward to the last book in this trilogy!
We begin this story with Lee and her caravan setting up in a land in California, which isn't a state yet in the story. The setting is during the gold rush, and Lee has a mysterious power where she can sense gold. This brings fortune and rough times through her life, as that ability is extremely coveted during such a time period. In the previous book her evil uncle Hiram killed her parents, which spurs her to go out and find opportunities for herself without his presence. She ends up joining with a caravan of people who also go out West with her to make a living, whether it's as a doctor, lawyer, or diner owner.
"The others think we've got an eye for prospecting, us being born and raised in Georgia gold-mining country. But the truth is, I've got witchy powers that lead me to gold as sure as the west leads the sun."
However, Lee's uncle Hiram is out to get her and her powers of finding gold, which makes it a dangerous path she treads on. Luckily, she has the help and support of her companions to keep her steady. I really liked the progression of the relationships in this story, be it platonically or romantically. We have a widow and her children, college men, a runaway slave, and a war veteran as a part of Lee's crew, and each character was endearing and sweet to read about. They begin to create a successful settlement by the first half of the book.
When Lee gets kidnapped by her uncle, she also finds out that her powers with gold are strengthening. Somehow she can also control the gold, to make it come towards her. This is an interesting development as she uses it to go against her uncle. He's clearly a defined villain, and yet there are secrets to him that we slowly discover. Hiram will deliver a physical blow to Lee in one moment, and call her "sweet pea" the next with a soothing voice. He's clearly demented, and yet calculating enough to establish a gold mine of his own. But there's no mistake that he's a villain, and that one-sidedness made him a bit of a boring antagonist.
While the setting is purely historical, Lee's powers are definitely magical. We never delve into the origination of this power or explore it, as Lee is the only one in the story who has it. It makes me extremely curious and a bit disappointed to see that this brand of magic is never explained or anything. It remains as mysterious as when she first explains it in the first book. I think Carson did a great job in exploring the intricacies of America during this time period though. We get to see the appalling ways immigrants like the Chinese were treated, as well as the indigenous Indians who were used as slaves. Carson doesn't hesitate to describe their unjust situations, which was nice to see.
"I sense it all now. The whole of the earth glitters with gold, interspersed with tiny veins weaving everywhere. It's like the earth is alive, and gold is its lifeblood."
There's a developing romance with Jefferson, who is Lee's best friend and half-Cherokee. He's pretty persistent in his courting of Lee, which is really sweet and cute to see. I love how supportive they are with each other, and the way they strengthen the other. Jefferson sticks to Lee's side throughout the book, which calls for some swoony moments as they interact. I also like the way Carson creates a conflict within Lee about marrying. Lee doesn't want her possessions to be owned by her husband, as it was with all the females that she knows or knew about. She wants to retain her independent spirit and properties – but is that possible once a woman binds herself to a man? It may seem like not in this time period, but with the right man it shouldn't be a problem.
The gold rush is a period filled with avarice and cunningness, which is seen throughout the book. However, we also get to see moments of goodwill and generosity. I think it's a great message to show how there may be evil and cruelty in the world, but also gold rays of joy found between communities with people who support each other. Lee's character is pretty stubborn and independent, but I also found lots of similar traits with the main character of Carson's previous series. In fact, there's a part where Lee says a piece of dialogue that was very familiar because I'm pretty sure that other character said it as well. (It was also a very memorable and unique piece of dialogue, which is why I remembered it.) Although I really like this type of character, it just felt a bit like deja vu for me. I'm not sure whether I like it or not, but it certainly made me pause while reading the book.
"'I thought my magic would save us all. But it turns out, all the magic in the world is rubbish compared to good people who take care of their own.'"
This was a really solid sequel! While the pace is as slow as ever (much like the first book), Lee's spunky character is enough to keep me reading, as well as her developing relationship with friends and Jefferson. I loved seeing the little nuances and idiosyncrasies of every side character that really make them stand out, like bad cooking or determined loyalty. Carson delivers with another story featuring a setting with people across all spectrums, be it good or evil, and a main character who always has a plan on her mind. I would definitely recommend this series for lovers of historical YA and those who like a more slow-fulfilling adventure!