I adore music so much. I listen to music while doing everything – including writing this post. That's why I've decided to make a book recommendation post with some stories that have music featured in them! I've added a "Music Index" for each book to let you guys know how much music is exactly mentioned.
I think music is one of those attributes of books that readers don't really think about. When I started this list, I didn't realize how many books I wanted to add until going back and looking through it. And yet, I would still love seeing more books that have a central focus on music!
I've created this book list with music that adds in characterization to music that fuels plot development and character growth. It also ranges through all genres, from fantasy to contemporary to scifi to paranormal. 🙂 Some are out, and some will be publishing soon. I try to keep an eclectic list so these books will range from all scopes!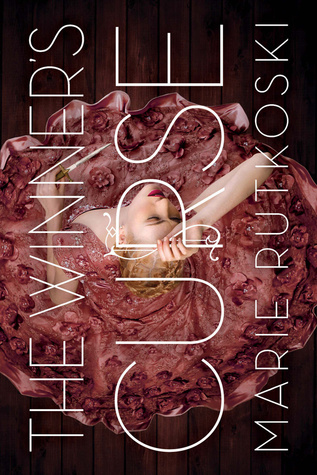 The Winner's Curse
Author:
Marie Rutkoski
Add to Goodreads!
Release Date:
March 4, 2014
Music Index:
 Very light, with hints of mention and practice
Synopsis:
Winning what you want may cost you everything you love…As a general's daughter in a vast empire that revels in war and enslaves those it conquers, seventeen-year-old Kestrel has two choices: she can join the military or get married. But Kestrel has other intentions.
One day, she is startled to find a kindred spirit in a young slave up for auction. Arin's eyes seem to defy everything and everyone. Following her instinct, Kestrel buys him—with unexpected consequences. It's not long before she has to hide her growing love for Arin.
But he, too, has a secret, and Kestrel quickly learns that the price she paid for a fellow human is much higher than she ever could have imagined.
Set in a richly imagined new world, The Winner's Curse by Marie Rutkoski is a story of deadly games where everything is at stake, and the gamble is whether you will keep your head or lose your heart.
Usually The Winner's Curse is a go-to fantasy where readers looking for a formidable heroine who uses her wits rather than talent in weaponry to figure out how to win a war. However, Kestrel is also very gifted with the piano and there are scenes of her playing it throughout the series! This was awesome to see because I also adore playing piano and personally it helped me understand her character a bit more. There's a scene near the end of the series where she's playing a duet with a certain someone, and it's sooo sweet and lovely. You can check out my review of this book here!
Eleanor & Park
Author:
Rainbow Rowell
Add to Goodreads!
Release Date:
 February 26, 2013
Music Index:
 Medium, with reference to songs
Synopsis:
Two misfits.
One extraordinary love.
Eleanor… Red hair, wrong clothes. Standing behind him until he turns his head. Lying beside him until he wakes up. Making everyone else seem drabber and flatter and never good enough…Eleanor.
Park... He knows she'll love a song before he plays it for her. He laughs at her jokes before she ever gets to the punch line. There's a place on his chest, just below his throat, that makes her want to keep promises…Park.
Set over the course of one school year, this is the story of two star-crossed sixteen-year-olds—smart enough to know that first love almost never lasts, but brave and desperate enough to try.
This book was one of my least favorites from Rowell, who is an amazing contemporary author. It was still a fun read though, and the characters were all pretty endearing. Both Eleanor and Park have a shared love of music and comics, which the author explores in the book. They have similar tastes as Park is introducing all his favorite songs to Eleanor and those intersecting interests allow them to become closer and develop into a romantic relationship. It's a very cute book and the addition of music was a nice thing to see! My review is here.
Shuffle, Repeat
Author:
Jen Klein
Add to Goodreads!
Release Date:
May 3, 2016
Music Index:
 Medium, with references to songs
Synopsis:
When Harry Met Sally for YA romance readers. This opposites-attract love story is perfect for fans of Huntley Fitzpatrick, Stephanie Perkins, and Jenny Han.
June wants high school to end and real life to begin. Oliver is soaking up senior year's glory days. They could have coasted through high school, knowing about—but not really knowing—each other.
Except that their moms have arranged for Oliver to drive June to school. Every. Single. Day.
Suddenly these two opposites are fighting about music, life . . . pretty much everything. But love is unpredictable. When promises—and hearts—get broken, Oliver and June must figure out what really matters. And then fight for it.
While the previous book had an introduction to music and similar tastes, this contemporary features polar characters who develop feelings for each other! June and Oliver are in very different social circles, have different outlooks on life, and have different tastes in music. They make a bet in the beginning of the school year that every time someone one-ups the other, they can add a song of their choice to the playlist they use on the drive to school. An eclectic playlist of music starts developing, just as they develop romantic feelings for each other. I thought this book was super cute and used music as a great way to show how opposites attract in this story. Review can be found here.
Gifted
Author: 
HA Swain
Add to Goodreads!
Release Date:
 June 14, 2016
Music Index:
 Heavy, with importance towards plot and characterizations
Synopsis:
In Orpheus Chanson's world, geniuses and prodigies are no longer born or honed through hard work. Instead, procedures to induce Acquired Savant Abilities (ASAs) are now purchased by the privileged. And Orpheus's father holds the copyright to the ASA procedure.
Zimri Robinson, a natural musical prodigy, is a "plebe"–a worker at the enormous warehouse that supplies an on-line marketplace that has supplanted all commerce. Her grueling schedule and her grandmother's illness can't keep her from making music–even if it is illegal.
Orpheus and Zimri are not supposed to meet. He is meant for greatness; she is not. But sometimes, rules are meant to be broken. Here is a thriller, love story, and social experiment that readers will find gripping–and terrifying.
This was an unexpected, lovely surprise of a book! It's a standalone that takes place in the distant future where the entertainment industry is running rampant. The only problem is that the rich just get richer – and more talented – while the plebes stay unknown. We follow the storyline of Zimri, who is a plebe that has an exceptional talent with voice and guitar, and yet her talent is left ignored in the favor of scientifically acquired talents. Orpheus lives in the world of fame and fortune, yet he sees something in Zimri that could change the music industry as they know it. You can check out my review here!
Playlist for the Dead
Author:
Michelle Falkoff
Add to Goodreads!
Release Date:
 June 14, 2016
Music Index:
 Medium-Heavy, with references to songs and development of plot
Synopsis:
Here's what Sam knows: There was a party. There was a fight. The next morning, Sam's best friend, Hayden, was dead. All he left Sam was a playlist of songs—and a note, saying that he took his own life. But what Sam doesn't know is: Why?
To figure out what happened, Sam has to rely on the playlist and his own memory. But the more he listens, the more he realizes that his memory isn't as reliable as he thought. Especially when someone claiming to be Hayden starts sending him cryptic messages, and a series of violent attacks begins on the bullies who made Hayden's life hell.
Sam knows he has to face up to what happened the night Hayden killed himself. But it's only by taking out his earbuds and opening his eyes to the people around him—including an eccentric, unpredictable girl who's got secrets, too—that Sam will finally be able to piece together his best friend's story.
And maybe have a chance to change his own.
This was an interesting read, as we get to follow the narrator who listens to a playlist left by his dead best friend in the hopes of understanding him – and the reason why he killed himself. The book was pretty well-written and had a very bittersweet tone throughout it all. We slowly get to uncover the events that led to Hayden's death and how Sam has to deal with it, being his best friend. The playlist had more symbolism than anything really, and signaled a growth in Sam as he continues on his journey of life. I wrote a review of it here.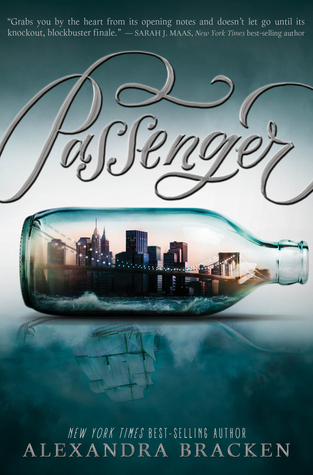 Passenger
Author: 
Alexandra Bracken
Add to Goodreads!
Release Date:
 June 14, 2016
Music Index:
 Medium-Heavy, with character playing music and utilizing it to describe elements of the plot
Synopsis:
Passage, n.
i. A brief section of music composed of a series of notes and flourishes.
ii. A journey by water; a voyage.
iii. The transition from one place to another, across space and time.
In one devastating night, violin prodigy Etta Spencer loses everything she knows and loves. Thrust into an unfamiliar world by a stranger with a dangerous agenda, Etta is certain of only one thing: she has traveled not just miles but years from home. And she's inherited a legacy she knows nothing about from a family whose existence she's never heard of. Until now.
Nicholas Carter is content with his life at sea, free from the Ironwoods—a powerful family in the colonies—and the servitude he's known at their hands. But with the arrival of an unusual passenger on his ship comes the insistent pull of the past that he can't escape and the family that won't let him go so easily. Now the Ironwoods are searching for a stolen object of untold value, one they believe only Etta, Nicholas' passenger, can find. In order to protect her, he must ensure she brings it back to them—whether she wants to or not.
Together, Etta and Nicholas embark on a perilous journey across centuries and continents, piecing together clues left behind by the traveler who will do anything to keep the object out of the Ironwoods' grasp. But as they get closer to the truth of their search, and the deadly game the Ironwoods are playing, treacherous forces threaten to separate Etta not only from Nicholas but from her path home… forever.
This was a really fun time-travel book, and I love the way Bracken incorporated music throughout it all. While Etta is an extremely skilled violinist, she also hears traces of sound when getting sucked to jump across time. There's also a rather heavy element of romance with a super swoony love interest. It's definitely set at a different pace and setting than the author's previous work, but I enjoyed it nonetheless and can't wait for the next installment!
Wintersong
Author:
S Jae Jones
Add to Goodreads!
Release Date:
 June 14, 2016
Music Index:
 Heavy, with music instrumental to character and plot development
Synopsis:
Beware the goblin men and the wares they sell.
All her life, nineteen-year-old Liesl has heard tales of the beautiful, mysterious Goblin King. He is the Lord of Mischief, the Ruler Underground, and the muse around which her music is composed. Yet, as Liesl helps shoulder the burden of running her family's inn, her dreams of composition and childish fancies about the Goblin King must be set aside in favor of more practical concerns.
But when her sister Käthe is taken by the goblins, Liesl journeys to their realm to rescue her sister and return her to the world above. The Goblin King agrees to let Käthe go—for a price. The life of a maiden must be given to the land, in accordance with the old laws. A life for a life, he says. Without sacrifice, nothing good can grow. Without death, there can be no rebirth. In exchange for her sister's freedom, Liesl offers her hand in marriage to the Goblin King. He accepts.
Down in the Underground, Liesl discovers that the Goblin King still inspires her—musically, physically, emotionally. Yet even as her talent blossoms, Liesl's life is slowly fading away, the price she paid for becoming the Goblin King's bride. As the two of them grow closer, they must learn just what it is they are each willing to sacrifice: her life, her music, or the end of the world.
This book had mellifluous writing and was full of beautiful concepts. It's a YA retelling of The Labyrinth with some swoony moments with a certain Goblin King. The main character Liesl is a natural composer, yet she hides her talents behind the skills of her child-prodigy younger brother, who can play violin. But it's in the Underground where Liesl gets to unleash her passions as far as can see. It's also where she learns she's slowly dying… So, is her love of music and life enough to keep her going? Look out for my review soon on Happy Indulgence!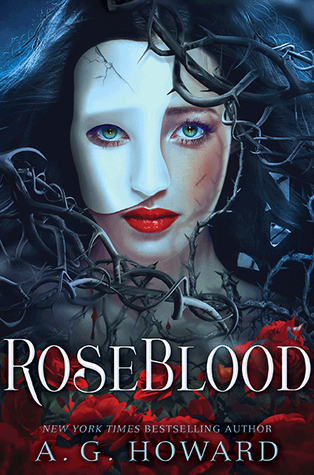 RoseBlood
Author:
 AG Howard
Add to Goodreads!
Release Date:
 June 14, 2016
Music Index:
 Heavy, with music instrumental to character and plot development
Synopsis:
In this modern day spin on Leroux's gothic tale of unrequited love turned to madness, seventeen-year-old Rune Germain has a mysterious affliction linked to her operatic talent, and a horrifying mistake she's trying to hide. Hoping creative direction will help her, Rune's mother sends her to a French arts conservatory for her senior year, located in an opera house rumored to have ties to The Phantom of the Opera.
At RoseBlood, Rune secretly befriends the masked Thorn—an elusive violinist who not only guides her musical transformation through dreams that seem more real than reality itself, but somehow knows who she is behind her own masks. As the two discover an otherworldly connection and a soul-deep romance blossoms, Thorn's dark agenda comes to light and he's forced to make a deadly choice: lead Rune to her destruction, or face the wrath of the phantom who has haunted the opera house for a century, and is the only father he's ever known.
By far one of my favorite 2017 releases to date, RoseBlood is a YA retelling of The Phantom of the Opera with a haunting, gothic and yet gorgeous setting at a music academy in France. The main character Rune has a stunning voice, but recently she's been feeling weak each time she uses that voice. Howard's stunning writing really makes the music alive in the book, and you can feel the passion of each characters clearly through it. The mysterious love interest Thorn is also a talented violinist who has some secrets of his own. With a scorching romance and an unexpected paranormal twist, I adored every part of this book. Look out for a review of it coming soon on the blog!
I hope some of these books will be added to your TBR!
What are some books that have music in them that you adore?