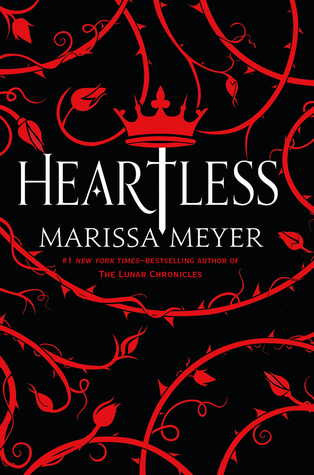 Heartless
Author: Marissa Meyer
Release Date: November 8, 2016
Publisher: Feiwel & Friends
Get it Here: Amazon | Barnes & Noble | Book Depository
Synopsis:
Long before she was the terror of Wonderland — the infamous Queen of Hearts — she was just a girl who wanted to fall in love.
Catherine may be one of the most desired girls in Wonderland, and a favorite of the yet-unmarried King of Hearts, but her interests lie elsewhere. A talented baker, all she wants is to open a shop with her best friend and supply the Kingdom of Hearts with delectable pastries and confections. But according to her mother, such a goal is unthinkable for the young woman who could be the next Queen.
At a royal ball where Cath is expected to receive the king's marriage proposal, she meets Jest, the handsome and mysterious court joker. For the first time, she feels the pull of true attraction. At the risk of offending the King and infuriating her parents, she and Jest enter into an intense, secret courtship.
Cath is determined to define her own destiny and fall in love on her terms. But in a land thriving with magic, madness, and monsters, fate has other plans.
In the same vein as the popular Broadway musical Wicked, this book explores the backstory of a renowned villain, bringing to life a character that is so easily despised in modern culture. Readers can easily distinguish the slow yet steady change of Catherine to become the bloodthirsty Queen of Hearts that we read about today. Meyer revisits unforgettable characters like the Mad Hatter and Cheshire the Cat, adding her own little flair in regards to their personality – truly bringing them to life. With the vivid writing and refreshing new characterizations for old characters, Heartless captures a captivating yet heartbreaking origin story of the Queen of Hearts.
"They were all a little mad, if one was to be forthright."
The book starts out with Lady Catherine doing her favorite pastime: baking. She's probably the best baker in Hearts, and wants to open up her own bakery despite the ideas of her parents who are nobles. She attends the king's ball later that night and encounters a new court joker named Jest. First let me pause and say YES TO THE YES. I've always wanted to read about a court fool as a love interest instead of a dashing prince or captain of the guards. It makes me really happy to see such a character. And although Catherine and Jest really hit it off, they can't stop what's really happening: the King of Hearts is going to propose to her.
"A painful, bittersweet reality. Jest was wooing her, but only in the name of the King."
And thus begins our tale of hidden flirtations in the veil of night with Jest all while the king is openly courting Catherine. It really is enough to make a girl bitter about her future. While this is happening, there is also a dangerous Jabberwock on the loose, and for some reason the king is doing absolutely nothing to reassure to people of Hearts.
I thought that the romance was probably the weakest link in the book. Although yes, it was sweet and touching and heart-achingly beautiful, it was also quick to form and on a very flimsy foundation. Later on as Jest and Catherine had more moments, I got more on board. Jest shows Catherine how impossibilities are his specialties and introduces her to curious new friends like Hatta, who is a Hatter. His family may be cursed to be mad, but somehow he's found a way to escape that curse… Or has he? All the while, Catherine is constantly being pushed by her parents and friends towards accepting the well-meaning yet incredibly naive and dumb King of Hearts' suit.
"What would happen if she chose him?
Was such a choice truly outside the realm of possibility, or did it only seem that way because such a choice had never presented itself before?"
Throughout the story, Meyer includes familiar characters that may or may not have large roles in it, as well as rhymes that fit within the eccentric world. Despite the rather bland cover (I mean come on, there's only two colors on it and one design), Meyer's writing creates a colorful world in Hearts to make up for it plenty. We see extraordinary things happening like they're ordinary, and the vividness of the world and its characters is just plain exciting to read.
Jest is an important character that I wish we could have seen more of. You read about him and discover some of his secrets, but in my opinion you still don't get to really know him farther than the romance. What is his history and family life? How did he become the way he is? These things are explained rather sparingly (or not at all) throughout the story and it would have been nice to see more elaboration on them. I could have connected to his character more that way. Because of that lack of connection, it made me feel like his character was more a plot element that anything. After all, the story is pretty much all about Catherine.
"'You have my heart, Jest. I don't know if you deserve it or not. I can't tell if you're a hero or a villain, but it doesn't seem to matter. Either way, my heart is yours."
I know that many people are avoiding this because they don't want to risk the heartbreak (it was the same for me), but I found myself really enjoying it. The bittersweet event that happens was a little ruined for me because it was just so damn hard to connect to some of the characters, so I didn't really feel that emotionally tied in with it. But still, Catherine's own response for vengeance and justice was very easy to relate to, which made what happened to her really justified and wonderfully written, on Meyer's part.
The rather sudden and hasty climax is easy to forgive, when given the exhilaration that it gives readers. The whole story creates a simply enchanting backstory to the Queen of Hearts that will definitely not be forgotten by this reader. Although a tad bittersweet, its conclusion is straightforward and gives us a perfect idea of how Catherine came to be what she is. Overall Meyer continues to impress me with her storytelling, and although this doesn't have the same happily-ever-after as the Lunar Chronicles (which made me hesitant to read it in the first place), the story in between is still worth the read.