Hey everyone! This week I'm super duper luper excited to feature an interview with Sarah Glenn Marsh, the author of newly-published Fear the Drowning Deep, a historical YA with hints of mystery and intrigue as a part of SST, hosted by Nori at Read Write Love 28. We get to talk about romance in books (always a fave with me), a big creepy sea monster, and other fun things that you'll discover in this story!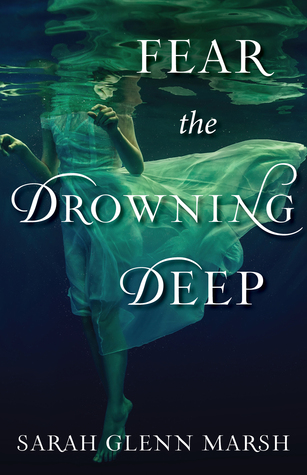 Fear the Drowning Deep
Author: Sarah Glenn Marsh
Release Date: October 11, 2016
Publisher: Sky Pony Press
Get it Here: Amazon | Barnes & Noble | Book Depository
Synopsis:
Witch's apprentice Bridey Corkill has hated the ocean ever since she watched her granddad dive in and drown with a smile on his face. So when a dead girl rolls in with the tide in the summer of 1913, sixteen-year-old Bridey suspects that whatever compelled her granddad to leap into the sea has made its return to the Isle of Man.Soon, villagers are vanishing in the night, but no one shares Bridey's suspicions about the sea. No one but the island's witch, who isn't as frightening as she first appears, and the handsome dark-haired lad Bridey rescues from a grim and watery fate. The cause of the deep gashes in Fynn's stomach and his lost memories are, like the recent disappearances, a mystery well-guarded by the sea. In exchange for saving his life, Fynn teaches Bridey to master her fear of the water — stealing her heart in the process.Now, Bridey must work with the Isle's eccentric witch and the boy she isn't sure she can trust — because if she can't uncover the truth about the ancient evil in the water, everyone she loves will walk into the sea, never to return.
INTERVIEW
1. The book features an exhilarating bevy of characters and creatures in it, including sea monsters. Were there any real life sea monsters (or obstacles) you faced while writing FTDD?
Without getting too spoiler-y, writing the Big Bad in this book freaked me out! Also, Bridey is so scared of the ocean that I often felt terrible about the things I was subjecting her to! In fact, I'd say that was the most difficult part of writing the book overall; I came to love all the characters (okay, maybe not Mr. Gill…), and I often felt bad about ruining their lives (something I've since gotten over in my subsequent books…consider yourselves warned ;)). I dealt with it by writing an ending that was satisfying to me, and that I hope will be the same for readers!
2. Bridey has a fear of the sea, but what's your own stance on it? Do you love it, fear it, admire it, etc?
While I've had a few people remark how the book has struck a chord with them because they share Bridey's fear of deep, open water…I can't say I'm the same!
I've spent at least some time at the beach every summer since I was a baby, not to mention trips there in the spring or at Thanksgiving time, so the ocean and I are old friends. And while I've had a few unpleasant encounters with the water's denizens (swimming through a nest of baby jellyfish that got stuck in my bathing suit, and stepping on a crab that pinched a bit off my big toe= ouch!), I've never seen any reason to fear anything in the water. Quite the opposite, I find the ocean comforting, and healing. I love the weightlessness of being in the water and the rhythm of the waves like breathing. The ocean is one of my favorite places!
3. What Hogwarts houses would you sort the characters of FTDD into?
Bridey's the easiest, so we'll start with her: Ravenclaw! With her love of reading and learning, that's definitely where she belongs.
Fynn is a Gryffindor, as is Bridey's friend Lugh. I wouldn't put it past those two to have some kind of ridiculous contest to prove their bravery.
Morag, I think, the Sorting Hat would have trouble placing between Slytherin and Ravenclaw; she's resourceful and cunning, but not overly ambitious, and she shares Bridey's love of learning and a deep knowledge of myths. Is there such a thing as a Slytherclaw? If so, she's that!
Bridey's youngest sister, Grayse, who would be at the top of her Care of Magical Creatures Class, belongs in Hufflepuff, as does Bridey's oldest sister, Mally, and her friend Catreena!
As for Bridey's other sister, Liss—a Gryffindor following in Hermoine's footsteps!
4. FTDD takes place in a picturesque fishing village near the sea that some people would love to spend time in. What's a happy place of yours that you find time to escape to?
For me, that would be Corolla, North Carolina. This is the beach I mentioned earlier that I've been going to since I was a baby! I grew up there in the summers, and later, when I was 23, I got married there right on the beach, and it became a special place to my husband, too. Part of the appeal is the ocean, part is the history (Corolla had no paved roads until the 1980s!), and part is the wildness of the landscape. Corolla is home to a herd of wild Spanish mustangs that roam between houses and fields and sand in a protected area. There's also a 1920s estate called the Whalehead Club there, which is supposedly haunted (and from being inside it, I'd say it really does have that potential!). But beyond all that, Corolla is a place full of happy memories and fun things to do and see—a place to which I'm always happy to return!
5. OH NO! You're stranded on a deserted island and can bring ONE book with you. Not a series, but a book. Which one would you choose?
I'll take it this means I can't answer with "an omnibus edition of the Abhorsen trilogy or the Lord of the Rings?" 😉
In which case, I'd bring something nice and long, with plenty of re-readability (because that's totally a word). So: Harry Potter and the Goblet of Fire!
6. If you could eat only one food for the rest of your life, what would it be and why?
Pizza! There are so many toppings you can put on it to change up the flavor, and it's filling and delicious. And yes, I'm one of those picky eaters who hates seafood (something I have in common with Bridey!), and who eats almost no meat. So, pizza it is!
7. I love me some romance in books, and FTDD definitely has one in it. What are some of your favorite romances in literature, and did any of those have an impact on the romance in FTDD?
For starters, I love the slow burn romance between Melaria and Vidanric in Sherwood Smith's wonderful Crown Duel & Court Duel. I also love the romance between Sabriel and Touchstone in Garth Nix's Abhorsen books, and the romance between Katsa and Po in Kristin Cashore's Graceling. I love romances that feature strong women alongside men who temper their own strength with thoughtfulness and consideration, though I wouldn't say any certain romance inspired the one in Fear.
I think I should also give a shout-out here to one of my favorite romances on TV, which is Clarke and Lexa from The 100. Seeing that romance made me realize how validating it is to see yourself in characters (for me, Clarke), and that realization went on to inspire the romance in my next YA fantasy—more on that next book can be found below!
8. Congrats on publishing your first book! What other projects can we expect from you in the upcoming year?
Thank you so much! Next year, you'll see my picture book Selfie Sebastian coming out from Sterling Children's, which features a fox on a quest to take the perfect selfie, which leads him on some crazy adventures! You may also see more picture book work from me next year, so stay tuned!
And very early in 2018, you'll see my next YA, an LGBT epic fantasy called Reign of the Fallen, which is the first in a duology with Razorbill! I can't say too much about it yet—don't want to spoil anything!—but it centers on a necromancer named Odessa, who goes by the nickname Sparrow. She has monsters to face—both inside herself and outside—in a land ruled by a Dead king for over two hundred years, where change is forbidden…
Thanks so much for taking part of this interview! ❤
Sarah Glenn Marsh writes young adult novels and children's picture books. An avid fantasy reader from the day her dad handed her a copy of The Hobbit and promised it would change her life, she's been making up words and worlds ever since. She lives in Virginia with her husband and four rescued greyhounds. When she's not writing, she's often painting, or engaged in pursuits of the nerd variety from video games to tabletop adventures and dungeon crawls. Her work is represented by Christa Heschke of McIntosh and Otis. Visit her online at http://www.sarahglennmarsh.com.