This week has a fantastic start-off with Becky Allen's debut book, Bound by Blood and Sand! The blurb completely caught my attention – nothing like good social issues to create meaningful conflicts. I soon found myself entranced by the unique world and intriguing characters after picking it up. Suffice it to say, I'm super excited to be featuring it on the Sunday Street Team, hosted by Nori at Read Write Love 28!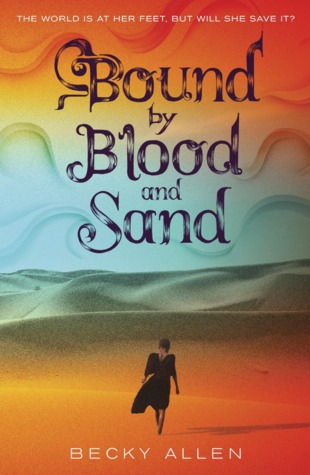 Bound by Blood and Sand
Author: Becky Allen
Series: Bound by Blood and Sand #1
Release Date: October 11, 2016
Publisher: Delacorte Press
Get it Here: Amazon | Barnes & Noble | Book Depository
Synopsis:
Jae is a slave in a dying desert world.
Once verdant with water from a magical Well, the land is drying up, and no one remembers the magic needed to keep the water flowing. If a new source isn't found soon, the people will perish. Jae doesn't mind, in a way. By law, she is bound by a curse to obey every order given her, no matter how vile. At least in death, she'll be free.
Lord Elan's family rules the fading realm. He comes to the estate where Jae works, searching for the hidden magic needed to replenish the Well, but it's Jae who finds it, and she who must wield it. Desperate to save his realm, Elan begs her to use it to locate the Well.
But why would a slave—abused, beaten, and treated as less than human—want to save the system that shackles her? Jae would rather see the world burn.
Though revenge clouds her vision, she agrees to help if the kingdom's slaves are freed. Then Elan's father arrives. The ruler's cruelty knows no limits. He is determined that the class system will not change—and that Jae will remain a slave forever.
This book drew me at once with its strict social hierarchy that is described in the blurb, and further explored throughout the story. The desert world is thoroughly enchanting and original, and I love the realistic way the author portrayed the desert. The little nuances of the characters' actions really fit with the setting, and brought it to life. While the adventure is pretty straightforward and simple, with not many twists and turns to keep you guessing, the journey is nonetheless very exciting and fulfilling to read.
We begin with the introduction of Jae, a slave in the household. There wasn't necessarily an info-dump in the beginning; rather, we are told what the characters know, and as you read the book, you find out what kind of secrets the world is really holding. So Jae is a Closest, the people who descended from a traitor and is Cursed to follow the instructions of any of the Avowed. The Avowed, on the other hand, are those descended from the twin brother of the traitor and apparently the "hero" in the history of their land. You can only imagine what a slave is treated like, and to not be able to say their thoughts. They are quiet and burdened, world-weary and sighing.
The Curse makes it so that they have to obey the orders of the Avowed, and they'll be in pain if they aren't. This is truly despicable because that means that their body is basically for the Avowed, and they can't fight back. It's unfair and unjust and the worst part is the fact that they can't speak out against it. How can you start a rebellion when your will isn't free? This all changes with Jae's discovery. In the beginning, we can see that the reservoirs of water are slowly dying out. It may be because of overpopulation… or something else.
"'They say there are too many people in the world now, more than ever before, and that's why there's not enough water anymore. All of the wardens agree, the Well can't sustain everyone. So some estates…The Highest have decided to leave some estates entirely, take their Avowed and even the Twill and leave the rest of us here to die in the drought.'"
With Jae's accidental discovery of magic, however, this changes the whole game plan. Not only will she be able to find the Well, where all the water is supplied from, but she can also control some of the elements. And fight back against the Highest (who control the reservoirs). But while all this power is spectacular for the Closest at her estate, what does it mean for the rest of the population? This question comes onto the spotlight as she decides how exactly she'll be using her magic.
"She didn't know yet how she'd resist Lord Elan's orders. But after so many generations of lies and sorrow, she would either end the curse or she'd end everything."
There are a couple of notable characters that are worth talking about. First is Tal, the twin brother of Jae. I love their relationship, and how they cared about each other. They do little things for the other that really show the depths of their love for the other. The story also switches third person POV to Elan sometimes. Although he's described as a prince in the blurb, the fact of the matter is that he's caused tension with his father and is being punished by getting sent to the estate where Jae and her brother resides at. The reason for the tension? Questioning his father's orders, of course. Elan is a bit naive, being a Highest, but eventually learns what it's like to work and how the Closest feel while at the estate.
"For the first time, Elan wondered what life was really like for the Closest. To care and worry and want to help – but to be at everyone else's mercy, unable to even speak."
Surprise, surprise, there is no romance in this book! Or at least not with the characters you would expect. There are mentions of romantic relationships with other characters, but not Elan and Jae. This was interesting, and also went against my expectations – it was definitely a pleasant surprise though. Jae certainly isn't in the position for a romance: she's full of vengeance and her newfound magic gives her the power she needs to act on it. She views Elan with fear and suspicion at first, and later on just suspicion. Elan on the other hand starts to understand how Jae felt as a Closest, with no will. It's certainly a learning curve for him. But overall, their mutual suspicion turns eventually into a more trusting relationship, but definitely later on in the book. There are no heated glances, no "I'm-attracted-to-him-even-though-I've-been-enslaved-by-his-people" feelings, no chemistry and certainly no blushing. I actually really appreciated how realistic it was in the end, because I can't see any self-respecting slave develop feelings for someone whose bloodlines has imprisoned her, no matter how good looking he is.
While I thoroughly liked these characters, I also wish I could have connected to them more. Jae's mind for revenge against the Highest was awesome and empowering, but didn't resonate with me as much as I would have liked. The book is fairly quick to read, being just 300 pages, and most of it was used discovering the actual history of the world and continuing the plot. I wouldn't have mind slowing down the plot elements to get some more introspection with the characters. I feel like the big event at the end would have made more of an impact on me that way.
Speaking of the ending: it certainly has a resolution, but also leaves plans for the sequel of the story. I will definitely be looking out for it! Fantasy fans will enjoy this story that stemmed from a conversation about irrigation (which I thought was really cool). There's magic and adventure and a lovely sibling love that'll warm your heart. And while some people may be disappointed there isn't a romance (while some will be happy to hear that, I bet), there is certainly a development of trust and respect that happens between two people coming from different parts of a strict social hierarchy. I'll definitely be looking out to see where Jae's adventure takes her in the next book.
Becky Allen grew up in a tiny town outside Ithaca, New York, and graduated from Brandeis University with a major in American studies and a minor in journalism. She is the website director of TheBody.com, an online HIV resource, and loves New York, brunch, and feminism. Becky lives in New York City.
Enter to win a preorder of this book!