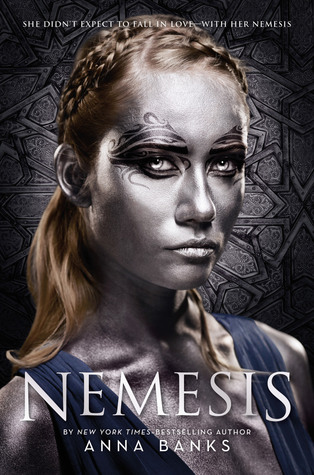 Nemesis
Author: Anna Banks
Series: Nemesis #1
Release Date: October 4, 2016
Publisher: Feiwel and Friends
Get it Here: Amazon | Barnes & Noble | Book Depository
Synopsis:
The princess didn't expect to fall in love–with her nemesis.
Princess Sepora of Serubel is the last Forger in all the five kingdoms. The spectorium she creates provides energy for all, but now her father has found a way to weaponize it, and his intentions to incite war force her to flee from his grasp. She escapes across enemy lines into the kingdom of Theoria, but her plans to hide are thwarted when she is captured and placed in the young king's servitude.
Tarik has just taken over rulership of Theoria, and must now face a new plague sweeping through his kingdom and killing his citizens. The last thing he needs is a troublesome servant vying for his attention. But mistress Sepora will not be ignored. When the two finally meet face-to-face, they form an unlikely bond that complicates life in ways neither of them could have imagined.
Sepora's gift could save Tarik's kingdom from the Quiet Plague. But should she trust her growing feelings for her nemesis, or should she hide her gifts at all costs?
Thank you Macmillan's Children Publishing for the review copy!
I just want to say before I start that I'm not a big fan of this cover. I know a lot of people aren't, because most of us don't want faces on covers. It's not the prettiest thing in the world, and the silver skin gives me the heebie-jeebies. But I think this is really a case where I urge you guys to not judge a book by its cover. 😛 I mean, I wouldn't have picked this book up in the bookstore if I saw it on shelves, but the blurb really caught my attention. And hear me out in my review before discrediting it based on the cover alone! (Also, the skin reflects the make up in the culture of one of the kingdoms – the character herself isn't silver-skinned.)
This was a pretty great start of a new fantasy series, and I was pleasantly surprised at the imaginative new ideas that the author brought onto the table. Told between a first person narration from Sepora and a third person limited view from Tarik, Nemesis follows two countries as they converge on the path of war… if our characters don't do something about it first.
The book starts off with Sepora leaving the country of Serubel, where her father the king is trying to utilize her power as a Forger for his own war gains. Basically, her power is to create a special element called spectorium that is sought after throughout the world they live in. It has special properties with a multitude of uses, and the rest of the world is thoroughly explained through the narration. However, she doesn't want her power to be the reason why so many people die at the cost of war. And thus, to prevent bloodshed, she escapes the country.
"I am a Forger of spectorium, the last Forger, and I could produce enough of this valuable element to make me very rich in that kingdom. But with wealth comes more than the price of fine clothing and nicely appointed chariots; with it comes attention and even scrutiny. And under scrutiny, my ability becomes a danger to all."
But plans go awry, and she ends up being sold to the king's harem in Theoria. Theoria, the kingdom that is so at odds with her own country. I really liked the way that Banks differentiates these two countries. Theoria is a hot, desert-like place where the citizens wear scantily-clad clothes while Serubel is much more conservative. They have different cultures and customs too, which Sepora discovers while at court.
She basically becomes an attendant to the adviser of the Tarik the Falcon King, who just wants the best for his people and to become a great ruler like his father. I really enjoyed both their characterizations and how they interacted. Theoria is both suffering from a plague with no cure and the possibility of war from Serubel. Sepora and Tarik both work together to try to limit the amount of deaths that are happening.
Sepora was definitely strong-willed and independent; sometimes she could be a bit impetuous, but she certainly learns her lessons when those times come. Overall though, she's very smart and knows when to keep her mouth shut, which I thought was quite nice for a character to do for once. (Instead of being brazenly capricious throughout the whole book.) Tarik, on the other hand, is constantly burdened by the problems of the kingdom. We can see through his actions that he's a kind ruler who cares about his people, whether it's diguising himself to visit the commoners or changing traditional customs in an effort to see better results. Both characters were wonderful on their own, and just as great together. Because even when they admit their feelings (after a slow, gradual progression), they keep their own goals in mind. For Sepora, it's to not be controlled by someone because of her spectorium abilities. For Tarik, it's for the safety of his kingdom and people.
"'How shall I explain this?' He gestures toward the sky. 'Having you on this balcony with me makes the sun shine brighter. Your laugh is a cool breeze on a scorching day. The throne room, full of its problems and complaints and inquiries and stifling etiquette – your presence seems to hush all of that. You have taken a bleak existence, a life of duty, and made me eager to wake up to it each and every morning.'"
The abilities and other aspects of the world were really, really interesting to read about. There are creatures called the Paranis who remain mysterious, and an ability to ascertain whether someone is telling the truth or not. I really can't wait to see what else Banks has to offer in this fun-filled world in the upcoming installments of this series.
However, I did find the ending a tad bit rushed and quite abrupt. It just seemed like the scene was cut-off. Not a particular cliffhanger, but not really satisfying either. Either way, I will definitely be continuing this series! The spectacular characters and simply stunning world left me wanting more. 
Soo I hoped that convinced some of you to check this one out, even if you hesitate because of the cover. The words inside are definitely worth the read. 🙂 And if not, then your loss!