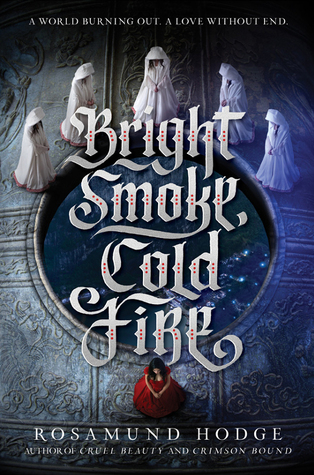 Bright Smoke, Cold Fire
Author: Rosamund Hodge
Series: Bright Smoke, Cold Fire #1
Release Date: September 27, 2016
Publisher: Balzer & Bray
Get it Here: Amazon | Barnes & Noble | Book Depository
Synopsis:
When the mysterious fog of the Ruining crept over the world, the living died and the dead rose. Only the walled city of Viyara was left untouched.
The heirs of the city's most powerful—and warring—families, Mahyanai Romeo and Juliet Catresou share a love deeper than duty, honor, even life itself. But the magic laid on Juliet at birth compels her to punish the enemies of her clan—and Romeo has just killed her cousin Tybalt. Which means he must die.
Paris Catresou has always wanted to serve his family by guarding Juliet. But when his ward tries to escape her fate, magic goes terribly wrong—killing her and leaving Paris bound to Romeo. If he wants to discover the truth of what happened, Paris must delve deep into the city, ally with his worst enemy . . . and perhaps turn against his own clan.
Mahyanai Runajo just wants to protect her city—but she's the only one who believes it's in peril. In her desperate hunt for information, she accidentally pulls Juliet from the mouth of death—and finds herself bound to the bitter, angry girl. Runajo quickly discovers Juliet might be the one person who can help her recover the secret to saving Viyara.
Both pairs will find friendship where they least expect it. Both will find that Viyara holds more secrets and dangers than anyone ever expected. And outside the walls, death is waiting. . . .
Thank you Edelweiss and Harper Teen for the review copy!
I love how the author said in an interview that she didn't like the story of Romeo and Juliet when she first read it. Because SAME. I thought it was ridiculous that teenagers can make such a dramatic mess of their lives, but after studying it in English, I do know more about the message it carries (and the amazing rhetoric of Shakespeare). Nevertheless, I do enjoy the forbidden lovers trope and the fact that the main characters in this book are not based on Romeo nor Juliet. Yes, they are integral characters of the story, but no, they're not exactly the main characters.
The interesting thing is that this book follows two separate storylines in the same city of Viyara, which is plagued by death. The only protection against this Ruining is the wall that Viyara has, but that wall is failing. The human sacrifice quota it needs to sustain itself is increasing, and Runajo wants to do something before the wall totally disintegrates. She is currently a Sister of Thorn, who uses their mysterious blood magic to maintain the wall. I really enjoyed all the characterizations in this book; Hodge writes them with such flaws and inner strength that you can't help but root for them. Runajo had to watch her mother and father die, so she thinks her heart like a stone. Nothing can affect it… which is why she makes it her goal to save the city against the Ruining. You can see her fear and trepidation within the pages, but you also witness her overcoming the fears and using her wits to solve a problem.
"Runajo was done with silent obedience. She refused to watch the whole city fall in her lifetime, without even trying to keep it alive a little longer. Without even knowing why the wall was failing.
And she had a plan."
While going through one of the trials that establish her name of a Sister, Runajo accidentally revives someone who was supposed to be dead… she revives Juliet. But in this world, this girl is known as the Juliet. This brings me up to how Hodge yet again paints a spellbinding setting filled with dark secrets and cunning characters. Case in point: Juliet Catresou is like a slave to the Catresou family. She kills anyone who goes against a member of the family, and the excuse is "justice." She is supposedly without feeling and exists only for the will of the clan. However, we see her undying devotion to Romeo clearly in the book and how under that cover of apathy, she is a fierce warrior that is a firm believer in her clan.
"But she was more than their protector, or their guarantee of respect in a hostile city. She was their justice. While she lived, and carried a sword, they were free."
While Juliet and Runajo team up to discover secrets about the city of Viyara and how the whole Ruining started (as well as forming an unlikely friendship), Paris has another problem in his hands. He somehow managed to make the Juliet die (or so he thinks), and ends up bonding to the man she was wedding at that time… Romeo. I thought the way Hodge wrote this was very clever, and made for a fun time. Now we're looking at two storylines that feature two members from opposing parties working together. Both discover things about the other's clans that are new. Both also gain a healthy respect for the other partner and form friendships. And both are working to discover what's really going on in Viyara.
Fans of necromancy will not be disappointed in this one, as some nefarious necromancer is scheming in the city. So while Runajo and Juliet are digging into the history and heart of the plague on the city, Paris and Romeo are discovering the underground dealings that are done in the shadows. Their paths never quite cross (even though I was intently willing them to, haha) and each has a goal that'll ultimately save the city. The question is – are they up for it?
I found the characterizations so, so well-done in this one. Juliet is not a cold statue, but a spitfire girl that is vicious and sticks to what she thinks is right. Runajo isn't a warrior like her, but her cunningness and quick wit provides useful. We also see her sometimes cold-hearted attitude towards the world around her and her fight to establish that kind of attitude, which makes her so real. Romeo is an idealist, a romanticist, but he also knows when it's time to take a stand, and he definitely does so in this book. And finally, Paris is not a great swordsman and he's sheltered. Yet, his steel will makes him continue on the quest of justice that brings him against his own clan. All these characters had so much heart and soul, and I really can't wait for them to meet (if they do! Which I'm really hoping for) in the sequel.
"I can pay any price, Runajo told herself. I can renounce any love. I can bear any terror. I am that strong, and that ruthless."
Bright Smoke, Cold Fire is definitely an immersive fantasy that'll hook you in from the first pages. The world just drags you into its dark depths and begs you to read it so you can find out more about it through the characters' discoveries. And the characters themselves are flaw-ful and full of life. Readers will no doubt have an easy job empathizing with them. To pair this up, it has the haunting atmosphere of the author's previous works and other dark fantasies, as well as the soulful Romeo and Juliet backdrop, which Hodge does an amazing job in incorporating in her story. In essence, a striking retelling that pulls readers into a hypnotic grip where all they can do is keep flipping the pages to see what will happen next.
Rules: 
US Only
13+ years old, or have your parents' permission
No giveaway accounts – and yes, I check all entries.
Good luck!