I'm really excited today to be a part of the Sunday Street Team (hosted by the amazing and lovely Nori at Read Write 28) for A Shadow Bright and Burning! In this book, you'll get to see a schism between magicians and sorcerers (what's the difference? Read the book to find out!), as well as a combustible heroine who may not be the prophesied one, as all are thinking her as. We have some cute boys coming and going through the pages, as well as fiery characters who you never know might go behind your back.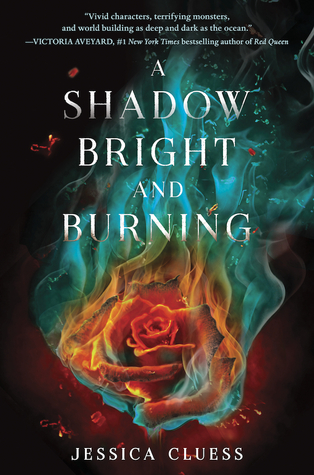 A Shadow Bright and Burning
Author: Jessica Cluess
Series: Kingdom on Fire
Release Date: September 20, 2016
Publisher: Random House
Get it Here: Amazon | Barnes & Noble | Book Depository
Synopsis:
I am Henrietta Howel. The first female sorcerer. The prophesied one. Or am I?
Henrietta Howel can burst into flames. When she's brought to London to train with Her Majesty's sorcerers, she meets her fellow sorcerer trainees, young men eager to test her powers and her heart. One will challenge her. One will fight for her. One will betray her. As Henrietta discovers the secrets hiding behind the glamour of sorcerer life, she begins to doubt that she's the true prophesied one. With battle looming, how much will she risk to save the city—and the one she loves?
A girl found with special magical powers that could change the course of history as the world knows it. Attractive males tossing themselves in front of her from all sides. Transportation from a quiet location to a bustling place with she hones her skill of magic. Sound familiar? While A Shadow Bright and Burning provides a fun and action-packed read, it is yet another addition to the countless fantasy settings out there. What initially attracted me to this book was the fact that Henrietta, the main character, is not actually the prophesied one mentioned in the story. While that aspect was unique, the rest of the book is quite reminiscent of others out there.
I really enjoyed reading from Henrietta's point of view. She can burst into flames, making for an interesting magic. The book begins with her being discovered by a sorcerer, Agrippa. He's been looking for a female sorcerer to lead an army to save the people against the Ancients, monsters that came from who-knows-where and can do who-knows-what. While I'm counting to discover more about the monsters' origins in the upcoming books (we go get hints here and there), the lack of information made their threat seem smaller than it actually was in the book. Henrietta proves to be quite efficient at magic, until she discovers something that could jeopardize her position to be commended as a sorcerer by the queen.
"I'd spent countless childhood evenings awake in my bed, watching shadows and moonlight form images on the ceiling. I'd imagined them as monsters, pictures myself meeting them in battle."
I really liked Henrietta's character! She is definitely loyal and caring to the people she sides with, although eventually discovers how secretive and manipulative people can be later on in the story. The other sorcerers that train with Henrietta were equally as intriguing to read about. They each have personalities that are brimming with life, and act as a great team (with some outliers here and there). It was really great to explore how deep their friendship went. While Blackwood has the weight of the world of responsibilities on his shoulders, Magnus was as light and carefree as a lark. Then there's the daydreaming Lambe and intriguing Wolff. I really wish that those latter two characters were explored more. For this book, we focused mostly on the boys that center around Henrietta's life (as mentioned by the blurb).
The romance was the thing I cared for least in the book. I remember reading a love square advertised in this book, but there were technically two love interests (I have my thoughts on the third supposed "interest"). Coming into a new place isn't easy for Henrietta, as she soon discovers. Her childhood friend who is an Unclean and was attacked by one of the Ancients as a child is essentially deserted for as she trains with new friends. While Henrietta's loyalty to Rook is sweet, I also felt no basis or foundation for it other than the fact that they were childhood friends. His characters was very bland and felt like cardboard – used for plot rather than as a character. Any dialogue that he got was repetitive and tiring. On the other hand, Magnus was a traditional flirt who also really comes to care for Henrietta. However, his "care" is really quite rushed and came out of nowhere. I couldn't get onboard with any of the ships. In my opinion, Henrietta's a powerful enough lady who doesn't need a man.
Speaking of powerful females, I think Cluess did a brilliant job in showing the limitations and frustrations of women in Victorian England. Keep in mind that although this book does have a female sorcerer, society's standards dictate her as less powerful and influential as men. Henrietta has to suffer through sexism at the hands of many who think that a girl should be submissive to males. Another great addition was the social schism between sorcerers and magicians. It is unraveled in the book that magicians are pretty much reviled and shown as cunning, selfish creatures while sorcerers are the protectors of the crown. Pretty soon Henrietta finds out that that's not exactly the case… and the schism between the two parties are wrapped up in secrets that have to do with the sorcerers she's training with.
"The sorcerers were different from everyone else, irretrievably different. They dined lavishly while, less than a mile away, people starved; they took trips outside the ward to walk for a few hours among the impoverished, only to come straight back again."
The blatant hierarchy of sorcerers is shown through the fact that a ward protects the favored families from the Ancients, while the rest of the city (aka the poor people) are left to the monsters' mercy. This is something that doesn't sit well with Henrietta, and she starts to take action against such injustices as well. It was really interesting to see the difference between sorcerers and magicians (although they are under the same umbrella), and I can't wait to see how their relationship progresses with Henrietta at the front of it all.
"'Knowledge is as powerful as fire. The brighter it burns, the more it devours.'"
I also want to see more of the magical beings like Faeries in the next books of this series. They're present in society, but only mentioned here and there in the book. It would be awesome to explore them, and their own relation to the Ancients or the magic system, if any! Either way, A Shadow Bright and Burning certainly starts the beginnings of a funtastic fantasy that'll entice readers.
Fans of Red Queen, Burning Glass, Shadow and Bone, Girl at Midnight, or The Burning Sky will flock to pick this one up. Magic roams in an atmospheric Victorian England while the characters combat the evil presence in the world. The book's combustible heroine and fun plot just wasn't enough to make it stand out from the myriad of other fantasies out there for me. However, readers coming in looking for a good time with enjoyable writing will definitely find what they are looking for.
JESSICA CLUESS is a writer, a graduate of Northwestern University, and an unapologetic nerd. After college, she moved to Los Angeles, where she served coffee to the rich and famous while working on her first novel. When she's not writing books, she's an instructor at Writopia Lab, helping kids and teens tell their own stories.
Win an ARC of A Shadow Bright and Burning!