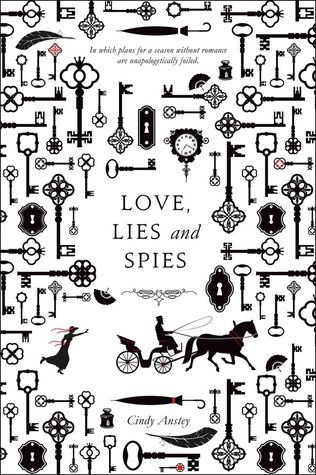 Love, Lies and Spies
Author: Cindy Anstey
Release Date: April 19, 2016
Publisher: Swoon Reads
Get it Here: Amazon | Barnes & Noble | Book Depository
Synopsis:
Juliana Telford is not your average nineteenth-century young lady. She's much more interested in researching ladybugs than marriage, fashionable dresses, or dances. So when her father sends her to London for a season, she's determined not to form any attachments. Instead, she plans to secretly publish their research.
Spencer Northam is not the average young gentleman of leisure he appears. He is actually a spy for the War Office, and is more focused on acing his first mission than meeting eligible ladies. Fortunately, Juliana feels the same, and they agree to pretend to fall for each other. Spencer can finally focus, until he is tasked with observing Juliana's traveling companions . . . and Juliana herself.
I think the one word that resonates with me after reading this book is adorable! Anstey provides a simply charming tale of an unconventional heroine in a historical England setting. The history is all there, and the intrigue definitely provides sufficient twists to keep readers entertained. I love how straightforward and honest the characters were, too. Drama level was at a minimum (as you know I appreciate in my books), and the light tone throughout the story just made reading this book almost like bouncing on a fluffy cloud. (Or maybe reading on my bed helped add to that mood aha).
We start off with one of the most hilarious scenes ever, as the two main characters meet each other. It really sets the stage for the book, since Juliana is doing something that her Aunt Phyllis would never approve of, and Spencer is also partaking of mysterious deeds. One of the characters is studying the environment, while another is looking for clues that lead to a traitor in the country. The dialogue is absolutely witty throughout the book, and it really creates some endearing characters. I could almost imagine them talking in a British accent (and I say almost because my accents – imaginary or otherwise – are the worst).
"'Need some assistance?' the head asked with a hint of sarcasm and the tone of a…
'Are you a gentleman?' Juliana inquired politely.
The head looked startled, frowned slightly, and then raised an eyebrow before answering. 'Yes, indeed, I am-'
'Please, I do not wish to be rescued by a gentleman. Could you find a farmer or a shopkeep – anyone not of the gentry – and then do me the great favor of forgetting you saw me?'
'I beg your pardon?'
Juliana is a bit of your typical unconventional heroine. Instead of looking forward to suitors and ballgowns during the upcoming Season, she's excited to publish her studies on lady beetles (which I found absolutely charming). It's not hard to look down on marriage when she sees the people around her being matched based on their titles and fortunes, after all. She has to endure the company of the Pyebalds, a family with an ancient heritage that'll surely help their prospects throughout the Season, and her aunt, uncle, and cousin Carrie. I thought her character quite easy to like and empathized with her situation. While people call her a bluestocking for her outgoing ways, she just wants an outlet for her findings despite the limitations of women during the time period.
"The art of conversation was a talent that she had long since mastered, well able to hold her own on the topic of natural sciences – particularly the lady beetle – but this art of flirtation was another thing."
On the other hand, Spencer is an interesting fellow. He secretly works for the War Office, and is currently investigating a traitor feeding information to Napoleon. The trail leads up to the Pyebalds, which puts him in the way of Juliana quite frequently. Spencer struck up a bargain with Juliana to be interested in her during the Season so he can stay updated on the Pyebalds. I thought he was overall really sweet and caring; but at the same time, he gives off a bit of a bland impression. Sure, he's chivalrous and notices Juliana's eccentricities and accepts them, but his character doesn't have much going on after that. There's a bit of background on how he got involved with the War Office and his childhood, but that never really made an impact on me. Looking back, although he was certainly very gentlemanly and nice, I can't say much more.
I think what stood out about the romance, as light as it was, was how direct the Spencer and Juliana were to each other. They were both forthright about their opinion on marriage before the Season, and how it changed while the Season went on and they knew each other better. I really like this lack of deception and angst; with all the lies and manipulation going on in literature that make for a edging-the-chair angsty read, I found their honesty quite refreshing. It definitely fit in with the light tone of the book as well.
I found the plot overall to be a quite predictable, which made the book a bit boring overall. The spying done by Spencer always perked my interest, but little instances of action left me yawning. And there were other pieces of the story – like Juliana trying to find a publisher for her studies on the lady beetles – that I could see the resolution of a couple of miles away. It wasn't that I didn't enjoy them, but the enjoyment was taken away because of how commonplace these story elements are.
Love, Lies and Spies is definitely great for readers who are just heading into the historical genre. If you're like me and have read a plethora of them already, you might be seeing some overdone plot elements that may take away from the story. Nonetheless, the witty dialogue, cute romance, and fun intrigue still makes it an entertaining read!