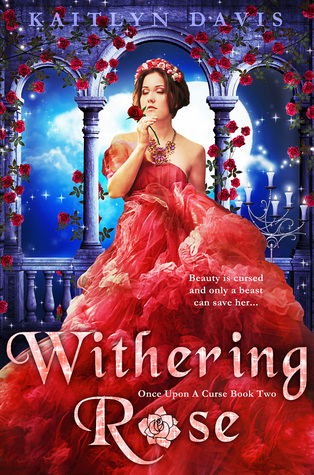 Withering Rose
Author: Kaitlyn Davis
Series: Once Upon A Curse #2
Release Date: May 17, 2016
Publisher: Independent
Get it Here: Amazon | Barnes & Noble
Synopsis:
What if Beauty was cursed, and the Beast was the only one who could save her? Don't miss WITHERING ROSE, a dystopian romance from bestselling author Kaitlyn Davis that reimagines the classic fairy tale of Beauty & The Beast.
"As the heat finally disappeared, I felt the bloom blossom in the very core of my soul, a rose just like my name–a ticking clock hidden behind a façade of beauty. From that moment on, my life would become a countdown, and all I could do was wait and watch as the petals of time slowly started to fall."
Omorose Bouchene has a secret–magic. There's only one problem. At the age of seven, an earthquake struck, catapulting her into a new world. A land made of skyscrapers and cell phones. Fast cars and fluorescent lights. A land where magic isn't supposed to exist and anyone who wields it is the enemy.
But after ten years of hiding, she's desperate to find a place where she can be free. Because all magic comes with a curse, and her curse is time–every ounce of power she uses strips days off of her life. The clock is winding down, and the only option left is to escape to the realm of the Beast. But the king of monsters isn't what he seems. And the more Omorose opens her heart, the more she comes to realize that the only person she may need to fear is herself.
*This is the second book in Once Upon A Curse, a series of interconnected stand-alone novels all set in the same fantasy universe.
I thought this was a nice sequel to the series that features fairy tale retellings, all interconnected in a way. This time, we're looking at a Beauty and the Beast retelling (which is my favorite kind, to be honest). I didn't like it quite as much as the first book, but enjoyed it nonetheless. Withering Rose is a quick read that combines the fantastical and real world in the same dimension after an earthquake that brought them together. The main character, Omorose, used to be a princess in the fantasy dimension that has magic. But in order to survive in the earth dimension (our world, which doesn't have magic), she has to hide her magical abilities.
"Ten years ago, on the day of the earthquake, my father and I and our two guards were thrown into a foreign world we've been unable to escape. Earth. A place with no magic."
I really liked how the author explored the world, and in this book she delves further into the history of the fantasy dimension and how its magic came to be. I thought that this concept was particularly clever, and the discoveries of magic that she includes in the book were unique and really grabs the reader's attention. I think my major problem had to do with the main character Omorose. She shows a good amount of growth, but her behavior in the beginning was a bit frustrating. She would always run away from her problems and characters who do that generally bother me. But rest assured that she doesn't do that throughout the whole book, and certainly learns to come out of her shell a bit. Omorose is quiet and unassuming – she has to be, to save herself. She suppresses her magic, even though it brings joy to her. Even though it's dangerous.
Basically, her magic is like a rose whose petals are withering. Each time she uses a copious amount, another petal falls out. So in here she is the one in need of saving, rather than the Beast. This twist was really intriguing and I loved it! It's always great to find new ways to retell our favorite fairy tales or folklore. Omorose delves into the castle of the Beast because her magic is drawn to there… and she discovers what – or who – the "Beast" actually is.
He's caring and has similar characteristics to the original story. Usually moody and secretive, the Beast (whose name is Cole) is just not used to human companionship. When Omorose first gets to the castle, she's reasonably scared of him. But as they get to know each other more, they find an unlikely friendship… and maybe something more.
"Cole shows me how to be wild and carefree.
I show him how to be civilized and proper."
The romance was very sweet and I like how both Cole and Omorose bring out the best of each other. They know each other's faults and accept them, idiosyncrasies and all. It's a quiet progression that really fills up your heart as they slowly open up to each other. We also get to see some characters from the previous book and how they're doing, which makes for a fun ride. Overall, I do like how Omorose went from someone who constantly ran from people to someone who confronted her problems in her own special way. I also can't wait for the next book in this series, which will be featuring a retelling of Cinderella! Fairy tale lovers should definitely pick this series up, because it follows unique characters in a unique world that'll really grow on you.
"'You're so gentle and kind, so caring, so passionate. You breathe life into the world. You've filled this empty castle with your laughter. You've eased loneliness I never thought would fade. You've breathed life into me. And I couldn't bear to watch you fade away.'"
I had some problems with the way that the problem was resolved though. I thought that it was a rather weak part of the plot and there could have been a better way to save Omorose from letting her rose wither out (or in essence, making her die). The whole book was very quick to read, which made it a little forgettable. But I really loved the twist that the author put on the Beauty and the Beast story where the beast saves the beauty instead of the other way around.