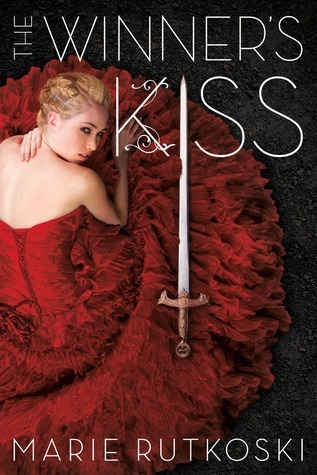 The Winner's Kiss
Author: Marie Rutkoski
Series: The Winner's Trilogy #3
Release Date: March 29, 2016
Publisher: Macmillan
Get it Here: Amazon | Barnes & Noble | Book Depository
Synopsis:
War has begun. Arin is in the thick of it with untrustworthy new allies and the empire as his enemy. Though he has convinced himself that he no longer loves Kestrel, Arin hasn't forgotten her, or how she became exactly the kind of person he has always despised. She cared more for the empire than she did for the lives of innocent people—and certainly more than she did for him.
At least, that's what he thinks.
In the frozen north, Kestrel is a prisoner in a brutal work camp. As she searches desperately for a way to escape, she wishes Arin could know what she sacrificed for him. She wishes she could make the empire pay for what they've done to her.
But no one gets what they want just by wishing.
As the war intensifies, both Kestrel and Arin discover that the world is changing. The East is pitted against the West, and they are caught in between. With so much to lose, can anybody really win?
While I wasn't a HUGE FAN of this series like so many others out there, I still thoroughly enjoyed it. This last book was the best one yet, and all my expectations were fulfilled in the finale. It starts out with a slow beginning that reflected my frustrations with the second book. The latter half of the book was when it really picks up and when I started getting excited. And the ending – pure perfection.
If you check out my review of the second book here (cue cringe-tastic moments), you can probably surmise that my biggest frustration was the misunderstandings and unspoken messages between Kestrel and Arin. It brought so much unnecessary conflict that I thought became redundant after the first fifty pages. What can I say? I like my angst to stay low key. Anyways, the first half of this book kind of picks up on that. The plot was slow, agonizingly slow, and had some plot elements that were quite unexpected. It wasn't terrible for me, but definitely an odd direction to go.
What I got from it was how true Kestrel and Arin are to each other though. Gosh, their romance is all the goals. <…>
Sorry, I had to pause just now because I was too busy clutching my heart. I just love the support they have for each other, and how their actions always have the thought of the other in them. And the romance was just so, classy, you know? It wasn't cringe-worthy, or any of that mushy-gushy stuff (that I still love, not gonna lie). I MEAN, LISTEN TO THIS QUOTE:
"'You are changed,' he murmured, 'and you are the same. Honorable. I honor you.'"
He's not saying love or worship or something – he's saying honor. Hell if that doesn't make me more emotional than the l-word. :')
Of course, this book is littered with Rutkoski's absolutely magnetic writing and imagery that blends so effortlessly with the scenes. It's almost like magic, even though this story certainly doesn't have any. And I still can't help but appreciate how Kestrel's strength comes from her wit, and not a physical weapon or anything. It just really emphasizes how strong you can be without being physically talented. (AKA THERE'S STILL HOPE FOR ME GUYZ)
"'You don't need to be gifted with a blade. You are your own best weapon.'"
I also love the attention that Roshar got in this book. He was the best friend of all best friends to Arin. I honestly wouldn't mind a short story about him because he totally deserves one! Plus, Rutkoski managed to make him a super interesting character with awesome dynamics so it wouldn't be hard to enjoy a story centered around him. The other supporting characters were outshined by him, unfortunately. There are some developments with Kestrel's father, but they never struck my heart the same way Arin and Roshar's friendship did.
I think all followers of the trilogy will be satisfied by the conclusion. Okay but seriously, if you think it could have been more perfect, comment below because I'LL FIGHT. The characters, their relationships, the plot – everything just ties up so nicely and left me smiling so hard my cheeks hurt. But I didn't notice, because my heart was so warm.