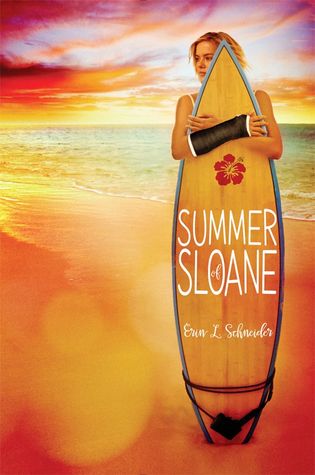 Summer of Sloane
Author: Erin L Schneider
Release Date: May 3, 2016
Publisher: Disney-Hyperion
Get it Here: Amazon | Barnes & Noble | Book Depository
Synopsis:
Warm Hawaiian sun. Lazy beach days. Flirty texts with her boyfriend back in Seattle.
These are the things seventeen-year-old Sloane McIntyre pictured when she imagined the summer she'd be spending at her mom's home in Hawaii with her twin brother, Penn. Instead, after learning an unthinkable secret about her boyfriend, Tyler, and best friend, Mick, all she has is a fractured hand and a completely shattered heart.
Once she arrives in Honolulu, though, Sloane hopes that Hawaii might just be the escape she needs. With beach bonfires, old friends, exotic food, and the wonders of a waterproof cast, there's no reason Sloane shouldn't enjoy her summer. And when she meets Finn McAllister, the handsome son of a hotel magnate who doesn't always play by the rules, she knows he's the perfect distraction from everything that's so wrong back home.
But it turns out a measly ocean isn't nearly enough to stop all the emails, texts, and voicemails from her ex-boyfriend and ex-best friend, desperate to explain away their betrayal. And as her casual connection with Finn grows deeper, Sloane's carefree summer might not be as easy to find as she'd hoped. Weighing years of history with Mick and Tyler against their deception, and the delicate possibility of new love, Sloane must decide when to forgive, and when to live for herself.
Thank you Netgalley and Disney-Hyperion for the review copy!
I picked this up looking for a summer of self-discovery, and while I found that I really enjoyed the main character Sloane, that same feeling couldn't be directed at the other characters. And while I did find great development on her end, the overall drama made it extremely exasperating (and laughable, in a way) to read about. However, the soothing, tropical atmosphere with the intense focus on friendship keeps it a light, summery read that'll delight contemporary readers.
A central theme to this book was mistakes, and what you did with those mistakes. Do you live it out with regret for the rest of your life? Or do you slowly let go of them, for the sake of friendship and family? Sloane discovers these things as the situation around her continues to shake her with surprises. The first one is like a bomb dropped in the very beginning of the book. Let's just say that her best friend and boyfriend may not have been the most faithful. What better than a fresh start in Hawaii for the summer to take some time to discover what she wants? 
"'At least maybe then you'll have had enough time to figure things out for yourself. And that's what's most important. But right now, the next few months are all about you, all about the fun you're going to have… it's all about the summer of Sloane!'"
Sloane's parents are divorced, so over the summer she visits her mother in Hawaii and her stepdad. The parents in this book have almost no influence at all. We get one important piece of dialogue from Sloane's mom from a past event that almost mirrors her current situation at a point in the book, and that's about it. The stepdad appears once in the beginning of the book and never again. Don't even get me started about the unresolved tensions between the love interest's own father. I thought that there would be more instances of familial relationships seen throughout the book, but instead it's more focused on the drama that goes on in Sloane's life.
I think what upset me the most in the book was how the conflict constantly went back to cheating. Like okay, use it once for plot, I understand. Use it twice, and I get that it's a learning experience. But use it multiple times (I think four different people are accused of cheating in this book), and it gets pretty damn repetitive and tiring. I don't condone cheating in the first place, but when I have to read about characters that may or may not have done it over and over again? Excuse me while I groan. I do think that such an action make for tons of regret that show the characters what they really need to do to step up (as we basically see teenagers being teenagers and, well, making mistakes throughout the book), but ooh does it not make my chest burn to read about. This is definitely a me-not-you situation, but I just ultimately could not enjoy the book with all instances of this going on.
"I guess sometimes things just don't turn out the way you always thought they would. Or maybe they turn out exactly as they should, just not what you expected."
I really adored Sloane! I love how she puts others before her, and how kind she could be. I also love how she realizes that it's okay to put herself first, and how sometimes she needs to remember how to live. Her character goes from a weepy teen who doesn't reply back to her ex-best friend and ex-boyfriend's texts to someone who puts her past behind her, and somehow finds acceptance and forgiveness after all their deeds. Her development really shone when reading her narrative, and I couldn't help but root for her the whole way. Add to that a mesmerizing setting (I mean, we are in Hawaii), and I ended up getting what I was looking for when starting the book: a character that realizes the hidden potential that she has.
The other characters, I can't say much about. Penn, her twin brother, was fun but forgettable. Same with her best friend from Hawaii, Mia, and even, ack, the love interest Finn. Their drama made me feel like I was watching a soap opera or television drama (and believe me, I'm not too big of a fan of those). I feel like they were solely there to up the angst level in the book. Sloane has to deal with so much of their shit, and my heart really went out for the girl. But the awesome thing is, she ends up stronger after dealing with their lame situations. At first I really liked Finn, who continually surprises and delights Sloane, but his character died off after a while. Think of the rich little boy who has never had a girl for more than a couple of days having his eyes suddenly set on just one girl. He himself has some sad story behind his character, but wow if I really didn't care! If there's a whole bunch of groveling done in books – and by multiple characters – then you know I'm going to be here rolling my eyes in exasperation and complaining about it to my friends.
Summer of Sloane has a wonderful setting that focuses on the growth of Sloane as she navigates her way through friendships and romantic relationships on the year before she becomes a senior. I really wish I could have loved the secondary characters more, but their romantic entanglements and family drama became real tiring, real quick. Luckily, Sloane's down-to-earth and realistic narrative kept me reading as she discovers the consequences of mistakes, and how one's actions can determine how those consequences become. The cute romance didn't really hold sparks for me, but hey, if Sloane's happy, then I am. I'm also pretty sorry to see the minimal role that parents play in this one. In the end, it's a great reminder for us on how easy it is to make a mistake and how hard we can make it to forgive and move on. Contemporary readers will surely gobble this up, while more picky readers like me should definitely check it out as a light beach read – nothing more and nothing less.