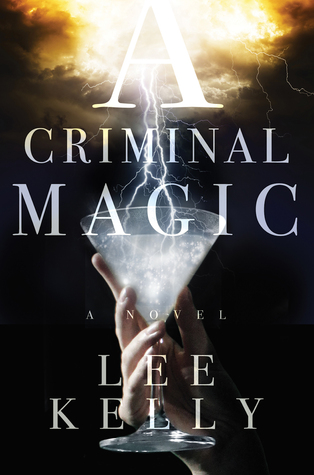 A Criminal Magic
Author: Lee Kelly
Release Date: February 2, 2016
Publisher: Saga Press
Get it Here: Amazon | Barnes & Noble | Book Depository
Synopsis:
THE NIGHT CIRCUS meets THE PEAKY BLINDERS in Lee Kelly's new crossover fantasy novel.
Magic is powerful, dangerous and addictive – and after passage of the 18th Amendment, it is finally illegal.
It's 1926 in Washington, DC, and while Anti-Sorcery activists have achieved the Prohibition of sorcery, the city's magic underworld is booming. Sorcerers cast illusions to aid mobsters' crime sprees. Smugglers funnel magic contraband in from overseas. Gangs have established secret performance venues where patrons can lose themselves in magic, and take a mind-bending, intoxicating elixir known as the sorcerer's shine.
Joan Kendrick, a young sorcerer from Norfolk County, Virginia accepts an offer to work for DC's most notorious crime syndicate, the Shaw Gang, when her family's home is repossessed. Alex Danfrey, a first-year Federal Prohibition Unit trainee with a complicated past and talents of his own, becomes tapped to go undercover and infiltrate the Shaws.
Through different paths, Joan and Alex tread deep into the violent, dangerous world of criminal magic – and when their paths cross at the Shaws' performance venue, despite their orders, and despite themselves, Joan and Alex become enchanted with one another. But when gang alliances begin to shift, the two sorcerers are forced to question their ultimate allegiances and motivations. And soon, Joan and Alex find themselves pitted against each other in a treacherous, heady game of cat-and-mouse.
A CRIMINAL MAGIC casts a spell of magic, high stakes and intrigue against the backdrop of a very different Roaring Twenties.
This magical-infused historical novel set during the Prohibition Era is a wild ride from start to finish! I found myself captivated with the fierce and realistic characters, the extravagant setting, and the plot that those characters get embroiled into. I think I'm in love with historical settings with magic in them, because I just can't get enough. You think gangsters, mobs, and manipulation is fun? Imagine that with magic, and you get a whole 'nother story.
So what happens if the Eighteenth Amendment, which at the time of passing established the prohibition of alcoholic beverages, was actually intended for magic, which was just as addictive and deadly as alcohol? Enter a world with gangsters and dens, where you can come into a place at the end of a long work day to see opulent magic performances and at the end, get a taste of magical shine, which gives you a high you never want to come down from.
The narration comes from first person POV's of the two main characters: Joan and Alex. They both come from fairly different backgrounds, but they also both become entangled into a series of webs that cover the two opposing gangs featured in this book. Joan starts out in a rundown little place where she hid her magic, until a man named Dunn comes over and gives her a chance to explore new opportunities in DC.
"'Won't be easy up there,' he says slowly. 'We'll be culling the best sorcerers, and that means long days of dangerous magic, or pushing yourself to the brink. It'll be hard conditions, a tough run. I can't guarantee you'll come home the same way you left.'"
Alex, on the other hand, had a father who was betrayed by one of the gangs. He makes up for this by working with the Prohibition Unit, and undergoes a mission to uncover the gangs on the streets. I found both characters real and refreshing, as well as surprisingly realistic in regards to the time period. It was interesting to see the inclusion of magic in such a time period, and I think Kelly did a great job in integrating it without making the world awkward. Many people don't really know the extent of how magic functions except for the ones who have the affinity, but it's nonetheless a concept that the population has a general knowledge about.
"A history of distrust and fear drove America to the Prohibition of Magic, but most folks still don't know the half of it. This country's got no idea how many secrets magic keeps, the darkness it can create, the possibilities that lie waiting in the shadows."
The writing just transports you into another time. We get glimpses of the Ford Model T, sonorous excerpts of jazz and ragtime music, and the blatant parties that dominate this particular period of American history. The dialogue for Joan seemed a bit odd though – at first, she was dropping some syllables to highlight an accent I presume, which was supposed to fit in with the setting. But as the story progressed, I saw less and less of the syllables that were dropped. I'm not sure if it was to emphasize the fact that she was changing, or the author was tired of writing her words like that? Anyhow, it was quite noticeable for me and made me a bit baffled. Other than that, Kelly does a great job in making readers really empathize with Joan and Alex. Through their thoughts, it was easy to get involved with the feelings of betrayal, triumph, and frustration that they experience while navigating the mob world.
I thought the romance was particularly endearing in the beginning, but the conflict between the two at the end marred me from enjoying it too fully. Keep in mind that Alex is trying to bring down the gang that Joan is currently a part of, and both characters have very different views in how they should live. It was interesting to see their relationship as one that allowed each person to grow, but not with the need for them to be together all the time. I really liked that aspect, and how both Alex and Joan stood their ground when one tried to convince the other to do something. In the end, they did the thing that they believed in – one that would create a future they would enjoy. And while that doesn't make for a happily ever after, it certainly is happy enough for readers to see the impact that they had on each other.
"Joan needs to be taken down, same as the rest of them.
Despite my feelings for her.
Despite her feelings for me."
I opened this book just expecting a fun adventure with magic during the Prohibition Era, but the unforgettable characters and plot full of twists sucked me right in. Kelly does a great job in writing from each character's perspectives, and we really get to see the different aspects that ultimately allowed them to grow as people. My absolute favorite part though had to be the grandiose world though, as we explored America during the Prohibition Era with the dangerous addition of magic.