I'd just like to start these reviews off by saying that this series is by far one of my favorites in the genre of New Adult. I'm constantly on the look-out for ones similar to these, because they're just what I'm looking for when reading NA: great characterizations, superb romances, and a hint of angst that provides an actually compelling climax. I always say NA books are my guilty reads, but I felt no shame reading this wonderful series.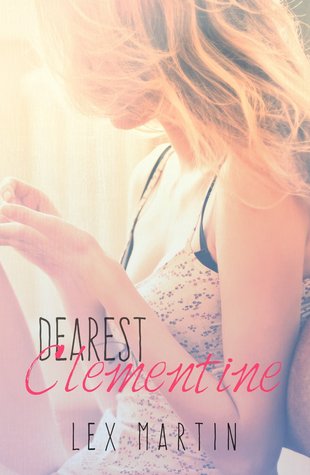 Dearest Clementine
Author: Lex Martin
Series: Dearest #1
+Add to Goodreads
Synopsis:
Twenty-year-old Clementine Avery doesn't mind being called bitchy and closed off. It's safe, and after being burned by her high school sweetheart and stalked by a professor her freshman year of college, safe sounds pretty damn good.
Her number one rule for survival? No dating. That is until she accidentally signs up for a romance writing class and needs material for her latest assignment. Sexy RA Gavin Murphy is more than happy to play the part of book boyfriend to help Clem find some inspiration, even if that means making out…in the name of research, of course.
As Gavin and Clem grow closer, they get entangled in the mystery surrounding a missing Boston University student, and Clem unwittingly becomes a possible target. Gavin tries to show Clem she can handle falling in love again, but she knows she has to be careful because her heart's at stake…and maybe even her life.
The Good:
– Clementine was a character you could really empathize with. Shit's happened to her, but she gets back up every time.
– Gavin. Just Gavin. Give me one in my life. The relationship progression was also nicely done – especially when you consider Clementine's non-trusting character.
– Their friends were so supportive and lively that you can't help but smile at their antics. 🙂
The Not-So-Good:
– While I appreciate the whole stalker situation, it also annoyed me because hellloooo? Me wants more romance. It was fine though, in the long run (some leeway was made since it provided angst for our main couple). And surprisingly interesting.
– The familial aspects could have been touched upon a bit more. They were always hinted upon, but never confronted directly.
Overall:
Definitely recommended for New Adult readers and the ones venturing into this genre (like me)! The characters were all pretty great and unique in their own way. The romance was adorableee; I only wish there were more of it instead of the whole situation with Prof. Stalker. Other than that, it was just delightful!
---
Finding Dandelion
Author: Lex Martin
Series: Dearest #2
+Add to Goodreads
Synopsis:
When soccer all-star Jax Avery collides with Dani Hart on his twenty-first birthday, their connection is instantaneous and explosive. For the first time in years, Jax isn't interested in his usual hit-it and quit-it approach.
But Dani knows better. Allowing herself a night to be carefree and feel the intensity of their attraction won't change anything when it comes to dealing with a player. So when Jax doesn't recognize Dani the next time he sees her, it shouldn't be a total shock. The fact that he's her new roommate's brother? That's a shock.
Dani doesn't regret that night with Jax, just the need to lie about it. Since her roommate has made it clear what she thinks about her brother's "type" of girl, the last thing Dani wants is to admit what happened.
Jax knows he's walking a fine line on the soccer team. One more misstep and he's off the roster, his plans to go pro be damned. Except he can't seem to care. About anything… except for the one girl who keeps invading his dreams.
Despite Jax's fuzzy memory of his hot hookup with his sister's friend, he can't stay away from her, even if it means breaking his own rules. But there are bigger forces at work–realities that can end Dani's college career and lies that can tear them apart.
Jax realizes what he's losing if Dani walks away, but will he sacrifice his future to be with her? And will she let him if he does?
So sweet!
As all the other books in the series, Martin delivers yet another adorable and heartfelt NA about two people who find their way in the world. This series also has some of the best writing that I've ever read in the NA genre, too. It's not filled with awkward prose and mundane descriptions, nor does it have blunt statements that gloss over events and are filled with no emotion. Something about it just clicks with me, which is why I enjoy Martin's books so much.
As much as I loved the interaction between the two characters and their friends, the realistic aspect made it much too unbelievable for it to truly resonate. As a light and fluffy read however, it definitely hit the spot. We first begin the book with Dani trying to do things about of the norm. You know the drill: having a one-night stand, getting a tattoo, etc. While I found that trite, it was quite endearing to her character. My problem with it was the fact that after meeting Jax, the list and her self-discovery was put into the background for the romance. We see in their interactions her sticking up for herself, which yes, shows growth, but it was just not pushed away in favor of the hot soccer player who shows up and starts heading head over heels in love with Dani.
Jax, on the other hand, was whipped so hard. It was the type of transition that was like "I hit on a three girls and had sex with another" in one day to "I couldn't do anything because this girl's eyes were stuck in my head." Again, it's highly romantic but also almost sickeningly so. Yah, I love my romance, but it was so quick on his end despite his playboy ways. Not that I minded per se, but it could've been nice to have seen more of a gradual growth on his part.
The latter half, as always, was riddled with unspoken misunderstandings that usually frustrates me. I expect it from NA books so much that at this point I'm pretty apathetic haha. But still, be aware of that.
Despite these problems, Finding Dandelion was a delightful addition to the Dearest series, which has become one of my top NA series of all time. The witty characters, heart-stopping romance, and surprisingly suspenseful turn of events make it stand out from the others out there.
---
Kissing Madeline
Author: Lex Martin
Series: Dearest #3
+Add to Goodreads
Synopsis:
What's the worst thing about wanting a sexy NFL football player? Everyone else wants him, too.
After catching my boyfriend getting deep-throated by a skanky cage girl, I've learned my lesson – never date a professional athlete. Never. Besides, I have more important things to worry about, like not blowing my shot to make it as a broadcast reporter. I won't let anything get in my way, not even the new "it boy" of the NFL and my hot-as-hell neighbor.
What's the worst thing about getting death glares from his new neighbor? It doesn't make him want her any less.
I've worked my ass off to make it to the pros. The last thing I need is the complication of a relationship, especially since my last one was a total train wreck. But I can't stop thinking about the feisty girl next door with the smart mouth. And I'd love nothing more than to show her what to do with that mouth.
Friends with benefits might be the best idea he's ever had. Or the worst.
Finishing this book felt like someone sliced open my chest and took out my guts and replaced it with the stuffing you find for stuffed animals and rainbows and heart emojis and chocolate and just made me feel all the warmth and fuzzies. IT WAS SO. GOOD.
Okay first of all, apologies in advance for skipping the first book to the third. The thing is, I spent the majority of the first book in this series, Dearest Clementine, disliking one of the main characters in this book: Daren. He cheated on Clementine during high school and although that situation resolves itself towards the end of Dearest Clementine, I still wasn't sold on his character. So I skipped the second to see how he would redeem himself.
And oh boy, did he redeem himself.
Geez, his interactions with Madeline are so spot-on, so sweet, so soothing that I kept clutching my chest because of emotion overload. I love how he presents a facade on the football field, but is pretty sensitive on the inside. I love seeing more of his character, and delving into what exactly occured during those years in high school when he and Clementine's relationship kinda dissolved. I came into the book unconvinced that I would like this dude, and I finished the book sighing in contentment.
Madeline was his perfect counterpart in so many ways. Their chemistry was literally leaping off the pages and she is just amazing. In the beginning of the book we see Maddie get cheated on with her boyfriend, so she gets some trust issues. Then she meets Daren and BAM they're just PERFECT for each other (and they knows it) and they get in a whole friends-with-benefit situation. But… we all know how those turn out, right? ;))
Once their relationship becomes something more, I could not get enough of this couple. And seeing the couples from the previous books just made my heart warm even more. I like how Martin also adds a bit of suspense (in this case, the mysterious hacker) in her books too. They're totally not the main focus, but also create some situations for the characters that make them realize what their feelings really are.
So readers of NA, I totally recommend you to pick up this series if you haven't already. The couples are so heartwarming to read about, and the individual characters are also so great by themselves. Love love love them all.