The Sunday Street Team is hosted by Nori at Read Write Love 28, and I'm simply ecstatic to be featuring Ava Jae's Beyond the Red today! This action-packed science fiction story deals with so many great issues throughout the characters' journey and you simply can't get enough of it!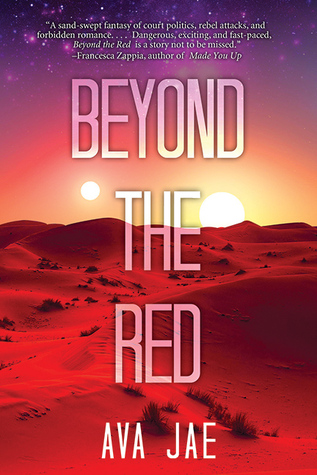 Beyond the Red
Author: Ava Jae
Release Date: March 1, 2016
Publisher: Sky Pony Press
Get it Here: Amazon | Barnes & Noble | Book Depository
Synopsis:
Alien queen Kora has a problem as vast as the endless crimson deserts. She's the first female ruler of her territory in generations, but her people are rioting and call for her violent younger twin brother to take the throne. Despite assassination attempts, a mounting uprising of nomadic human rebels, and pressure to find a mate to help her rule, she's determined to protect her people from her brother's would-be tyrannical rule.
Eros is a rebel soldier hated by aliens and human alike for being a half-blood. Yet that doesn't stop him from defending his people, at least until Kora's soldiers raze his camp and take him captive. He's given an ultimatum: be an enslaved bodyguard to Kora, or be executed for his true identity—a secret kept even from him.
When Kora and Eros are framed for the attempted assassination of her betrothed, they flee. Their only chance of survival is to turn themselves in to the high court, where revealing Eros's secret could mean a swift public execution. But when they uncover a violent plot to end the human insurgency, they must find a way to work together to prevent genocide.
What do you do in your free time, when you're not writing or reading?
Watch Netflix/Hulu—I'm addicted to Supernatural, Vikings, Sense8, Daredevil, Reign and so much more.  Or play Assassin's Creed or Civilization. Or, you know, scroll endlessly on Twitter.
What's the optimum setting that gets your creative juices going when writing? (Any particular background music, time of the day, or place?)
Hmm, well ideally I write in the morning—the earlier I can jump in, the better. I like to sit in front of my desktop in my office, with a warm blanket and a hot cup of chai with whatever playlist I'm using playing through my noise-cancelling headphones. With all of those perfect factors I can usually zone out and get into the story pretty quickly.
I've heard you're planning a sequel to Beyond the Red that may or may not come out! Can we get a little bit of details on that front?
Wellll all I can really say right now is that while Beyond the Red stands alone, I do indeed have a plan for a sequel that I'm excited about. Whether or not I'll be able to write it will depend on how well Beyond the Red does so…we'll see what happens! 🙂
What do you usually do when you stumble across the dreaded writer's block?
Ohhh, writer's block. I find that 9.5/10 times I get writer's block it's actually "don't know what to do block," which I've learned how to fix pretty quickly—I sit down and plot out bullet point by bullet point what will happen next until I've figured enough out to be able to jump back into the writing again. It doesn't usually take too long—I just need enough steps between my already-plotted points to figure out how to get to the next scene.
Let's say a teen walks up to you one day and asks for advice for aspiring authors. How would you respond?
My number one piece of advice for teen writers is this: don't set a deadline for your dreams. As a former teen writer myself, I know the (very strong) temptation to make a goal of being published as a teen, or by a certain age, but the truth is the when those things happen is totally out of our hands. I was thirteen when I first started writing seriously—and when I turned twenty, not only was I not published already like I'd planned, but I didn't even have an agent yet, despite six and a half years of dedicated writing and many, many manuscripts written and put away. I put so much unnecessary pressure on myself to get published as a teen, and it made it a lot harder for myself than it needed to be.
Maybe you'll get published with your first, or second, or third book. Or maybe it'll take you ten like me, or eleven like Beth Revis, or over twenty like one extremely successful NYT bestseller I won't name by name. Everyone has a different journey and yours isn't better or worse than anyone else's regardless of how long it takes you to reach your dream.
SPEED ROUND!
Chocolate or vanilla?
Chocolate! Every chocolate. All the chocolate.
Paperback, hardcover or ebook?
I read across formats, but have a special fondness for hardcover. 🙂
Sunsets or sunrises?
Sunrises! They're so peaceful and most everyone is still asleep so it's super quiet and…yeah. I love sunrises. Can you tell I'm a morning person?
Winter, spring, summer, or autumn?
Winter! I love snow. And it's so festive! And presents!
Desert or jungle?
Oh man, that's tough. I guess desert…if only because there are less sneaky poisonous things (as opposed to the desert's obviously poisonous things) and wild animals around to kill you. But only if the desert is as pretty and red as the one Eros calls home. 🙂
Thank you for your time in answering these questions! 🙂
Sure thing! Thanks for having me!
Ava Jae is a writer, an Assistant Editor at Entangled Publishing, and is represented by Louise Fury of The Bent Agency. Her YA Sci-Fi debut, BEYOND THE RED, is releasing March 2016 from Sky Pony Press. When she's not writing about kissing, superpowers, explosions, and aliens, you can find her with her nose buried in a book, nerding out over the latest X-Men news, or hanging out on her blog, Twitter, Facebook, Tumblr, Goodreads, Instagram, or YouTube channel. 
Giveaway
1 winner will receive a finished copy of Beyond the Red!