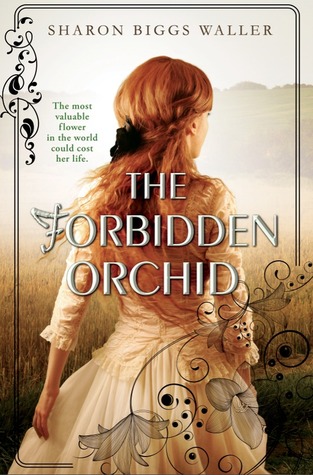 The Forbidden Orchid
Author: Sharon Biggs Waller
Release Date: March 8, 2016
Publisher: Viking
Get it Here: Amazon | Barnes & Noble | Book Depository
Synopsis:
Staid, responsible Elodie Buchanan is the eldest of ten sisters living in a small English market town in 1861. The girls' father is a plant hunter, usually off adventuring through the jungles of China.
Then disaster strikes: Mr. Buchanan fails to collect an extremely rare and valuable orchid, meaning that he will be thrown into debtors' prison and the girls will be sent to the orphanage or the poorhouse. Elodie's father has one last chance to return to China, find the orchid, and save the family—and this time, thanks to an unforeseen twist of fate, Elodie is going with him. Elodie has never before left her village, but what starts as fear turns to wonder as she adapts to seafaring life aboard the tea clipper The Osprey, and later to the new sights, dangers, and romance of China.
But even if she can find the orchid, how can she find herself now that staid, responsible Elodie has seen how much the world has to offer?
Set during the time after the Opium Wars, The Forbidden Orchid explores the growth of Elodie Buchanan, who through a series of circumstances steps out of her small town of Kent and into a journey filled with danger and romance. Some adventures may be read with a snap because they go by so quick, with the characters jumping from place to place. This one was more like a leisurely stroll – one where you got to stop for a few moments to enjoy the sights. The steady pace and exhilarating setting provided a solid foundation for the development of Elodie's characters, as well as the relationships with the people around her.
The book is split into three parts: Edencroft, At Sea, and China. The first person POV provides a pleasant narration with lovely descriptions that introduce each new setting. Historical fiction always gets points in my eyes when they're, you know, historically accurate. I'm glad to say that The Forbidden Orchid was certainly that – I could tell that the author has done her research with all the settings, ranging from the characterizations of sailors at sea to the atmosphere in China during the time. The perils that our characters face are also realistic considering the type of journey they're on and never felt forced. I also really enjoyed seeing China's culture explored – if only it was more than just a third of the book! However, I'm already quite satisfied with the authentic exploration of the time period that Waller delivers.
The traveling doesn't really start until well into the book – around 40% or so. The beginning basically details Elodie's life before "disaster strikes" (as stated in the blurb) and readers getting a glimpse of her character. I really loved this girl and her determination to do what's best for her family. She's steadfast and dependable, which is a good thing, since she has to take care of her mother and little sisters. Where's her father, you may ask? Always out, chasing some plant or another. He comes back once a year to visit them, until the year he didn't come back at all.
When Elodie finally gets news of him, it seems as if he's undergone a traumatic accident. What's worse is that his employer is looking to take their house and the things in it to recover a debt that Mr. Buchanan has. What else can a girl do but take matters into her own hands? Thus starts the hunt for the Queen's Fancy, an orchid that is worth an exorbitant amount of money. Riding on their heels is someone else who wants the orchid. Although it all sounds quite exhilarating, the actual events regarding the chase were not that exciting. The journey was more focused on the characters surviving and the lessons they learned throughout it all.
Elodie has always been curious of the world around her, despite her steadfast nature. We see her build a conservatory, read the Origin of Species by Darwin, and dream of setting sail to a faraway land to hunt for plants, just like her father. However, when actually going on the adventure, she realizes that things aren't what they seem. There are many upsides to exploring new places and environments, but there can also be downsides too.
"'This is the life of the adventurer, my dear. Sometimes you see things you don't want to see, and experience things you'll never forget, both good and bad. But that is life itself, is it not? And I know that whatever comes your way you rise up to greet it and make the best of it.'"
Along the lines of learning come love and friendship. Although I enjoyed both characters that Elodie comes to love, I would have liked to see more interactions between her and them. The romance sprang up quite quickly, and although the love interest, Alex, is such a dear, their relationship would have benefitted from more scenes together. Alex is a Russian sailor (hot dang!) who helps Elodie when she stows away on the ship her father uses to go to China and find the Queen's Fancy for his employer. We get to see glimpses into his past, but it was the barest of glimpses. I kind of liken it to getting a brief glimpse at a snapshot: you get the whole picture, but there wasn't enough time to actually savor the emotions and effects it had on the characters. This was the same with the Chinese girl, Ching Lan, who joins them on their adventure. While I really liked her character, a couple of scenes wasn't enough to have me sold on their sweet yet superficial friendship.
The paramount point of the book for me was Elodie's self-discovery throughout it all. We see her as the dependable sort in the beginning, and that's exactly what her father describes her as. She's the girl that's always there, no matter what, to fix your messes or to go to when things aren't working out. But as Elodie opens her eyes to the sights around her, she realizes that the person who she should really place first is, well, herself.
"I loved my family, but I wanted to take my place in the world. My father had named me after a wildflower, and I knew now that wildflowers could not thrive inside of greenhouses."
Despite the relationships that could have used more depth, The Forbidden Orchid was full of enriching descriptions of the different settings it explores. You'll find yourself rooting for Elodie's character, who is just full of wit, and the growth of that character as she explores the world around her. Just like a wildflower, this book hooks you with its irresistible cover and you'll find yourself hesitant to let go after it blooms open.