Swoon Thursday is a hot meme hosted by the fabulous ladies at YA Bound!
– From the book you're currently reading, or one you just finished, tell us what made you SWOON. What got your heart pounding, your skin tingling, and your stomach fluttering
– Try to make the swoon excerpt 140 characters (or less), if you are going to tweet about it. Use the hashtag #YABOUND when tweeting.
BURNING GLASS BY KATHRYN PURDIE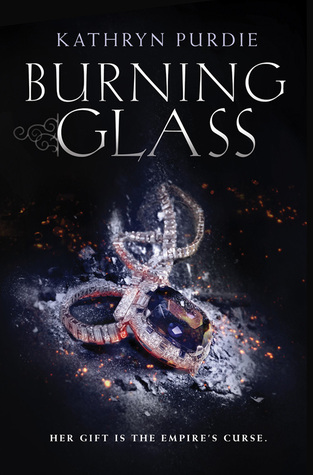 Synopsis:
Sonya was born with the rare gift to feel what those around her feel—both physically and emotionally—a gift she's kept hidden from the empire for seventeen long years. After a reckless mistake wipes out all the other girls with similar abilities, Sonya is hauled off to the palace and forced to serve the emperor as his sovereign Auraseer.Tasked with sensing the intentions of would-be assassins, Sonya is under constant pressure to protect the emperor. One mistake, one small failure, will cost her own life and the lives of the few people left in the world who still trust her.
But Sonya's power is untamed and reckless, her feelings easily usurped, and she sometimes can't decipher when other people's impulses end and her own begin. In a palace full of warring emotions and looming darkness, Sonya fears that the biggest danger to the empire may be herself.
As she struggles to wrangle her abilities, Sonya seeks refuge in her tenuous alliances with the volatile Emperor Valko and his idealistic younger brother, Anton, the crown prince. But when threats of revolution pit the two brothers against each other, Sonya must choose which brother to trust—and which to betray.
BURNING GLASS is debut author Kathryn Purdie's stunning tale of dangerous magic, heart-rending romance, and the hard-won courage it takes to let go.
One word to describe this word is INTENSE, and that also goes for character relationships. They're complex, and the author really brought out a whole range of emotions from me while reading about them. Luckily for us romance readers, the main ship sets sail in this book and GAHH. Many feelings regarding this ship.
Anton shifted closer so I wouldn't look away from him. "I want you to listen to me, and I want you to listen carefully. You are not a curse." His brows lifted in earnestness. "You are a gift," he said softly. "You are my gift. A savior to me."
I raised my gaze to him. Tears clung to my lashes.
His brown eyes were a well of sympathy, stronger than any Auraseer's. "Let me hold you, Sonya.
I tensed, and my throat constricted. How long had I accused him of withholding himself when I was just as guilty of doing the same? But now that he knew the truth of me, could I really believe he still held me in regard? Could I allow him to try?
I managed a small nod.
That was all the permission he needed.
Within a moment, Anton's warm arms surrounded me. His chin tucked over my head. At once my chest expanded and made room for the breafth of his compassion. He held my sorrow in his own, my suffering in his suffering. He held understanding.
– ARC, Location 4798
Lots of these kind of scenes pop up in the book, which make the really steamy parts so, so satisfying. The tension is reallll. Look forward for this one on March 1!