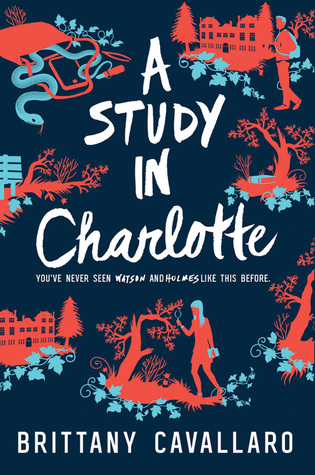 A Study in Charlotte
Author: Brittany Cavallaro
Release Date: March 1, 2016
Publisher: Katherine Tegen Books
Get it here: Amazon | Barnes & Noble | Book Depository
Synopsis:
The last thing sixteen-year-old Jamie Watson–writer and great-great-grandson of the John Watson–wants is a rugby scholarship to Sherringford, a Connecticut prep school just an hour away from his estranged father. But that's not the only complication: Sherringford is also home to Charlotte Holmes, the famous detective's enigmatic, fiercely independent great-great-granddaughter, who's inherited not just his genius but also his vices, volatile temperament, and expertly hidden vulnerability. Charlotte has been the object of his fascination for as long as he can remember–but from the moment they meet, there's a tense energy between them, and they seem more destined to be rivals than anything else.
Then a Sherringford student dies under suspicious circumstances ripped straight from the most terrifying of the Holmes stories, and Jamie and Charlotte become the prime suspects. Convinced they're being framed, they must race against the police to conduct their own investigation. As danger mounts, it becomes clear that nowhere is safe and the only people they can trust are each other.
Equal parts tender, thrilling, and hilarious, A Study in Charlotte is the first in a trilogy brimming with wit and edge-of-the-seat suspense.
I received an ARC of this book in exchange for an honest review. Thanks Harper Collins and Edelweiss!
Sherlock Holmes and his partner-in-crime is prety ubiquitous in today's society. Let's not even account the number of English teachers that assign Sir Arthur Conan Doyle's works for their students. There has been numerous movies based upon this popular detective, as well as TV shows that bring them to the modern times (*laments about Sherlock Season 4*). Why is it not surprising that I picked up a Young Adult book focusing on the descendants of Watson and Holmes?
Although I immensely enjoyed the thriller aspects of the book and the mystery on who framed Holmes and Watson (as they call each other (unintentional roleplay?)), the characters are what made the book. Both Jamie and Charlotte are very reminiscent of their respective ancestors while at the same time having their own personality. There are very much Sherlock-qualities in Charlotte, but she is definitely her own person, and the same goes for Jamie.
It's really interesting to see how a family of Holmes would behave, and when we learn of Charlotte's family it's equal parts amusing and a little sad. The book is told from Watson's point of view and we can really see his admiration for Charlotte and her detective abilities. The dialogue had me grinning and laughing until 4 am in the morning. No joke – I made the mistake of starting such a captivating book late at night and I couldn't put it down.
"'I have to wait until the school day is over to investigate. Two hours!' she said. 'Do you think, if I set fire to the maths building-'
'No.'
'But-'
'Still no.'"
The character development going on in this story was wonderfully written, and gahh I can't express how much I loved Jamie and Charlotte! Both characters grew throughout the investigation and their interactions with each other. Alongside them were a cast of riveting secondary characters including *gasp* descendants of Moriarty! The whole gang's here, guys.
Overall A Study in Charlotte was exactly the book I had hoped for and more. Brilliant and dynamic characters embroiled in a mysterious scheme with superb references to the original Sherlock Holmes – in other words,