Welcome to the Sunday Street Team, hosted by Nori at Read Write Love28! I'm so excited to be featuring this gorgeous, enthralling book by an equally lovely author.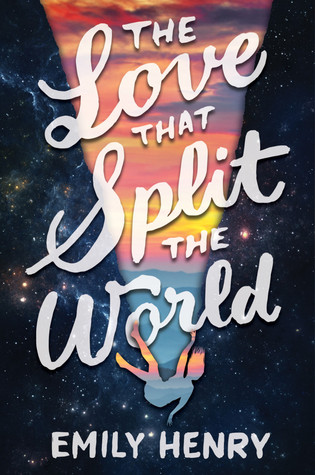 The Love That Split the World
Author: Emily Henry
Release Date: January 26, 2016
Publisher: Razorbill
Get it Here: Amazon | Barnes & Noble |  Book Depository
Synopsis:
Natalie Cleary must risk her future and leap blindly into a vast unknown for the chance to build a new world with the boy she loves.
Natalie's last summer in her small Kentucky hometown is off to a magical start… until she starts seeing the "wrong things." They're just momentary glimpses at first—her front door is red instead of its usual green, there's a pre-school where the garden store should be. But then her whole town disappears for hours, fading away into rolling hills and grazing buffalo, and Nat knows something isn't right.
That's when she gets a visit from the kind but mysterious apparition she calls "Grandmother," who tells her: "You have three months to save him." The next night, under the stadium lights of the high school football field, she meets a beautiful boy named Beau, and it's as if time just stops and nothing exists. Nothing, except Natalie and Beau.
Emily Henry's stunning debut novel is Friday Night Lights meets The Time Traveler's Wife, and perfectly captures those bittersweet months after high school, when we dream not only of the future, but of all the roads and paths we've left untaken.
The premise of the book is quite simple, with the main character Nat having to save a boy, but the actual ideas behind it are far from it. In this book, we see the characters travel through time and space, all the while finding out who they really are. The events that happen are captured in a lush narrative that makes it hard for you to put down the book. There's a wonderful mix between the self-discovery aspects of a contemporary read and the fantastical aspects of a science fiction. This all blends it into a highly unique and refreshing tale that'll surely capture the hearts of readers.
The book begins with Nat meeting Grandmother, who she kind of thinks of as "God." Throughout the story, we get little glimpses of stories that Grandmother tells Nat. These stories may seem quite whacko upon first read, but they connect to the actual book's plot flawlessly. There's a lesson to be learned from them, which Nat soon finds out. Let me just tell you how absolutely magnetic the writing is. Reading the stories that Grandmother told Nat was like feeling the crisp wind on your skin after being in a stuffy room for a long amount of time. It's exhilarating, soothing, and you can't get enough of it. Later on, as their importance is discovered, you can't help but feel giddy as the pieces of the puzzle fall into place.
Nat stands at a paramount time in adolescence: the end of senior year. We see the all-too-real confused feelings of someone who just wants to find herself. It's so easy for her to feel different, especially as she's adopted into a family that doesn't share her own Native American heritage. Nat's self-introspection in the book really hit close to home, as it's something that I find myself doing constantly. Trying to fit in, but knowing I don't. Trying to harmonize the two cultures in myself, but resulting in more confusion.
"The funny thing about belonging to two worlds: Sometimes you feel like you belong in zero."
But Nat begins a journey of self-discovery in the book – one that brings a new take with the introduction of certain science fiction elements.
How can I properly express the aspects of science fiction that Henry adds? It was simply… sublime. It was the kind of concept that you can't help but picture in your head, and no matter how many ways you interpret it, it comes out as stunning. I finally understand, after reading, why the book is called The Love That Split the World. I've always thought it was a metaphor, but as I delved further into the book, the I realized that the title is far from a simple metaphor.

The romantic interest in the book, Beau is absolutely, positively wonderful. He's kind of a mystery at first, but he's definitely a mystery worth solving. The romance was like a dream – one that you wouldn't want to wake up from. Although quick with attraction, Beau and Nat's relationship burns steadily. It was the type of romance that you can't help but wish for yourself (yes, even you non-romantics). It was something that people would sacrifice years of their life for to experience for a few precious moments. The only thing I'd add is the fact that I would've loved to see more of it towards the end instead of the science fiction elements, as interesting as they were.
I was a little underwhelmed by the near-end, as all the theories about the science fiction going on were jumbled together and explained in one or so chapter. We spend so much time trying to figure out what's happening and what the characters are going through, when the answers are given in one conversation. I know some readers would be satisfied by having their questions answered in such a way, but I would have rather seen Beau and Nat work together to somehow discover everything themselves. The actual ending, however, definitely leaves an impression that will leave readers a bit dumbfounded, a bit in awe, and certainly theorizing about the possibilities. 
With a tremendously realistic cast of characters that you can't help but empathize with, The Love That Split the World provides a unique and stellar twist on your not-so-typical love story. It's compelling from page 1, and will bring readers on a ride that they won't want to forget about.
Emily Henry
is full-time writer, proofreader, and donut connoisseur. She studied creative writing at Hope College and the New York Center for Art & Media Studies, and now spends most of her time in Cincinnati, Ohio, and the part of Kentucky just beneath it. She tweets
@EmilyHenryWrite
.