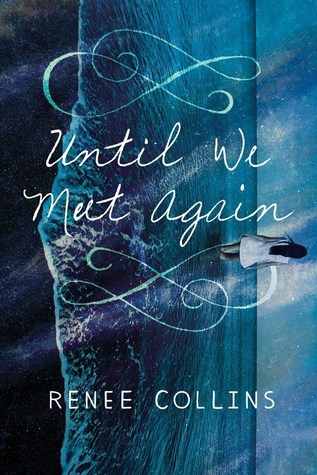 Until We Meet Again
Author: Renee Collins
Release Date: Novemer 3, 2015
Publisher: Sourcebooks Fire
Get it Here: Amazon | Barnes & Noble | Book Depository
Synopsis:
They exist in two different centuries, but their love defies time
Cassandra craves drama and adventure, so the last thing she wants is to spend her summer marooned with her mother and stepfather in a snooty Massachusetts shore town. But when a dreamy stranger shows up on their private beach claiming it's his own—and that the year is 1925—she is swept into a mystery a hundred years in the making.
As she searches for answers in the present, Cassandra discovers a truth that puts their growing love—and Lawrence's life—into jeopardy. Desperate to save him, Cassandra must find a way to change history…or risk losing Lawrence forever.
This was a book with an intense plot, intriguing characters, and a high dose of romance. Told in alternating perspectives between Cassandra and Lawrence, we travel through time reading the story of these lovers that can only meet on a particular private beach in Massachusetts. It's 2015, and Cassandra is there for the summer. Yet it's also 1925, and Lawrence lives in the house Cassandra is staying at. While their star-crossed romance makes your heart ache at times, the book has a hopeful tone that keeps you going.
There's a surprising plot going on, which is the supposed death of Lawrence very shortly after Cassandra meets him. Soon, our characters are unveiling a plot against him and his family. I love how the author dealt with the time-travel aspect, and she includes the Butterfly Effect (my favorite part of it). Basically something you do or change in the past will affect everything that happens in the future. This detail definitely make our characters careful in the actions they make and the possible consequences of them.
However, it doesn't stop them from falling in love. There was some insta-attraction going on, but throughout the book you can definitely tell the characters' deep feelings they have for one another. I for one kind of got a little tired at the repeated kissing scenes and no progress in relationship, but I'm pretty sure romance lovers will appreciate them. Lawrence is definitely a gentleman, and both him and Cassandra try to make the most of their time despite being from different time periods. Their romance is passionate, deep, (sometimes cheesy), but overall heart-achingly sweet and gut-wrenching.
The book as a whole is quite predictable, yet still manages to bring out so many emotions. It is a bittersweet combination of love, longing, and hope that will stick with readers, even past the end. Until We Meet Again skillfully combines a dose of science fiction with an everlasting love that will just melt your heart.