Swoon Thursday is a hot meme hosted by the fabulous ladies at YA Bound!
– From the book you're currently reading, or one you just finished, tell us what made you SWOON. What got your heart pounding, your skin tingling, and your stomach fluttering
– Try to make the swoon excerpt 140 characters (or less), if you are going to tweet about it. Use the hashtag #YABOUND when tweeting
 I originally saw Alyssa from
The Eater of Books
doing this, and I really liked it! I love me some romance in my books, and reading those teasers from her posts got me super pumped for awesome and swoon-worthy books. Let's hope I don't disappoint with this post!
Reign of Shadows by Sophie Jordan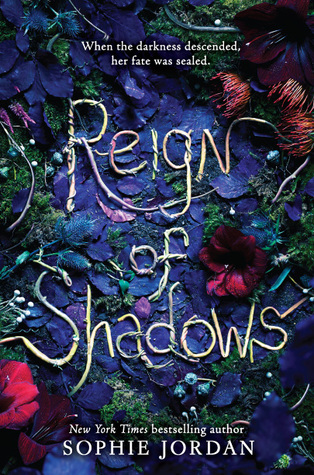 Synopsis:
Seventeen years ago, an eclipse cloaked the kingdom of Relhok in perpetual darkness. In the chaos, an evil chancellor murdered the king and queen and seized their throne. Luna, Relhok's lost princess, has been hiding in a tower ever since. Luna's survival depends on the world believing she is dead.

But that doesn't stop Luna from wanting more. When she meets Fowler, a mysterious archer braving the woods outside her tower, Luna is drawn to him despite the risk. When the tower is attacked, Luna and Fowler escape together. But this world of darkness is more treacherous than Luna ever realized.

With every threat stacked against them, Luna and Fowler find solace in each other. But with secrets still unspoken between them, falling in love might be their most dangerous journey yet.

With lush writing and a star–crossed romance, Reign of Shadows is Sophie Jordan at her best.
This book was FULL of heat-filled moments! The one I chose wasn't the most steamy, rather, but the one that made my heart go *bump-bump.* It was moving, and in my opinion was a scene that really showed how our characters were growing.
"I…" His voice faded. "You shouldn't have to miss it. There's not much beauty left in the world." He touched my face. Lightly at first, then more boldly. His thumb trailed down my cheek. It was just a graze of sensation, but it reminded me of that almost-kiss. Heat crawled over my face. "It's like they're drawn to you. They're all around you."
"Really?" I breathed, turning my face, letting the little firebugs brush my skin without fear now.
"Almost as though they don't want you to hide in darkness."
A breath shuddered out of me. I had never had this before. He made me feel extraordinary and beautiful."
– ARC, Location 1831
Fans of fairy tale retellings and fantasies will love this book! It comes out February 9th.