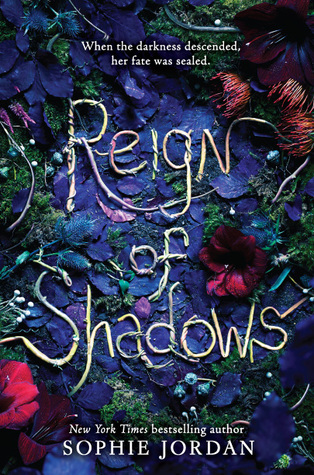 Reign of Shadows
Author: Sophie Jordan
Release Date: February 9, 2016
Publisher: Harper Teen
Get it Here: Amazon | Barnes & Noble | Book Depository
Synopsis:
Seventeen years ago, an eclipse cloaked the kingdom of Relhok in perpetual darkness. In the chaos, an evil chancellor murdered the king and queen and seized their throne. Luna, Relhok's lost princess, has been hiding in a tower ever since. Luna's survival depends on the world believing she is dead.But that doesn't stop Luna from wanting more. When she meets Fowler, a mysterious archer braving the woods outside her tower, Luna is drawn to him despite the risk. When the tower is attacked, Luna and Fowler escape together. But this world of darkness is more treacherous than Luna ever realized.
With every threat stacked against them, Luna and Fowler find solace in each other. But with secrets still unspoken between them, falling in love might be their most dangerous journey yet.
With lush writing and a star–crossed romance, Reign of Shadows is Sophie Jordan at her best.
I was provided an ARC of this book in exchange for an honest review. Thanks Harper Collins and Edelweiss!
As always, I am sweeped in by fairy tale retellings. This time we have a story loosely based on Rapunzel, where our main character Luna lives in a world where light is only shown for a couple of hours, leaving it dark the rest of the time. Monsters called "dwellers" plague the area and are predators to the humans. Luna is kept safe in a tower, but from the beginning of the book we feel her yearning to go outside and away from the only place she's known for the last seventeen years of her life.
"Being satisfied with our lives was enough for her. She didn't understand the need for more. My need for more."
An opportunity to fulfill that desire proves itself when Luna meets Fowler, who is searching for a place where there is light and no dwellers lurk. These two characters were really dynamic and reading them change from when we first meet them to the end of the book was really enjoyable. 
In the beginning, Fowler comes off as selfish, but once you get to know him you find out the reasons why he behaves the way he does. As he and Luna travel and spend time together, guards get chipped and the chemistry gets sparkin'. ❤ I do love me some romance! There is no insta-love in this book, although we see some instances of instra-attraction, which doesn't really bother me. I mean, chances are you like people you're attracted to, right? It's definitely a slow-burn romance that takes its time throughout the book, despite the attraction.
"I have never been my weakest as when I allowed love and hope into my heart.
I would never do so again."
The political front didn't really progress much in this book; from the blurb we know that Luna is the lost princess but not much happens in terms of that. It mainly focuses on Luna and Fowler's adventure together as they try to survive. I didn't know this book was planned for a sequel until the end, but now I see why things moved pretty slow – room for more awesomeness in the next book! Although it wasn't as fast-paced as I thought it would be, I really didn't mind in favor of the character development going on. 
That ending had me gasping at 1 am in the morning and left me staring at the ceiling in disbelief! It was a cliffhanger, and a rather abrupt one at that. I love cliffhangers though, so I'm definitely not complaining, although it might have been executed better.
Overall, the dynamic characters, steamy romance and potential for more action has got me excited for the next book! This book is totally recommended for fairy tale retelling lovers, and people who can appreciate a slow-burn fantasy in terms of romance and plot.
*Quotes are from an ARC copy and are subject to change upon publication.