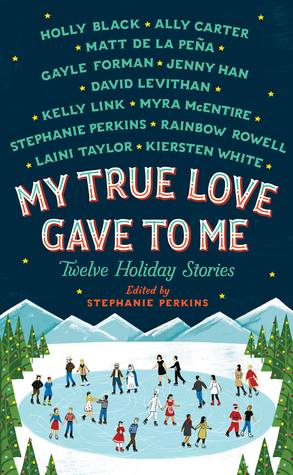 My True Love Gave To Me: Twelve Holiday Stories
Edited by: Stephanie Perkins
Stories written by: Holly Black, Ally Carter, Matt de la Peña, Gayle Forman, Jenny Han, David Levithan, Klly Link, Myra Mcentire, Stephanie Perkins, Rainbow Rowell, Laini Taylor, Kiersten White
Release Date: October 14, 2014
Publisher: St. Martin's Press
Get it Here (for the holidays!): Amazon | Barnes & Noble | Book Depository
Synopsis:
If you love holiday stories, holiday movies, made-for-TV-holiday specials, holiday episodes of your favorite sitcoms and, especially, if you love holiday anthologies, you're going to fall in love with My True Love Gave To Me: Twelve Holiday Stories by twelve bestselling young adult writers, edited by international bestselling author Stephanie Perkins. Whether you enjoy celebrating Christmas or Hanukkah, Winter Solstice or New Year's there's something here for everyone. So curl up by the fireplace and get cozy. You have twelve reasons this season to stay indoors and fall in love.
I was pleasantly surprised by the amount of diversity and creativity in these stories! The majority of these authors were new to me, so it was exciting to see what kind of story they could fit in ~30 pages or less. Suffice it to say, although I didn't enjoy all of them, I definitely appreciated how unique they were! (I also loved matching the couples on the cover to the stories in the book hehe.)
Midnights by Rainbow Rowell
Rating: 4.5/5
Wowzas, way to start off this anthology with a bang! Rowell's the only author I'm very familiar with in this book, and her short story was just perfect for the season. It has the usual quirky characters and coming-of-age feelings that come with her stories. We hop along different years of a New Year's party and see how the characters develop each year. Soooo adorbs!
The Lady and the Fox by Kelly Link
Rating: 2/5
This one was quite odd, but I did appreciate the idea. There are supernatural elements at hand here when the main character first sees a strange man at a Christmas gathering at her godmom's house. He only appears when it snows. I couldn't connect to the characters and the romance was really, really unbelievable. Maybe this would have been better if it were longer and more developed but as a short story, it left me wanting.
Angels in the Snow by Matt de la Peña
Rating: 2.5/5
Told from a male POV, the main character is catsitting for his boss over the holidays when the cute girl living one floor above him comes to borrow his shower. The romance was cute, but I felt like it had no depth. I also enjoyed reading about the main character's problems and getting to know him, but I still didn't really like him that much. Also it was pretty boring. Maybe it was the (in my opinion) superficial romance that made it so mundane.
Polaris is Where You'll Find Me by Jenny Han
Rating: 3.5/5
This one was hard to rate! It was the most bittersweet of these tales, but I actually really enjoyed what the author was trying to get to in the end. As a romantic story, I felt it lacking. As a coming-of-age story, it resonated in me. The main character is adopted by Santa and lives in the North Pole, surrounded by elves, who she could never be like. She's also the youngest character out of them all in this book (being 15 the whole time), giving her a bratty personality yet a hopeful note of growth near the end.
It's a Yuletide Miracle, Charlie Brown by Stephanie Perkins
Rating: 4/5
Omg adorableness overload! I love the how this whole story was set up and the interactions between the two characters. I was definitely sold on the romance, and the more I read it the more I liked it. Basically the main character's visiting a tree store because she likes the sound of one of the employee's voice (yum) and wants him to voice act for her. She ends up buying a tree and getting him to help her transport it to her place. Ahh, the ending was also quite perfect.
Your Temporary Santa by David Levithan
Rating: 2.5/5
Hmm, this was the opposite of the previous story; the more I read it, the less I liked it. The main character dresses up as Santa Claus to surprise his boyfriend's little sister and that part was pretty adorable. Then we get to an unresolved and super confusing conflict with the elder sister that could have used some more explanation. Unfortunately, there were no cutesy-time with this couple (a little at the end I guess) and it got kind of existential and deep? Either way, the idea was cute but the execution left me scratching my head.
Krampuslauf by Holly Black
Rating: 3/5
Holy crap this one was weirdddd as heck but it was still okay. Basically the main character is holding an awesome party and it gets crashed by some rich students but saved by some otherworldy beings. I definitely enjoyed the unique plot (that's why the rating's fairly high) despite the disconnect I felt with the characters and disappointing romance. Also, Krampuslauf sounds like an absolutely terrifying holiday omg.
What the Hell Have You Done, Sophie Roth?
Rating: 4/5
I love how this book addresses stereotypes and features characters that don't seem to be what you first think of them. We have a girl from the city studying in the country area via scholarship and a boy from all around the world meet up because of their differences. The characters' interactions were filled with revelations, hilarious jokes, and sweet comments that fueled a blossoming romance that I really enjoyed reading about.
Beer Buckets and Baby Jesus by Myra Mcentire
Rating: 4.5/5
Literally the cutest thing ever. Like, if I could make a movie out of any of these stories, this would probably be my pick (albeit a hard one). It's your usual town-trickster saving the day all the while developing feelings for the pastor's daughter. These characters were bubbly and full of fun and adorableness.
Welcome to Christmas, CA by Kiersten White
Rating: 4.5/5
Another super cute one! Reading the last couple of stories felt like popping a different-flavored marshmallow in my mouth each time. Christmas, CA may not have enough population to be on the map, but its population is definitely one that leaves a mark. The new chef Ben is so sweet and full of goodness as he cooks up some holiday cheer for the residents of this small location, including the main character who just wants to get out of this place as soon as possible.
Star of Bethlehem by Ally Carter
Rating: 4/5
Ooh this one is intriguing! We start off with our character switching plane tickets with another girl who desperately wants to go to New York (where she was heading). Although the believability aspect is questionable, it makes for a wacky situation where the main character lands in a rural town as the supposed girlfriend of a cute cowboy (as I see him in my mind). She discovers a family, which she's never known or experienced before. The ending was a little rushed, but still fitting and satisfying.
The Girl Who Woke the Dreamer by Laini Taylor
Rating: 4/5
Way to end the book with a bang, too! This one was a tad different than the contemporaries featured in this book. It has a very fantasy-like feeling in it, and transports you into a world where gods exist. The main character is courageous and the romance is soooo dreamy. I would've loved to see more physical interactions with the love interests but overall I'm surprised by the amount of story Taylor fit within 30 pages.
---
Sooo these stories basically rounded up to this! Definitely worth it for a holiday read (and recommended with some steamy hot chocolate). Merry Christmas to all who celebrate it, and I hope everyone is enjoying their holiday season! ❤