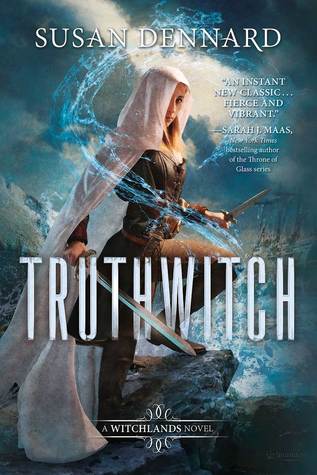 Truthwitch
Author: Susan Dennard
Series: The Witchlands
Release Date: January 5, 2016
Publisher: Tor Teen
Get it Here: Amazon | Barnes & Noble | Book Depository
Synopsis:
On a continent ruled by three empires, some are born with a "witchery", a magical skill that sets them apart from others.
In the Witchlands, there are almost as many types of magic as there are ways to get in trouble—as two desperate young women know all too well.
Safiya is a Truthwitch, able to discern truth from lie. It's a powerful magic that many would kill to have on their side, especially amongst the nobility to which Safi was born. So Safi must keep her gift hidden, lest she be used as a pawn in the struggle between empires.
Iseult, a Threadwitch, can see the invisible ties that bind and entangle the lives around her—but she cannot see the bonds that touch her own heart. Her unlikely friendship with Safi has taken her from life as an outcast into one of reckless adventure, where she is a cool, wary balance to Safi's hotheaded impulsiveness.
Safi and Iseult just want to be free to live their own lives, but war is coming to the Witchlands. With the help of the cunning Prince Merik (a Windwitch and ship's captain) and the hindrance of a Bloodwitch bent on revenge, the friends must fight emperors, princes, and mercenaries alike, who will stop at nothing to get their hands on a Truthwitch.
The hype was quite real for this book, ever since during BEA many people waited hours in line to get an ARC. I was lucky enough to borrow one from Nichol at Stacks Waiting, who is an amazing blogger and person. Right off the bat we're sucked into a descriptive world of witchery and action when we see Safiya and Iseult escaping from their latest escapade. The book is told in limited third person POV, so each section we get a little bit of one of the main character's thoughts. I really enjoy this choice of style because this way we can learn a little more about characters who I believe will play a larger role later in the story.
I absolutely adored both Iseult and Safiya, who were a perfect foil for each other. While Safiya is quite voltaile in her emotions and feelings, Iseult hides them behind an "unfeeling" exterior. My first Fanart Friday post showcased these two heroines in kickass poses, which you should totally check out. Their trust and acceptance of each other is beautiful and really made me want a threadsister. Both girls have each other's backs throughout the book, no matter if they were running away from pirates or entering a new and foreign country.
Speaking of exciting events like I listed above, the plot in Truthwitch is never slow and truly keeps you on your toes. I pretty much binge-read this for hours straight and didn't stop until 1 am. (Even then, I perused Susan's Pinterest for an hour to keep myself in the wonderful world.) It wasn't only because of the magnificent world Susan creates or the diverse range of characters, but also because of the plot that never stops. Every time I told myself "Okay Aila, one more chapter!" I had to keep on going because I just needed to know what happened next! Yeah, this says loads about my self control haha.
In addition to Safiya and Iseult are characters that made me only curioser and curioser. Merik: Windwitch, prince, and captain. Sounds pretty cool right? The Bloodwitch Aeduan who is probably my favorite character thus far (I'm pretty sure I'm in the minorities for this one) and is so mysterious. We have kings, empresses, and a sect of people devoted to a particular being that all spice up the story and leave me wanting more.
Although this book is titled Truthwitch, Safiya's magical abilities are a little on the mundane side. She can tell fact from fiction, if the person truly believes it. Not really much to see there, huh? Notice how I said her magical abilities though – she's still strong and compassionate and courageous and a character that doesn't need her magic to survive. The same goes with Iseult. I love how although magic is pretty central to the story, it's not central for the characters to survive. The magic doesn't define the characters – their actions do.
The romance in this story was sizzling hot! Raise the roof at the absence of a love triangle and a slow-burn romance (or two?) that made it all the more satisfying to read. I ship couples SO HARD and even now am experiencing many feels while typing. The romance does not dominate in the book and adds  a subtle flavor into the story that only enhances the reader's appetite.
Okay so if you're a fan of YA fantasy, I'm surprised you haven't preordered or thought of reading this book yet; literally everything you'd want in a fantasy is present here and more. If you're not a big fan of fantasy, I'd still recommend for you to check this one out! You might find yourself falling in love with the exciting plot, adorable ships, engaging world, and characters that stay true to themselves.