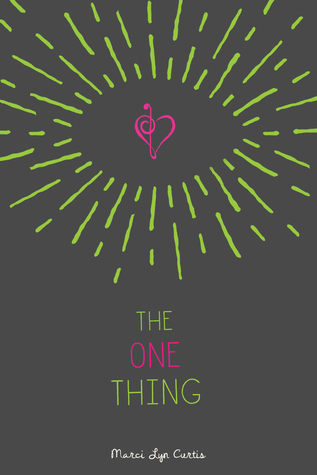 The One Thing
Author: Marci Lyn Curtis
Release Date: September 8, 2015
Publisher: Disney Hyperion
Get it Here: Amazon | Barnes & Noble | Book Depository
Synopsis:
Maggie Sanders might be blind, but she won't invite anyone to her pity party. Ever since losing her sight six months ago, Maggie's rebellious streak has taken on a life of its own, culminating with an elaborate school prank. Maggie called it genius. The judge called it illegal.
Now Maggie has a probation officer. But she isn't interested in rehabilitation, not when she's still mourning the loss of her professional-soccer dreams, and furious at her so-called friends, who lost interest in her as soon as she could no longer lead the team to victory.
Then Maggie's whole world is turned upside down. Somehow, incredibly, she can see again. But only one person: Ben, a precocious ten-year-old unlike anyone she's ever met.Ben's life isn't easy, but he doesn't see limits, only possibilities. After awhile, Maggie starts to realize that losing her sight doesn't have to mean losing everything she dreamed of. Even if what she's currently dreaming of is Mason Milton, the infuriatingly attractive lead singer of Maggie's new favorite band, who just happens to be Ben's brother.
But when she learns the real reason she can see Ben, Maggie must find the courage to face a once-unimaginable future… before she loses everything she has grown to love.
The one thing that I got from reading The One Thing was that being a good person pays off. We learn this from the trials and tribulations of the main character, Maggie, who has recently become blind at the start of the book. But other than that, everything else threw right through my head. The romance, the character growth, and the plot was so lackluster and brittle that I'm surprised I haven't forgotten (most) of it already.
Maggie can only see one thing when the story starts out, and it's a little boy named Ben who is always happy despite his hard life. I loved his sparkling personality, and I wish we had more interactions with Ben and Maggie. In the end, his vivaciousness starts rubbing off Maggie. It was much-needed too, because Maggie isn't very nice in the beginning. She's mean and although she doesn't drown in pity after becoming blind, she instead retaliates by pushing the people closest to her away.
The romance was one of those "I-really-don't-like-you-but-I'm-super-attracted-to-you-at-the-same-time." Umm I'm not a fan of those (stick it to one thing, girl) so I can't say I enjoyed it much. Ben's brother is the lead singer of Maggie's favorite band, Loose Cannons, and at first he's rude to Maggie, which makes her rude back. He thinks that Maggie gets along with Ben to become closer to him, and although that happens, it's not exactly the right idea.
I feel like the lost friendship between Maggie and her old mates could have been done better. It's kind of inconclusive, and although Maggie planned to fix things, in the end they weren't really fixed. At the same time, I also like how it shows that not everything can be mended like *snap*. (Although I do think that Maggie made some things worse, but that's just me.)
The one word that comes up when thinking about this book is: predictable. From the beginning I already knew what would happen to the relationship between Ben and Maggie, and the reason Maggie can only see Ben.
Even so, this was a light-hearted read that can lift your spirits and give you hope during a sad day. Contemporary readers will enjoy this fluffy read that will bring a smile to their faces. It deals with family, friendship, and finding the good in yourself to help other people and discovering The One Thing in your life that keeps you going.