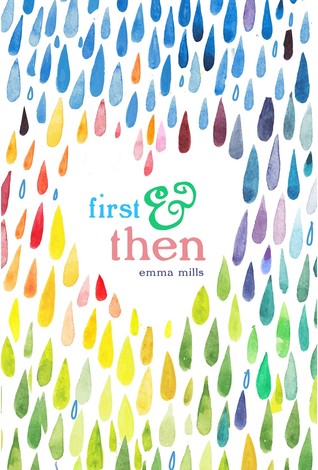 First & Then
Author: Emma Mills
Release Date: October 13, 2015
Publisher: Henry Holt and Company
Get it Here: Amazon | Barnes and Noble | Book Depository
Synopsis:
Devon Tennyson wouldn't change a thing. She's happy watching Friday night games from the bleachers, silently crushing on best friend Cas, and blissfully ignoring the future after high school. But the universe has other plans. It delivers Devon's cousin Foster, an unrepentant social outlier with a surprising talent for football, and the obnoxiously superior and maddeningly attractive star running back, Ezra, right where she doesn't want them first into her P.E. class and then into every other aspect of her life.
Pride and Prejudice meets Friday Night Lights in this contemporary novel about falling in love with the unexpected boy, with a new brother, and with yourself.
Quirky, dynamic characters are brought to life in a setting that spans the first semester of high school in First and Then. The book starts with our main character, Devon, trying to figure out what she wants to do for college after she graduates. Devon was a super cute character that I couldn't help but connect with – throughout the book, she stresses on how everybody is good at something, except for herself. (Although, in particularly witty remarks.)
"'Are there any particular majors you're interested in?'
'Not really.' Saying advanced breakfast with a minor in cable television would surely bring about some epic battle that Mrs. Wentworth's smile was doomed to lose."
However, through the discoveries of senior year, Devon (and us readers) learn lessons that truly stick with us for the rest of life. This story isn't a retelling of Pride & Prejudice for nothing!
The parallels to P&P were really well-done and never took ahold of or dominated the book. I think it's quite charming that Devon was a big fan of Jane Austen. You could definitely see her prejudice attitudes throughout the book, and her learning from them in the end. And Darcy I mean, Ezra, was so adorable with her! He's the best player in the school football team, but definitely not the most popular. Handsome, wealthy, yet definitely brooding – a lovely rendition of Darcy if I ever read one. Their relationship dynamic was just right for a book. There wasn't any over-the-top drama, nor was it static and unyielding. I'm pretty sure it'll live up to the expectations of Jane Austen fans!
The side characters are definitely worth mentioning too. Each one of them is brought to life in the book with their unique personalities and histories. Foster is Devon's cousin who is staying with her family, and his eccentric character had me grinning the whole time while reading. There are also the people that Devon had prejudice against, which surprisingly fit really well in the setting of high school. It's so easy to group people: she's the giggling cheerleader who doesn't know when to stop smiling, he's the cute guy that everyone gathers around but has no morals, etc. and I find that I do it myself in my own high school environment. But Devon's prejudices are proved wrong as the story continues, just as I find that shouldn't be so critical. 
You don't have to be a huge Jane Austen fan or reader to appreciate this book. Although the foundation may be the same, the characters and story is unique in its own way, and provides a great message in and of itself. Pick this book up for a feel-good, warm book that has a cast of refreshing characters that really bring out the more noteworthy parts of high school – good and bad.