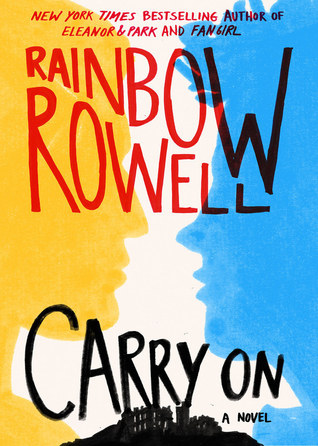 Carry On
Author: Rainbow Rowell
Release Date: October 6, 2015
Publisher: St. Martin's Griffin
Get it Here: Amazon | Barnes & Noble | Book Depository
Synopsis:
Rainbow Rowell continues to break boundaries with Carry On, an epic fantasy following the triumphs and heartaches of Simon and Baz from her beloved bestseller Fangirl.
Simon Snow just wants to relax and savor his last year at the Watford School of Magicks, but no one will let him. His girlfriend broke up with him, his best friend is a pest, and his mentor keeps trying to hide him away in the mountains where maybe he'll be safe. Simon can't even enjoy the fact that his roommate and longtime nemesis is missing, because he can't stop worrying about the evil git. Plus there are ghosts. And vampires. And actual evil things trying to shut Simon down. When you're the most powerful magician the world has ever known, you never get to relax and savor anything.
Carry On is a ghost story, a love story, a mystery and a melodrama. It has just as much kissing and talking as you'd expect from a Rainbow Rowell story — but far, far more monsters.
What do you call a book whose beginning was:
mundane/slow/boring/lame/repetitive/ehh/mehh/blehh
to a middle that's:
WOWZERS/Nice, nice/pretty-freaking-awesome/yay omg
to an end that's just:
YAAAS/TEARS IN ME EYES RN/CAN'T HOLD BACK… FEELS…/CARRY ON, CARRY ONNN/OTP 5EVER/2COOL4YOU/I LOVE YOU ALL MY BBYS
?
Yeah, I'm not sure, either.
But that's basically a summary of my reactions to Carry On by Rainbow Rowell.
Like I said (er, or emotionalized), the beginning was pretty slow and I had to force myself to keep reading. We're dropped into the last year for Simon at the magic academy he goes to so a lot of it is him explaining certain events in the past or certain traditions him and the characters have. Not gonna lie, this part was tiring to read and the whole time I was thinking, "When is Baz going to show up??"
But when this particularly character DID enter the scene, the book really got rolling.
The plot is fairly simple and put a little to the sidelines in favor of our characters discovering themselves in typical Rowell fashion. I loved seeing the changes occur in Baz and Simon's relationship, as well as their interactions with the other characters. The story is told in alternating point of views, and the fantasy is tactfully weaved into the story. It's definitely not focused on magic, but magic has a primary role in the story itself. There's an evil being named the Humdrum that's leaving holes of magic, and Simon and his team have to figure out how to kill him, while at the same time finding Baz's mother's murderer, while the two may be connected…
The bad guy was definitely not your normal moustache-twirling villain, and huge props to Rowell for that. It'd be really easy to just have a standard baddie in the midst of these standard fantasy elements, but like Rowell's other books, our focus on the characters extend past the main ones. We slowly find out how the villain is and why he does the things he does.
For the author's first fantasy book, the magic and concepts weren't entirely original. However, the characters more than made up for that fact. I fell in love with each and every one of them, and don't even get me started with my OTP.
Just don't. Throughout the night, you could hear me gasping and saying things like, "My heart!" or "ERMERGERD" or just plain squealing in general. Love love LOVED the romance going on in here. These characters were madeeee for each otherrr <3)
The ending was very satisfying for a stand-alone, and I'm putting this on my top-faves shelf despite the meh beginning that pegged off a star. (Also the cover is the same feeling, but I enjoyed the insides too much to really care.) Amazing character development really saves the day in a very commonplace world with unsurprising magical elements. However much I didn't care about the magic in general, I still highly enjoyed the plot and dynamic characters.
Carry on, Simon and Baz, carry on.