Guys, in the essence of the popular We Need Diverse Books campaign going around in our YA circles, this is THE book to check out! I'm so happy to be apart of the blog tour for What We Left Behind, which places three-dimensional characters in such realistic situations that readers can't help but empathize with them. At this stop you'll find a menagerie of pretty fun stuff: fanart, review, giveaway, we have it all!
---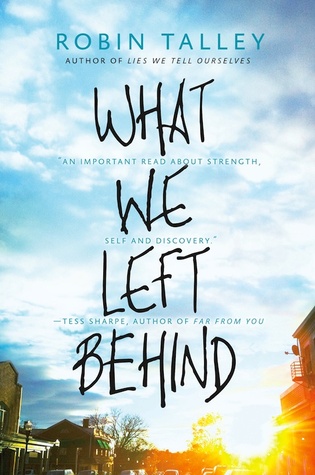 What We Left Behind
Author: Robin Talley
Publisher: Harlequin Teen
Release Date: October 27, 2015
Get it Here: Amazon | B&N | iBooks | The Book Depository
Synopsis:
Toni and Gretchen are the couple everyone envied in high school. They've been together forever. They never fight. They're deeply, hopelessly in love. When they separate for their first year at college—Toni to Harvard and Gretchen to NYU—they're sure they'll be fine. Where other long-distance relationships have fallen apart, their relationship will surely thrive.
The reality of being apart, however, is a lot different than they expected. As Toni, who identifies as genderqueer, falls in with a group of transgender upperclassmen and immediately finds a sense of belonging that has always been missing, Gretchen struggles to remember who she is outside their relationship.
While Toni worries that Gretchen, who is not trans, just won't understand what is going on, Gretchen begins to wonder where she fits in Toni's life. As distance and Toni's shifting gender identity begins to wear on their relationship, the couple must decide—have they grown apart for good, or is love enough to keep them together?
High school is a pretty fun time, especially with all the interactions you have with your friends and the process of discovering yourself (although that probably continues up to college and more!). Among my friends include the whole range of the LGBTQ spectrum, from the most stereotypical gay boy to a girl who recently came out as transexual and changed her name preference. This book features diverse characters still trying to find out what they are in that spectrum and how to come to terms with it. What We Left Behind captures the components of adolescent growth and the way one views themselves through the story of Toni and Gretchen.
From the beginning, we see Toni and Gretchen in hopeless, romantic love from the moment they meet at homecoming. That is, until they separate to go to different colleges. From there on, each character wages an inward battle on their place in the relationship and if they were truly meant for each other. Gretchen wants to know what she's like by herself, rather than being only a part of Toni. Toni, on the other hand, gets guidance from upperclassmen on how to deal with coming out and Toni's identification. (I'm trying not to use pronouns for Toni, as Toni prefers that when the book begins. Ooh this is hard and kind of awkward!)
Told in alternating POVs from both Gretchen and Toni, What We Left Behind provides a fresh outlook on the LGBTQ community through the myriad of characters. Both point of views come in contact with such unique people that just pop out from the pages. Throughout it all, they try to salvage what's left of their relationship. This book does a great job in showing the dilemmas that couples face after graduation, and with characters that are so empathetic. Sure, it seems like a bunch of drama now, but sometimes we have to realize that it's LIFE and in the end, drama is what makes up our relationships and how we live.
Although bittersweet at times, this book left me overall content with the discoveries that both Gretchen and Toni went through after graduation. Touching, heart-warming, and realistic to a fault, What We Left Behind shows both the good and bad sides of loving someone and finding who you are.
I grew up in Roanoke, Virginia, and escaped to Washington, D.C., at the first opportunity. I now live with my wife, our antisocial cat, and our goofy hound dog on Capitol Hill and work for a progressive nonprofit organization. I spend my nights and weekends writing young adult fiction about queer characters, reading books, and having in-depth conversations with friends and family about things like whether Jasmine's character motivation was sufficiently established in Aladdin.
My first novel, Lies We Tell Ourselves, was released in September 2014 by Harlequin Teen. It's set in 1959 Virginia, and it's about a black girl who's one of the first to integrate an all-white high school, and the white girl with whom she ultimately falls in love. My next book, What We Left Behind, follows a high school couple — Gretchen, who identifies as a lesbian, and Toni, who identifies as genderqueer — whose relationship is tested when they're separated for their first year of college. It's coming out in November 2015.
3 FINISHED COPIES of What We Left Behind – US Only!
Be sure to follow the rest of the tour!
Week 1: