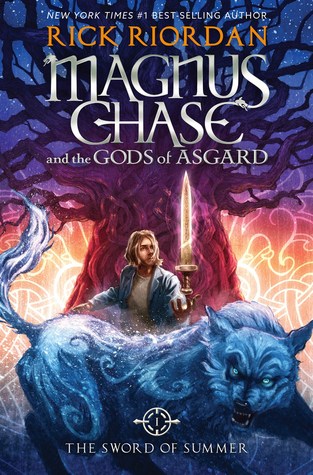 The Sword of Summer
Author: Rick Riordan
Series: Magnus Chase and the Gods of Asgard
Release Date: October 6, 2015
Publisher: Disney Hyperion Books
Get it Here: Amazon | Barnes & Noble | Book Depository
Synopsis:
Magnus Chase has always been a troubled kid. Since his mother's mysterious death, he's lived alone on the streets of Boston, surviving by his wits, keeping one step ahead of the police and the truant officers.
One day, he's tracked down by a man he's never met—a man his mother claimed was dangerous. The man tells him an impossible secret: Magnus is the son of a Norse god.
The Viking myths are true. The gods of Asgard are preparing for war. Trolls, giants and worse monsters are stirring for doomsday. To prevent Ragnarok, Magnus must search the Nine Worlds for a weapon that has been lost for thousands of years.
When an attack by fire giants forces him to choose between his own safety and the lives of hundreds of innocents, Magnus makes a fatal decision.
Sometimes, the only way to start a new life is to die . . .
I love Rick Riordan's books.
Pretty much everything he writes, I will read. (sans the 39 Clues series because as a child it never caught my interest and as a slightly-older child it's the same.)
So you might be asking, why the low-ish rating for an author whose books you just professed you love?
Well, it's kind of hard to explain.
But let me talk to you about the great parts of this book, first:
Magnus Chase is a hilarious, relatable and definitely not-forgetable character that finds out his dad is a Norse god. The other characters introduced in the book have Riordan's usual elements of diversity and uniqueness, from the Valkryie Sam to the elf named Hearth. I started the book with a huge grin on my face because we are immediately introduced to Magnus's sarcasm…
"The dude gunned his BMW 528i and shot down Commonwealth Avenue, ignoring the lights, honking at other cars, weaving randomly from lane to lane.

'You missed a pedestrian, I said. 'You want to go back and hit her?'"
… as well as his sincerity…
"It just made me angry. I didn't know who this fiery jack-hole was, but I knew a bully when I met one. First rule of the streets: Never let a bully take your stuff."
But as I immersed myself into the wonderful world of Norse mythology, I find myself noticing things.
A little background: the last Riordan book I've read was House of Hades because I was too scared to read The Blood of Olympusand have the story end. But also probably because I'll have to reread HoH to refresh my memory haha. But that was two years? Or more? Ago. As a child, I devoured Riordan's books over and over again finding no fault, even if some things felt repetitive.
But my transition from someone who read books to escape life to someone who analyzes books and tries to find meanings in it really affected my reading experience for this book. (Curses, AP English Lang and Foster!)
Predictable things start popping up, one after another. Of course there's a prophecy: when isn't there one? Of course the sidekicks are all goofy but have hearts of gold and even the gods had silly personalities that combated their personas in the myths. The more I read, the more patterns I could identify with Riordan's earlier writings that made me kind of sad.
I could see how my growth as a reader and person changed the way I saw certain things.
And how as I was growing, Riordan's books/writing weren't growing with me (even if the characters were).
But the funny thing is? Despite that fact, I still immensely enjoyed The Sword of Summer. My rating scale has definitely changed though, thus the 3 stars (although 3.5 would be more exact). I still love the introduction to new gods with new heroes and heroines and a new villain. Despite the fated prophecy, I still enjoyed the storyline and every new discovery, no matter how cliche or trite. I still read this book in a day despite the length. My love for the books set in this world has no bounds.
Even with the amalgam of knowledge I've gained throughout life since I began reading the first Percy Jackson book, I still love, and will continue loving, Riordan's books.
---
Sorry for the semi-personal "review"-thing. This was just an epiphany that came to me during the third time I said, "Really Riordan? Where haven't I seen that before?" It's weird to see how my opinions changed throughout the years, but it solidifies the fact that I may never grow out of young adult. What can I say? The Sword of Summer doesn't necessarily have the substance or originality of book I prefer these days, but it's still one that I will completely fangirl over. 🙂