Salutations, to the bevy of book lovers reading this post!
This is Agent Aila again, with the second mission of Sassy's Fangirl Debuts completed and ready to distribute. You may be asking, "What is this feature?" Yesterday I posted an introduction where a group of talented agents, all found by Agent T from Sassy and Dangerous, have been gathered across the globe to help spread the word about debut authors. This classy team of bloggers' second mission was to write a letter to the author assigned to them, and I got Heidi Heilig, who wrote The Girl From Everywhere, which comes out February 16, 2016!
If you're wondering what this book is about, look no further, because I have a description for you!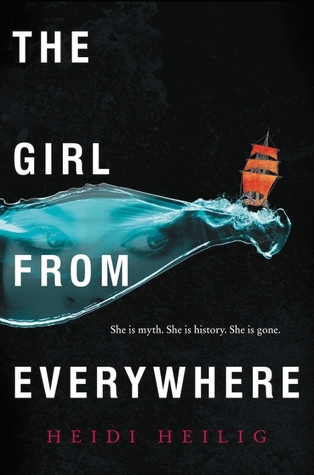 Heidi Heilig's debut teen fantasy sweeps from modern-day New York City to nineteenth-century Hawaii to places of myth and legend. Sixteen-year-old Nix has sailed across the globe and through centuries aboard her time-traveling father's ship. But when he gambles with her very existence, it all may be about to end. The Girl from Everywhere, the first of two books, will dazzle readers of Sabaa Tahir, Rae Carson, and Rachel Hartman.
Nix's life began in Honolulu in 1868. Since then she has traveled to mythic Scandinavia, a land from the tales of One Thousand and One Nights, modern-day New York City, and many more places both real and imagined. As long as he has a map, Nix's father can sail his ship, The Temptation, to any place, any time. But now he's uncovered the one map he's always sought—1868 Honolulu, before Nix's mother died in childbirth. Nix's life—her entire existence—is at stake. No one knows what will happen if her father changes the past. It could erase Nix's future, her dreams, her adventures . . . her connection with the charming Persian thief, Kash, who's been part of their crew for two years. If Nix helps her father reunite with the love of his life, it will cost her her own.
In The Girl from Everywhere, Heidi Heilig blends fantasy, history, and a modern sensibility with witty, fast-paced dialogue, breathless adventure, and enchanting romance.
ADD IT TO GOODREADS | Preorder it here: Amazon \\ Barnes & Noble \\ Book Depository
---
I was absolutely ecstatic over the author I was assigned to for this mission. Heidi is just an overall amazing author and person who deserves all the love. *throws confetti and plush hearts*
I had some fun with this and wrote a digitally hand-written letter (oxymoron?) using my drawing tablet. Let's see it, shall we?

*dealt
---
Check out the AGENT DIRECTORY to see the letters they wrote for their authors!
Be on the lookout for our next mission! In the meantime, I will be daydreaming of traveling to 1804 to try to stop the death of Alexander Hamilton by the malicious hands of Aaron Burr (sir). Agent Aila, out!