"Waiting On" Wednesday is a weekly event created by Breaking the Spine that spotlights upcoming releases that we're eagerly anticipating.
So my last Waiting on Wednesday post was… it feels like, ages ago. But I've picked up on it with some AWESOME, EPIC, GLORIOUS 2016 releases that I absolutely cannot wait for!
This week will be highlighting FOUR FANTASIES that I just want to immerse myself in. From what I've heard already, they are going to be pretty popular.
*I don't own the gifs, I just thought they fit my emotional state of mind quite well.
---
The Shadow Queen
Author: C.J. Redwine
Release Date: February 23, 2016
Publisher: Balzer & Bay
ADD IT TO GOODREADS!
Synopsis:
Lorelai Diederich, crown princess and fugitive at large, has one mission: kill the wicked queen who took both the Ravenspire throne and the life of her father. To do that, Lorelai needs to use the one weapon she and Queen Irina have in common—magic. She'll have to be stronger, faster, and more powerful than Irina, the most dangerous sorceress Ravenspire has ever seen.
In the neighboring kingdom of Eldr, when Prince Kol's father and older brother are killed by an invading army of magic-wielding ogres, the second-born prince is suddenly given the responsibility of saving his kingdom. To do that, Kol needs magic—and the only way to get it is to make a deal with the queen of Ravenspire, promise to become her personal huntsman…and bring her Lorelai's heart.
But Lorelai is nothing like Kol expected—beautiful, fierce, and unstoppable—and despite dark magic, Lorelai is drawn in by the passionate and troubled king. Fighting to stay one step ahead of the dragon huntsman—who she likes far more than she should—Lorelai does everything in her power to ruin the wicked queen. But Irina isn't going down without a fight, and her final move may cost the princess the one thing she still has left to lose.
So, uh, I'm not sure if you noticed *cough* but I bolded all the times the word "magic" appears in the blurb. Why?
BECAUSE I LOVE MAGIC AND EVERYTHING THAT COMES WITH IT. And fairy-tale retellings. Oh and evil queens. And fugitive princesses. No joke, I was almost salivating when I read the blurb. That's how much I want need it.
---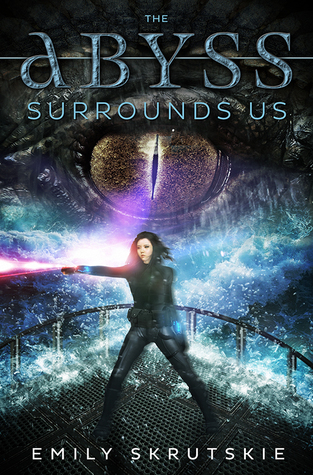 The Abyss Surrounds Us
Author: Emily Skrutskie
Release Date: February 8, 2016
Publisher: Flux
ADD IT TO GOODREADS!
Synopsis:
For Cassandra Leung, bossing around sea monsters is just the family business. She's been a Reckoner trainer-in-training ever since she could walk, raising the genetically-engineered beasts to defend ships as they cross the pirate-infested NeoPacific. But when the pirate queen Santa Elena swoops in on Cas's first solo mission and snatches her from the bloodstained decks, Cas's dream of being a full-time trainer seems dead in the water.There's no time to mourn. Waiting for her on the pirate ship is an unhatched Reckoner pup. Santa Elena wants to take back the seas with a monster of her own, and she needs a proper trainer to do it. She orders Cas to raise the pup, make sure he imprints on her ship, and, when the time comes, teach him to fight for the pirates. If Cas fails, her blood will be the next to paint the sea.
But Cas has fought pirates her entire life. And she's not about to stop.
You had me at pirates. Add to that some girl-on-girl action, and I'm jumping in the ship. Really, I was just thinking about how we need more diverse fantasies. Let's see some POC's save the kingdom, someone with bipolar disorder discover hidden treasure, or a lesbian pirate saving the day! This might be considered as science fiction, but anything with monsters in it is fantasy for me. Those Reckoners are super intriguing too…
---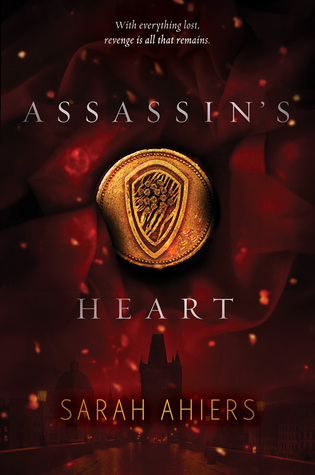 Assassin's Heart
Author: Sarah Ahiers
Release Date: February 2, 2016
Publisher: HarperTeen
ADD IT TO GOODREADS!
Synopsis:
In the kingdom of Lovero, nine rival Families of assassins lawfully kill people for a price. As a highly skilled member of one of these powerful clans, seventeen-year-old Lea Saldana has always trusted in the strength of her Family. Until she awakens to find them murdered and her home in flames. The Da Vias, the Saldanas' biggest enemy, must be responsible—and Lea should have seen it coming. But her secret relationship with the Da Vias' son, Val, has clouded her otherwise killer instinct—and given the Da Vias more reason than ever to take her Family down.
Racked with guilt and shattered over Val's probable betrayal, Lea sets out to even the score, with her heart set on retaliation and only one thought clear in her mind: make the Da Vias pay.
With shades of The Godfather and Romeo and Juliet, this richly imagined fantasy from debut author Sarah Ahiers is a story of love, lies, and the ultimate vengeance.
Fantasy + Assassins + Romeo/Juliet elements = ❤ . Not that I like Romeo and Juliet, but I do enjoy reading about forbidden love and the angst behind it. Plus the consequences of what would happen. PLUS, the main character is an assassin so the stakes are that much higher?? PLUS, FAMILIES WITH VENDETTAS SOUND SUPER COOL?!?
---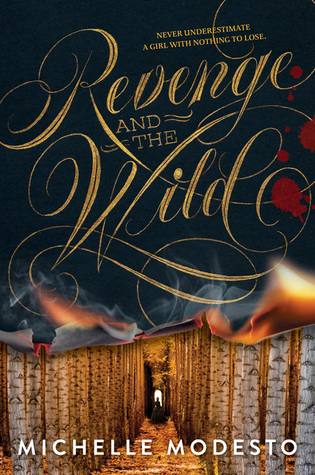 Revenge and the Wild
Author: Michelle Modesto
Release Date: February 2, 2016
Publisher: Balzer & Bray
ADD IT TO GOODREADS!
Synopsis:
The two-bit town of Rogue City is a lawless place, full of dark magic and saloon brawls, monsters and six-shooters. But it's perfect for seventeen-year-old Westie, the notorious adopted daughter of local inventor Nigel Butler.
Westie was only a child when she lost her arm and her family to cannibals on the wagon trail. Nine years later, Westie may seem fearsome with her foul-mouthed tough exterior and the powerful mechanical arm built for her by Nigel, but the memory of her past still haunts her. She's determined to make the killers pay for their crimes—and there's nothing to stop her except her own reckless ways.
But Westie's search ceases when a wealthy family comes to town looking to invest in Nigel's latest invention, a machine that can harvest magic from gold—which Rogue City desperately needs as the magic wards that surround the city start to fail. There's only one problem: the investors look exactly like the family who murdered Westie's kin. With the help of Nigel's handsome but scarred young assistant, Alistair, Westie sets out to prove their guilt. But if she's not careful, her desire for revenge could cost her the family she has now.
This thrilling novel is a remarkable tale of danger and discovery, from debut author Michelle Modesto.
Okay, so let's talk about something that I discovered: Western novels. I LOVE THEM. I'm not sure if it's the atmosphere, or just the introduction of it in YA fiction (this year's Vengeance Road by Erin Bowman and Walk On Earth A Stranger by Rae Carson), but I am completely, irrevocably in love with anything to do with lawless saloons and dusty towns.
And don't forget the magic in this! It is like a dream come true for my reading needs. I'm going to reread the blurb and try to appease my excitement.
Oops, only increased it.
---
So yup, those are 2016 releases that I absolutely cannot wait for. So much that I had to fit four in one Waiting on Wednesday post (sorry not sorry!).
What are some debut books you can't wait for? There's sooooo many amazing books lined up for 2016, I'm not sure how I can handle it!