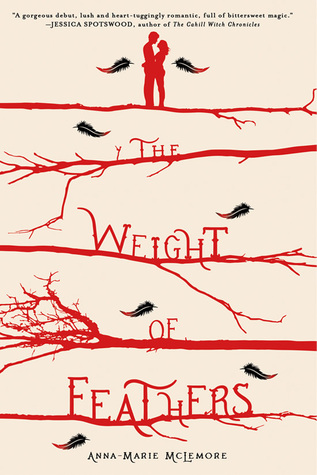 The Weight of Feathers
Author: Anna-Marie McLemore
Release Date: September 15, 2015
Publisher: Thomas Dunne
Get it Here: Amazon | Barnes & Noble | Book Depository
Synopsis:
For twenty years, the Palomas and the Corbeaus have been rivals and enemies, locked in an escalating feud for over a generation. Both families make their living as traveling performers in competing shows—the Palomas swimming in mermaid exhibitions, the Corbeaus, former tightrope walkers, performing in the tallest trees they can find.
Lace Paloma may be new to her family's show, but she knows as well as anyone that the Corbeaus are pure magia negra, black magic from the devil himself. Simply touching one could mean death, and she's been taught from birth to keep away. But when disaster strikes the small town where both families are performing, it's a Corbeau boy, Cluck, who saves Lace's life. And his touch immerses her in the world of the Corbeaus, where falling for him could turn his own family against him, and one misstep can be just as dangerous on the ground as it is in the trees.
Beautifully written, and richly imaginative, The Weight of Feathers is an utterly captivating young adult novel by a talented new voice.
I was intrigued by this book from the moment I read the pitch as The Night Circus meets Romeo and Juliet. Forbidden love, although not my favorite trope, is one I can enjoy immensely – if done right. And I can confirm after reading that it was definitely done right in this book. McLemore's graceful prose, honest characters, and delightful plot all come together into this stunning debut about a girl and a boy on the outskirts of two rival families who find each other, and within time, love. 
I immensely enjoyed that Lace and Cluck are perfectly imperfect characters. Both of them aren't exactly fully integrated into their respective families, but rather stand on the fringes of them. When the "disaster" mentioned in the blurb strikes, it exacerbates the situation, but it also allows them to find each other. Cluck is constantly mistreated by his family: by having a different-colored skin, a different mindset than the others, a different goal in life. My heart really went out to this sweet but abused character who really didn't deserve the things that happened to him. When our characters started developing a romance, it didn't come out from nowhere; it was justified despite their prejudices against each other's families, and I can really see why Lace and Cluck would gravitate towards each other.
Speaking of the romance, it was so lovely and satisfying and delightful and everything good in the world. You could say both Lace and Cluck are two lost souls that find each other through an unfortunate chain of events. The romance was pretty slow to burn but fast to grow. It just fills my heart to see these characters find solace through each other and a place in the world for them to belong together.
While Lace's family is from Spanish descent, Cluck's family goes by French ways. McLemore incorporates these different cultures into the story seamlessly and with a magical flair that's like sparkling glitter over everything. I really enjoyed reading the quotes in the beginning of the chapters that corresponded with each character – especially the Spanish ones, since I got to practice vocabulary for my Spanish class. :')
Look forward to unveiling explanations on why our characters grew up with such treatment and what really happened to the families over the course of time. I felt like those statements were a little underdeveloped, and I wished we got to see the characters do more with the new revelations. Either way, they were definitely interesting twists to the plot that had me gasping like an obsesser over Spanish soap operas. (Which my Mexican friend made me watch a couple of episodes of. They can get pretty intense!)
I'd recommend this to all romance readers. You like it when a guy or girl falls in love with another guy or girl? Then grab this book, because the plot with hidden depths will suck you in, and the hint of magic will leave you grasping for more. Cluck and Lace are characters that I won't be forgetting anytime soon.