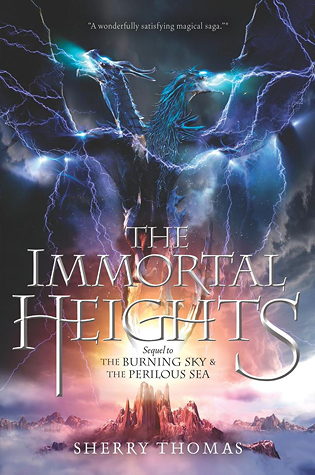 The Immortal Heights
Author: Sherry Thomas
Series: The Elemental Trilogy
Publisher: Balzer & Bray
Release Date: October 13, 2015
Get it here: Amazon | Barnes & Noble | Book Depository 
Synopsis:
In a pursuit that has spanned continents, Iolanthe, Titus, and their friends have always managed to remain one step ahead of the forces of Atlantis. But now the Bane, the monstrous tyrant who bestrides the entire mage world, has issued his ultimatum: Titus must hand over Iolanthe, or watch as his entire realm is destroyed in a deadly rampage. Running out of time and options, Iolanthe and Titus must act decisively to deliver a final blow to the Bane, ending his reign of terror for good.
However, getting to the Bane means accomplishing the impossible—finding a way to infiltrate his crypt in the deepest recesses of the most ferociously guarded fortress in Atlantis. And everything is only made more difficult when new prophecies come to light, foretelling a doomed effort….Iolanthe and Titus will put their love and their lives on the line. But will it be enough?
With The Immortal Heights, Sherry Thomas brings the acclaimed Elemental Trilogy to its breathtaking conclusion.
This book throws us right in the middle of the action from the very first page. There's a war going on, and Thomas doesn't shield us from the breathtaking action between the characters. I'd recommend readers to pick up The Perilous Sea or at least skim the ending because this one plunges you right where it left off. The last time I reread the first two books was just last year so imagine my surprise when I start the book in the middle of a war.
Screw surprise, I was like, "What the – what?" left and right.
Once I got over the initial surprise, however, I was sucked into the story again. Iolanthe and Titus continued to win me over with their witty dialogue and epic love. Seriously,  throughout the whole trilogy my favorite parts were their interactions. You can tell how much they care for each other through their actions and decisions, even if it meant hurting the other. The prophecy about Titus's death had me sweating like a sinner in church the whole time while reading the book, and despite the ill omen, Thomas wrote a very very satisfying conclusion to the character's story. Every chapter was twisting and turning with an unpredictable plot where the characters are up against the Bane.
Let's just say I loved everything about this book? The characters, the romance, the action, the plot, and obviously – THE ENDING! 110% satisfying and one that I'll be rereading soon. If you're a lover of fantasy and haven't started on this trilogy: what are you waiting for?