Happy Friday guys! I'm sure most of you are getting ready for the weekend like I am. 🙂 I'm not sure if this feature has been done or not, but I haven't found it in the blogosphere yet so here it is: Fanart Friday!
Basically in the past I've done a lot of fanart for books and shows I've loved; however, I've never really shared them unless it was for a fanart competition (which I think we should have more of 😛 ) Thus, I decided to do a feature highlighting some fanart that I've done, or links to awesome ones that other people have done. (Because DANG the people in the blogging community are super talented.)
This baby was born when I started to get back to my drawing groove after reading Truthwitch by Susan Dennard, which comes out next year! Here's some info about this super amazing book: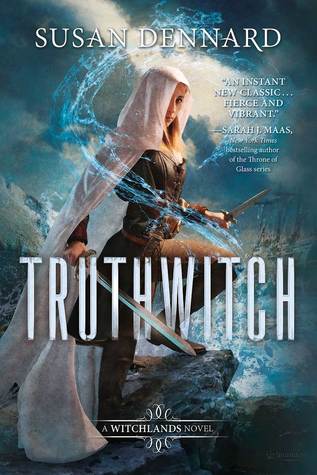 Truthwitch
Author: Susan Dennard
Series: The Witchlands
Release Date: January 5, 2016
Publisher: Tor Teen
Get it Here: Amazon | Barnes & Noble | Book Depository
Synopsis:
On a continent ruled by three empires, some are born with a "witchery", a magical skill that sets them apart from others.
In the Witchlands, there are almost as many types of magic as there are ways to get in trouble—as two desperate young women know all too well.
Safiya is a Truthwitch, able to discern truth from lie. It's a powerful magic that many would kill to have on their side, especially amongst the nobility to which Safi was born. So Safi must keep her gift hidden, lest she be used as a pawn in the struggle between empires.
Iseult, a Threadwitch, can see the invisible ties that bind and entangle the lives around her—but she cannot see the bonds that touch her own heart. Her unlikely friendship with Safi has taken her from life as an outcast into one of reckless adventure, where she is a cool, wary balance to Safi's hotheaded impulsiveness.
Safi and Iseult just want to be free to live their own lives, but war is coming to the Witchlands. With the help of the cunning Prince Merik (a Windwitch and ship's captain) and the hindrance of a Bloodwitch bent on revenge, the friends must fight emperors, princes, and mercenaries alike, who will stop at nothing to get their hands on a Truthwitch.
This book is written in a limited third person point of view, where we can see the thoughts of several main characters throughout the book. One of my favorite aspects, however, was the sisterhood that Safi and Iseult share and how they have each other's backs all the time. They provide a great foil to each other and are both kickass heroines that have courage and determination to do what they think is right.
This first picture was drawn the day I finished the book at 1 am (I fell asleep an hour later after scrolling through Susan's Pinterest board and marveling through inspiration pictures.)
This picture features the main characters, Safiya and Iseult and a quote that I thought was pretty important. It wasn't intentional, but I started using it as my phone background since it was a pretty good size. And then I thought – why stop there? You can click on these links to download sizes for your phone!
iPhone 5/5C/5S • iPhone 6 • Android
Why stop there indeed, because then I took each girl's picture and made individual ones for those of you who like one more than the other. Me? I seriously admire and adore both of them so I used one picture for my lock screen and one for my home screen. 😀
I also have the sizes for each of these pictures if you're interested!
iPhone 5/5C/5S • iPhone 6 • Android
Iseult:
iPhone 5/5C/5S • iPhone 6 • Android
These pictures are definitely not perfect, but hopefully this feature will also help me develop my drawing skills as well as gather the interest of more readers to books that I thought were spectacular!
This past week I've been seeing bunches of awesome fanart around the blogsphere too, so here are the links to some beautiful graphics, bookmarks, designs, and more!
Do you like or have any fanart for books you love? You should link them below! 😀 I want to see them alllll. How do you guys think of this feature? Look out for more fanart soon!