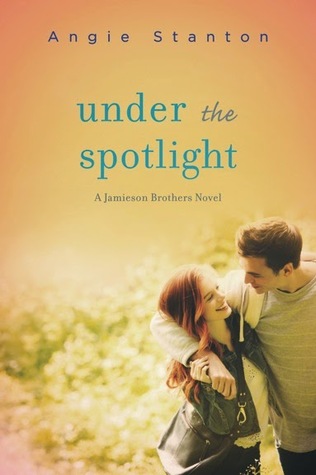 Under the Spotlight
Author: Angie Stanton
Series: The Jamieson Collection
Release Date: May 5, 2015
Publisher: HarperTeen
Get it Here: Amazon | Barnes & Noble | Book Depository
Synopsis:
After an embarrassing stint on a reality-TV music competition years ago, Riley vowed never to sing again. Now she's behind the scenes, working at the prestigious Sound Sync recording studio, and life is looking up. But then Garrett Jamieson, the oldest brother in the famous Jamieson brothers band, crashes into her world.
Garrett has hit rock bottom, and he is desperate to reinvent himself. After calling in a few favors, he ends up working at Sound Sync to learn the ropes of record producing from the industry's best. And he can't believe his luck when he discovers that Riley has been keeping a secret—she is an amazing singer. By producing her album, he's sure to top the record charts again. But Garrett is forced to use every trick in his arsenal to persuade the sassy girl to record.Riley refuses to sing—or even entertain the thought of it—and sparks fly as Garrett finally meets his match. But in the heat of the moment, one stolen kiss changes everything. Will Riley be the first person to finally rein Garrett in, or will Garrett succeed in getting Riley back under the spotlight?
I am honestly surprised at how much I didn't enjoy this book.
From the beginning, the premise made it seem like a pretty light-hearted and cute read. I assure you, cute the book was not. The dialogue is quite unrealistic and stilted, and there's a whole lot of telling and not showing. We're told how smart and funny and kind and how much sass Riley has, but her actions and dialogue give no indication to half of those traits. I really felt bad for her because she has a pretty rough life, but at the same time nothing she did was particularly smart or world-changing.
Although I enjoyed reading about Riley's hesitancy to sing because of her embarrassing experience, I feel as if it were dragged out too long and then suddenly she can get back into the game without any trouble. Pacing much? I just feel like in the music industry she would have had a lot more trouble. We're pretty much three chapters in and suddenly the guy character, Garrett, wants to produce her album. I think they've known each other for a couple of days to a week? I'm not sure that business ventures work that way.
One of my main problems with the book was Garrett. He acts like a major douchebag throughout the book, and there was not enough groveling in the end to make up for it. His character overall develops a little, but he was definitely let off the hook too easily in my opinion. Garrett did a lot of shit I didn't approve of, yet Riley still pines over him. Remind me never to fall in love so I act like a dumb idiot guys.
There is a major (I guess) event towards the end that I didn't care about. Stanton tries to up play the relationship between Garrett and his father, but it just sounds like a son wanting his father's approval and doing whatever he suggests. I understand that, but it didn't endear me to either character, thus my utter neutrality when the large-ish event happens toward the end.
And the ending! Let's talk about that utter piece of shit. Somehow Garrett gets back to Riley's good graces without even saying anything, suddenly the brothers have made up (or something like it?), and Riley's own conflict with her mother was not even resolved! What happened to her poor siblings?? It's not exactly kind of her to leave them with an uncaring mother who wastes away money. Either way, there was absolutely no conclusion on that subplot.
I didn't even know this was the last book in the series until I checked it out on Goodreads! Omigoodness- if I sticked through the whole series, I would have been seriously, seriously disappointed by this lackluster and half-hearted ending. It's like at this point the author was like "Yeah uh gotta wrap all this conflict up with a hasty bow" and it ended up looking like a birthday present bought and wrapped 20 minutes before the party and in the car on the way there.
Not recommended for contemporary readers. There are dozens of better ones out there with more endearing characters, more realistic dialogue, and a more engaging plot.