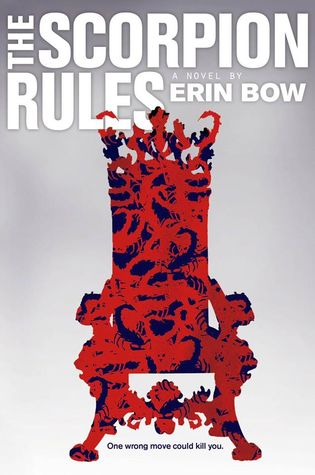 The Scorpion Rules
Author: Erin Bow
Publisher: Margaret K McElderry Books
Release Date: September 22, 2015
Get it here: Amazon | Barnes & Noble | Book Depository
Synopsis:
A world battered by climate shift and war turns to an ancient method of keeping peace: the exchange of hostages. The Children of Peace – sons and daughters of kings and presidents and generals – are raised together in small, isolated schools called Preceptures. There, they learn history and political theory, and are taught to gracefully accept what may well be their fate: to die if their countries declare war.
Greta Gustafsen Stuart, Duchess of Halifax and Crown Princess of the Pan-Polar Confederation, is the pride of the North American Prefecture. Learned and disciplined, Greta is proud of her role in keeping the global peace, even though, with her country controlling two-thirds of the world's most war-worthy resource — water — she has little chance of reaching adulthood alive.
Enter Elián Palnik, the Prefecture's newest hostage and biggest problem. Greta's world begins to tilt the moment she sees Elián dragged into the school in chains. The Prefecture's insidious surveillance, its small punishments and rewards, can make no dent in Elián, who is not interested in dignity and tradition, and doesn't even accept the right of the UN to keep hostages.
What will happen to Elián and Greta as their two nations inch closer to war?
Although his book starts out with promise, the more I read it, the less I liked it. Many people have commented on how "this is not your typical YA dystopian book," because hello? It's not a dystopian, where
a society [is] characterized by human misery, as squalor, oppression,disease, and overcrowding.
(thanks Dictionary.com). It's just set in the future with science fiction elements such as Artifical Intelligences. The plot twists and turns and is certainly not predictable. At the same time, it wasn't particularly enjoyable to read either, and it didn't leave me gasping or at the edge of my seat.
Let's backpedal a little and start from the beginning, shall we? I was intrigued by the synopsis of the book, where Children of Peace are used to, well, keep peace on a global scale. In this world, the people are essentially ruled by an AI named Talis. I like Talis's character (see later on in review). However, I find that the way he came to power in terms of the story is quite unbelievable. Case in point – the holy text that is full of quotes from Talis and is essentially the guidelines that the Children of Peace use, is informal and unrealistic.
"Sorry about the constant crushing surveillance and all that. But you're supposed to be learning to rule the world, not plotting to take it over. That job is decidedly taken."
I'm not sure if it's to add a sarcastic tone or wit in the story, but it did not help me fall into the world. See, I'm the president of the Model United Nations club in my school. If we had a nation or sect that had the kind of text in the Utterances (the holy text quoted from above), no delegate would take them seriously. Now the logistics of the world itself is quite interesting, and Greta, our narrator, sums it up pretty nicely.
"In the Age of Talis, we are raised in a handful of Preceptures, scattered around the flobe. We are raised together equitably, and we are educated impeccably, and we are treated as well as can be managed. And if war comes, we are still the first to die. 

And therefore, war does not come."
Interesting, no? My only complaint is that Bow only explored one Precepture – the one Greta is in – and only a handful of kids in it. While it seemed like our character's decision was the be-all-end-all for the planet, considering the large amount of nations/kids there are, it wasn't so drastic as how Greta made it.
The political intrigue the book focuses on kept me reading, as it was well thought-out and detailed. While Greta is admirable and develops as a character, I couldn't connect to her. Her actions towards the end really show how much she grew, and how she realized that she can make choices, rather than the confining limitations she saw herself in towards the beginning of the book. I also appreciated the subtle exploration on several AI's characters and how each character has a detail about them that makes them unique. It brings together an interesting cast of characters.
However, this does not make up for the unbelievable romance going on. It's cool if you have a homosexual heroine. I'm all for diversity in my characters. It's not cool if the romance has no build-up. It makes it unrealistic and bland. Although there wasn't "cheating" going on, I'm not okay with people kissing other people when they're in LOVE with someone else.
In fact, both vertices (people) on the love triangle came as a surprise. There was absolutely no chemistry with either parties before Greta started kissing people. In the end, I definitely appreciate Bow putting a twist in the romance. I do not appreciate how the twist had no substance to back it up. 
I know in the beginning of the review I wrote that the more I read it, the less I liked it. Well, I had HUGE expectations from the summary alone (and later on more because of several authors I like stating their adoration for it). When it finally dwindled down towards the end of the book, it reached the good-not-great stage. Certainly if you like science fiction with lots of political intrigue and an interesting but not substantial romance, go for it. Me though? Not something I'd reread.
I came for the intriguing blurb and hype, I stayed for the complex plot twists, and I really didn't like the romance throughout it all.