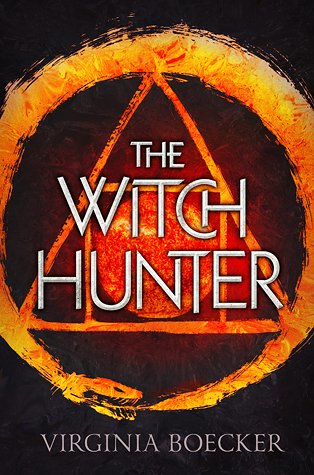 The Witch Hunter
Author: Virginia Boecker
Series: The Witch Hunter
Release Date: June 2, 2015
Publisher: Little, Brown Books for Young Readers
Get it Here: Amazon | Barnes & Noble | Book Depository
Synopsis:
The magic and suspense of Graceling meet the political intrigue and unrest of Game of Thrones in this riveting fantasy debut.
Your greatest enemy isn't what you fight, but what you fear.
Elizabeth Grey is one of the king's best witch hunters, devoted to rooting out witchcraft and doling out justice. But when she's accused of being a witch herself, Elizabeth is arrested and sentenced to burn at the stake.
Salvation comes from a man she thought was her enemy. Nicholas Perevil, the most powerful and dangerous wizard in the kingdom, offers her a deal: he will save her from execution if she can break the deadly curse that's been laid upon him.
But Nicholas and his followers know nothing of Elizabeth's witch hunting past–if they find out, the stake will be the least of her worries. And as she's thrust into the magical world of witches, ghosts, pirates, and one all-too-handsome healer, Elizabeth is forced to redefine her ideas of right and wrong, of friends and enemies, and of love and hate.
Virginia Boecker weaves a riveting tale of magic, betrayal, and sacrifice in this unforgettable fantasy debut.
Although fast-paced and full of action, The Witch Hunter doesn't have much to stand out from its other fantasy peers that dominate YA literature.
You got a kingdom that hates witches/wizards, a group of Reformists that think the opposite, and a witch hunter caught up in it all.
Elizabeth gets accused of doing witchcraft and gets sentenced to die. The leader of the Reformists goes and saves her. She doesn't believe that he wasn't the one to cast a deadly plague on the population. She suddenly sees the world in shade of grey as she discovers the stuff she was taught growing up was immersed in lies and deceits.
The plot was fairly simple, and never in the book did I really feel the high-stakes of what the characters were doing. And don't even get me started on that villain. Not only predictable, but completely one-dimensional. It didn't take a genius to figure out what he was up to.
Elizabeth herself was flat as a character. From the beginning we're TOLD about how amazing of a witch hunter she is but other than the fact that she can kill without remorse, she kinda sucked. I mean, she accidentally killed a guy in the first couple chapter. Does that sound like a capable witch hunter to you? Not exactly.
The other characters were quite fun, actually. The group of Reformists Elizabeth gets embroiled in all have eccentric personalities and I really liked each and every one of them. They know what's wrong in the world and they want to change it. Go them.
Maybe one of the reasons why I didn't enjoy the book as much is because the world is nothing special. There's a king, the group of rebels, and a very limited explanation for the magic going on. I guess the accurate word is to say it's simplistic, but I rather like my fantasies to have a little bit more deatil in them.
This fantasy was definitely fun while reading, but didn't exactly thrill me or leave me with any major feelings. I'll definitely check out the next books, and hopefully I can connect with Elizabeth more.