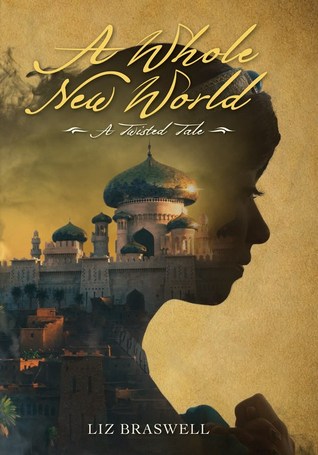 A Whole New World
Author: Liz Braswell
Series: Twisted Tales
Release Date: September 1, 2015
Get it here: Amazon | Barnes & Noble | Book Depository
Synopsis:
Welcome to a new YA series that reimagines classic Disney stories in surprising new ways. Each book asks the question: What if one key moment from a familiar Disney film was changed? This dark and daring version of
Aladdin
twists the original story with the question: What if Jafar was the first one to summon the Genie?When Jafar steals the Genie's lamp, he uses his first two wishes to become sultan and the most powerful sorcerer in the world. Agrabah lives in fear, waiting for his third and final wish.To stop the power-mad ruler, Aladdin and the deposed Princess Jasmine must unite the people of Agrabah in rebellion. But soon their fight for freedom threatens to tear the kingdom apart in a costly civil war.
What happens next? A Street Rat becomes a leader. A princess becomes a revolutionary. And readers will never look at the story of Aladdin in the same way again.
I received a copy of this book in exchange for an honest review. Thanks Netgalley and Disney Book Group! 
I was very excited to read this book from the moment I read the synopsis, even with no cover. When reading it, I went down my usual checklist for books. Setting? Beautiful. Plot twists? On point! Characters? Hmm… More on that below.
Here's how I think the formula went when writing this book:
(1) classic Disney story + new characters with no development + (a couple) exciting twist on plot = Twisted Tale! Voila!
Yeah, not what I was expecting. The first part of the book starts with practically the same elements as the Aladdin we all know and love. There were even direct quotes from the movie. Although I knew I was coming into a retelling, I didn't really expect it to be so similar.
When the major events start happening, the action starts kicking in. I have to admit: the twists that Braswell added were interesting and certainly had me hooked. In this tale, Aladdin and Genie aren't the best friends that they were in the Disney movie. Terrible things happen to the original cast like Iago and the magic carpet. The author didn't hesistate to take the well-loved Disney movie onto the edge of the dark side, and I didn't mind.
There are two major reasons why I didn't mind: One is that this new approach to an old story is refreshing and I love retellings. The other, however, is that I didn't care for what was happening, to be honest. And that lies with the character development that went on in the book and my disconnect towards them.
Wait – did I say character development? Haha! That's funny, because honestly, there wasn't any. And that's what made me rate the book so low. I wanted to recreate the old companionship I had with Aladdin, Jasmine, Abu, and the gang from my younger days with more connection, since it's a YA spin. Was there any of that reconnect? No, because the plot is moving so fast that there is no time left for us to really get with the characters.
Everything was going, and going, and going, and going, and even Aladdin and Jasmine's romance was rushed and got too sweet, too soon. While I did enjoy the atmospheric setting that Braswell developed, it couldn't have hurt to get a little more character introspection, could it? Honestly, the person who I could empathize with the most was Jafar, towards the end.
And the thing is, the twists that come along in this book include new characters too! But do we get any hidden depths in them? No! They're as bland as the loaf that Aladdin stole from the stalls. I know for me, much of what I enjoy during reading is the emotional level I can connect to with the characters, and there was a dissonance with the ones in this book.
Reading this was like watching the Disney movie turned darker and without any songs. That's where a lot of the character development is in Disney movies, though, because you get to see what the characters are thinking in their hearts through singing. But in this one? Sadly, my eyes were not opened to a whole new world.