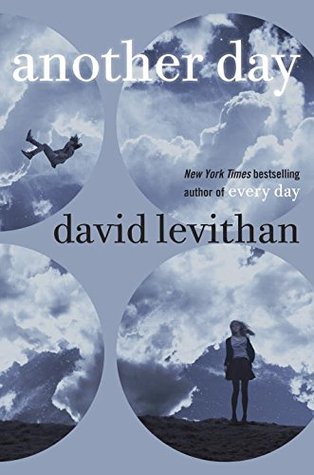 Another Day
Author: David Levithan
Series: Every Day
Release Date: August 25, 2015
Publisher: Alfred A Knopf Books for Young Readers
Get it Here: Amazon | Barnes & Noble | Book Depository
Synopsis:
The eagerly anticipated companion to David Levithan's New York Times bestseller Every DayIn this enthralling companion to his New York Times bestseller Every Day, David Levithan (co-author of Will Grayson, Will Grayson with John Green) tells Rhiannon's side of the story as she seeks to discover the truth about love and how it can change you.
Every day is the same for Rhiannon. She has accepted her life, convinced herself that she deserves her distant, temperamental boyfriend, Justin, even established guidelines by which to live: Don't be too needy. Avoid upsetting him. Never get your hopes up.
Until the morning everything changes. Justin seems to see her, to want to be with her for the first time, and they share a perfect day—a perfect day Justin doesn't remember the next morning. Confused, depressed, and desperate for another day as great as that one, Rhiannon starts questioning everything. Then, one day, a stranger tells her that the Justin she spent that day with, the one who made her feel like a real person . . . wasn't Justin at all.
This book was a hell of a ride. Now, to be clear, it isn't advised to read this until you read Every Day. Actually this book will probably suck if you haven't. Every Day is on my list of all time favorites and one of the only books I've read multiple times (5 to be exact). I haven't read Every Day in maybe a year but damn, I got such intense flashbacks while reading this, it was SUCH. A. RUSH. Like it was nearly impossible for me to read a scene without trying to remember what happened on A's side of the story.
For those that don't know, Every Day is about someone named A who switches bodies every single day. One day, A falls in love with a girl, Rhiannon, while inhabiting her boyfriend's body. Not as creepy as it sounds, I promise. Rhiannon is so stunning of a girl that A breaks all of his/her personal rules in order to pursue her. Now, even before reading Another Day lemme just say I pretty much A D O R E D Rhiannon.
But this book basically showed, in greater detail, that yeah, maybe Rhiannon is a girl wilting in her boyfriend's shadow, too afraid to stand up to him or break up with him but it also shows that she's got spirit and will and kindness and she's a good person. Justin was basically everything bad in her life; she catered to his every need, didn't really let herself live and cut off her friends because they detested Justin. Maybe she seems too perfect at times but she does have flaws, even after she breaks up with Justin.
Every Day doesn't really show Rhiannon's struggle with Justin, just A's struggle to adapt to each life and A's hatred of Justin but in this book, you can clearly see why she had such a hard time breaking up with Justin and it's not just cowardice. She's like any other person, having established a solid set of routines and Justin was intricately tied into those routines. She's a realistic character. Sometimes during A's narration, it seems like Rhiannon is just scared or blind to reality but you really get to see that no, she knows that Justin pushes her to the background, she gets angry sometimes when she's hurt, she's not reduced to one or two word descriptors in each scene. Also, this book is great because you get to see exactly what she was doing when she sent A really vague emails.
Obviously it'll seem like A's life is much more colorful in comparison, (they don't go in detail into A's daily activities in this one, which why it'll suck if you don't read Every Day first) but Rhiannon's life isn't exactly the same bland thing every day. And she really does try with A, even though you see how hard it is for her. But sometimes, when she's with Justin she starts thinking A would never do this to me, A is always kind to me and I'm just like 'girl, if you can see that Justin's such a jerk, that what he's doing is wrong, then why can't you just call it quits???'
There's so much I love about reading from her perspective after reading it from A's. Like you can see what a nervous wreck A is around her. A's POV is all 'I hope she doesn't hate me because I said this' or 'Oh god, this body isn't her type' but she probably says/thinks 'that's fine with me' every time they meet. I mean, there are some bodies that she just, for the life of her, can't be attracted to and that's realistic. She knows A's in there but I'm pretty sure there's no one out there who can be physically drawn to every single person.
Basically, I really liked this book. Or I guess I should say companion novel because it's not really a standalone. This book would suck bigtime if you read it solo. The rush of all these flashbacks exploding in me at once was what rocketed me through and I was like wowowowowowowow because I loved Every Day and any addition to it just hypes me right up. The wording of the end of this one though, implied a sequel? Or maybe we're supposed to make it up in our heads? I really don't know but sign me up right up if there is a sequel.