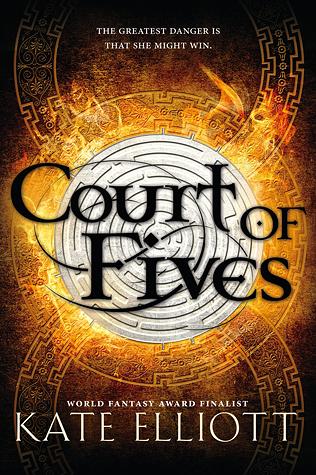 Court of Fives
Author: Kate Elliot
Series: Court of Fives
Publisher: Little, Brown Books
Release Date: August 8, 2015
Get it here: Amazon | Barnes & Noble | Book Depository
Synopsis:
In this imaginative escape into an enthralling new world, World Fantasy Award finalist Kate Elliott begins a new trilogy with her debut young adult novel, weaving an epic story of a girl struggling to do what she loves in a society suffocated by rules of class and privilege.
Jessamy's life is a balance between acting like an upper class Patron and dreaming of the freedom of the Commoners. But at night she can be whomever she wants when she sneaks out to train for The Fives, an intricate, multi-level athletic competition that offers a chance for glory to the kingdom's best competitors. Then Jes meets Kalliarkos, and an unlikely friendship between a girl of mixed race and a Patron boy causes heads to turn. When a scheming lord tears Jes's family apart, she'll have to test Kal's loyalty and risk the vengeance of a powerful clan to save her mother and sisters from certain death.
I received a copy of this book in exchange for an honest opinion. Thanks Little, Brown Books!
I haven't read any of Kate Elliot's other books, but I'm very tempted to start them! This is probably one of my favorite fantasy reads this month. However awesome the world-building is, the characters are also so relatable and deal with problems that we can relate to in modern times.
In this book we not only deal with the social hierarchy which leave prominent lines between what our characters can or can't do, but also the limitations due to gender. Jessamy and her three sisters have a Patron father and a Commoner mother, who are not married because it's against the law. Their father is a prolific general who is constantly pressured to marry someone on his own level, but he sticks by Jessamy's mother because of love. That is, until someone tries to tear their family apart.
So at this point Jessamy and her sisters are stuck between their Patron lifestyle and their Commoner blood. It's hard to live like that, especially when people call them, "mules." To add on to this prejudice is Jessamy's dream in running in the maze called The Fives. Think lots of obstacle courses to get to the end; first person to finish them all wins. The course itself is definitely not as bloody as The Maze Runner and the competitors are not as violent as The Hunger Games. It's honestly just a well-thought obstacle course that only certain people can participate in – and certainly not Jess. However, she manages to run quite a bit in the book, you'll have to read to find out how. And the things is – she's good at it. The competitions are detailed and intense, fully immersing the readers into the world.
The characters in the book are enjoyable to read about, although I would have liked to see more characterization on Jess's sisters. They all had their little quirks, but none of them were particularly essential to plot other than being there. The romance was quite awkward in the beginning, and it wasn't exactly swoon-worthy. I could see where it was coming from, but the pacing was odd. However, I still loved Kalliarkos as a character. He's genuinely nice and wishes to help people, which isn't how Patrons act like. The ending though – that was intense. Hopefully in the next book the romance is explored more rather than an addition for plot purposes. 
The magic in the world is not explained at all. However, this seems to be on purpose. We are given a few clues on what happened in the past, but nothing conclusive. This makes me hopeful that the next book will be exploring this aspect. Finishing the book made me eager to find out more about the magic, rather than disappointed that there were few mentions of it.
Finally, what really got to me was the complex plot that Elliot had going on. The history she builds in this world is so detailed, so realistic. Reading about it actually reminded me of all those intricate relationships with the monarchs I learned about in AP European History. Seriously – lots of weird stuff going on there. Elliot provides an explanation on how Commoners and Patrons came to be, including hints on how The Fives started. I just love the specifics that she digs into, giving us the big picture of the society our characters reside in. I can see why she was a World Fantasy Award finalist from reading this book.
I came for the cool blurb and for a fantasy fix, I stayed for the amazing plot and complex world-building, and I can't wait to see where the next book goes.