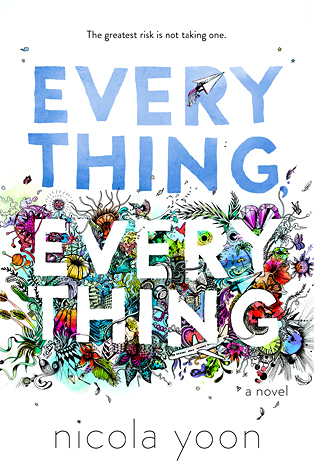 Everything, Everything
Author: Nicola Yoon
Publisher: Delacorte Books
Release Date: September 1, 2015
Get it here: Amazon | Barnes & Noble | Book Depository
Synopsis:
This innovative, heartfelt debut novel tells the story of a girl who's literally allergic to the outside world. When a new family moves in next door, she begins a complicated romance that challenges everything she's ever known. The narrative unfolds via vignettes, diary entries, texts, charts, lists, illustrations, and more.
My disease is as rare as it is famous. Basically, I'm allergic to the world. I don't leave my house, have not left my house in seventeen years. The only people I ever see are my mom and my nurse, Carla.
But then one day, a moving truck arrives next door. I look out my window, and I see him. He's tall, lean and wearing all black—black T-shirt, black jeans, black sneakers, and a black knit cap that covers his hair completely. He catches me looking and stares at me. I stare right back. His name is Olly.
Maybe we can't predict the future, but we can predict some things. For example, I am certainly going to fall in love with Olly. It's almost certainly going to be a disaster.

I received a copy of this book in exchange for an honest review. Thanks Netgalley and Delacorte Press!
♪ Oh what's love got to do, got to do with it
What's love but a second hand emotion
What's love got to do, got to do with it ♪
Well, everything. That is, love is the impetus that sets off the series of reactions in this book. One that redefines our main character, Madeline's, life and the people in it. Everything, Everything explores our definition of love through characters that will cuddle into your heart and stay there.
Madeline and Carla's love
Carla is Madeline's nurse and understands her so well, sometimes even better than herself. She goes against her employee to do what she thinks is best for Madeline, even if she has to suffer consequences. They may not be related by blood, but their lives are certainly entertwined.
Madeline and Olly's love
Oh, Olly… what a sweetheart. He understands Madeline's problems and is just so supportive of her. And no, he isn't a cardboard cutout, either. This guy has problems of his own that he also deals with throughout the course of the novel. Throughout it all though, he remains by Madeline's side and continues trusting and loving her.
Although the romance in the novel is a little on the fast side, I thought it fit the story. Especially to Madeline, since she's been secluded all her life. Insta-curiousity, not insta-love. 😉
Madeline and her mother's love
Straight off the bat we can tell that these two are there for each other, always. Madeline's mother is also a doctor, so she would know the most about Madeline's condition. But there are times when love can become something else that may be more deleterious than calming, and the large plot twist towards the end shows it. While everything in the book was progressing in a steady and even predictable rate, this twist makes a 180 and will leave you gasping. Seriously, it's pretty big.
And throughout it all are cute drawings, IM chats, and journal entries that contribute to the story and our understanding of the characters – especially Madeline. The amount of love in this book will make you burst with happiness.
I recommend this book to people looking for short and sweet contemporaries that will melt your heart.
"I was happy before I met him. But I'm alive now, and those are not the same thing.