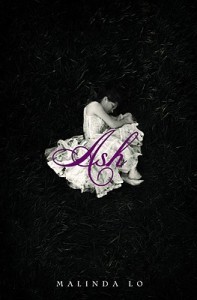 Ash
Author: Malinda Lo
Release Date: September 1, 2009
Publisher: Little, Brown Books for Young Readers
Get it Here: Amazon | Barnes & Noble | Book Depository
Synopsis:
Cinderella retold

In the wake of her father's death, Ash is left at the mercy of her cruel stepmother. Consumed with grief, her only joy comes by the light of the dying hearth fire, rereading the fairy tales her mother once told her. In her dreams, someday the fairies will steal her away, as they are said to do. When she meets the dark and dangerous fairy Sidhean, she believes that her wish may be granted.
The day that Ash meets Kaisa, the King's Huntress, her heart begins to change. Instead of chasing fairies, Ash learns to hunt with Kaisa. Though their friendship is as delicate as a new bloom, it reawakens Ash's capacity for love-and her desire to live. But Sidhean has already claimed Ash for his own, and she must make a choice between fairy tale dreams and true love.
Entrancing, empowering, and romantic, Ash is about the connection between life and love, and solitude and death, where transformation can come from even the deepest grief.

To be honest, it's been probably a good Y E A R since I've read this but here we go:
So, because queer media is so incredibly rare, there aren't really many options out there and we take what we get but even with low expectations, this book really….. fell flat. And also, there's probably a reason you shouldn't let me review romance because that's been my big NO since first grade but haha I clearly hate myself.
Anyways, in case the summary wasn't clear enough, this is supposed to be a remake of Cinderella. Did that happen? Not so much. Unless the terrible stepmother/sisters trope is the main backbone of Cinderella, there's not much in terms of that fairy tale. There's the loving father marrying the stepmother who basically thinks Ash (our Cinderella in this piece) is a waste of space but hey the guy's got money so why not. E x c e p t, the loving father dies and turns out he's got massive debt so Ash is now a slave for reparation for all the money that the stepmother thought he had. Basically she's got nothing except what the stepmother gives her and like two possessions she manages to hide.
Now add the romance! Ash, dear girl, wanders into the forest and meets a fairy, Sidhean, who's basically the dark, mysterious stranger who follows pretty girls. And Ash is the type of person who reads fairy tales but rather than feel threatened by inhuman creatures, she rather be stolen away by them. So, that's what she does. She lets herself be stolen away, her mind in the forest than in her real life and she's more distant day by day. And the two kinda fall in love. Kinda.
Now I promised this to be queer and it is, because Ash happens to meet Kaisa, the Huntress and this is also pretty much where any semblance of a plot disappears. She's enamored and awestruck by Kaisa and Kaisa falls for her and while a few more events of mild importance happen (like dealing with her stepmother, forgiving one of her stepsisters, going to a royal ball), none of these events advance the plot in any way. The story focuses on Ash's attraction to Kaisa which quickly eclipses her attraction to Sidhean who she kinda promised her soul to, but haha 'details, details'. Long story short, Kaisa visits a few times, Ash falls more and more in love with her, gets Sidhean to release her and happily ever after.
Basically, this story has almost no plot. Or maybe I'm just used to more action. It's a strange little story that's at least halfway fulfilling. Like, we all wanted the original Cinderella to tear off her stepmother's shackles and live her own life and she does do this in this book. And there's not the stereotypical rescued-by-a-prince thing going on so the themes are there, they're just grossly undeveloped. Kaisa is a pretty flat character, Sidhean is a little more developed, and anyone not living in Ash's household are basically fling-aways, created on a whim and discarded with no closure. This could've been SUCH a good book. But the way it was written and narrated, you couldn't connect at all (except in rare instance i.e Sidhean letting Ash go was sad, etc.). Kaisa, for all intents and purposes, FELL OUT OF THE SKY, and their problems weren't given enough importance that you felt like they were really problems. There's no real chronology, just random events thrown in to jangle Ash up and the characters were so disconnected, I felt like Ash was half asleep during the narration. The Sidhean scenes were probably the best and gave me hope when I first started reading but those hopes were never fulfilled and I! AM!! SO!! BITTER!!!